The Real Reason Sarah Huckabee Sanders Quit On Trump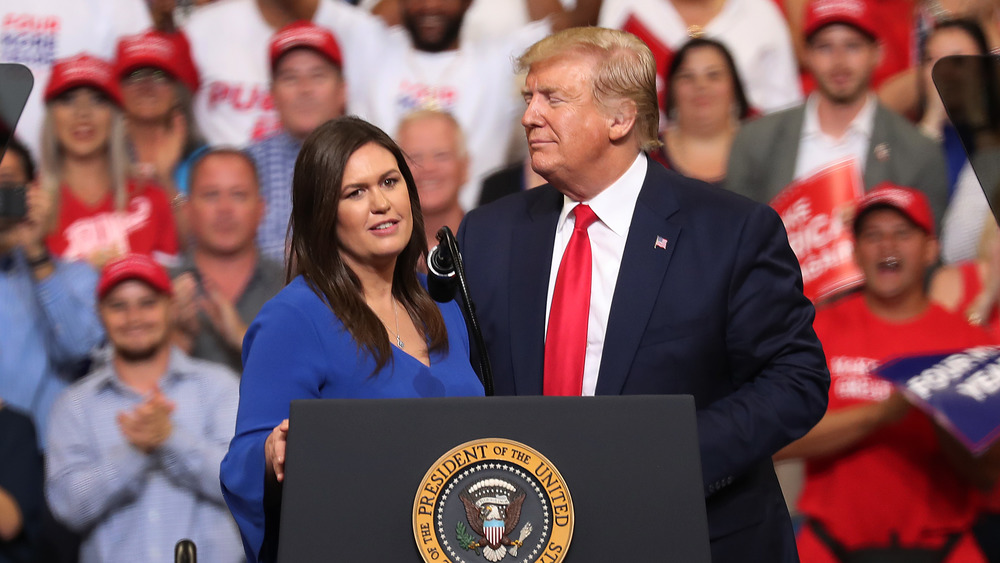 Joe Raedle/Getty Images
Sarah Huckabee Sanders, who worked as Donald Trump's White House press secretary after Sean Spicer, announced on Jan. 25, 2021 that she's running for governor of Arkansas in 2022.
Sanders broke the news via a video clip on Twitter, which began with footage of Trump landing in Iraq on Christmas 2020 to celebrate with soldiers stationed there. "Hundreds of troops had gathered at a remote military base in the desert to celebrate Christmas. They expected to be joined by senior military leadership but instead, got their commander-in-chief," Sanders said to the camera, while clips of Trump joining the troops played.
The fact that Sanders is still an avid Trump supporter is evident not only by her time at the White House and after, but also by her announcement to run for governor. Love for Trump is evident all throughout her campaign. And yet, when she worked as his press secretary, she quit. Why did this happen? We've got the story.
Sarah Huckabee Sanders wanted to spend time with her kids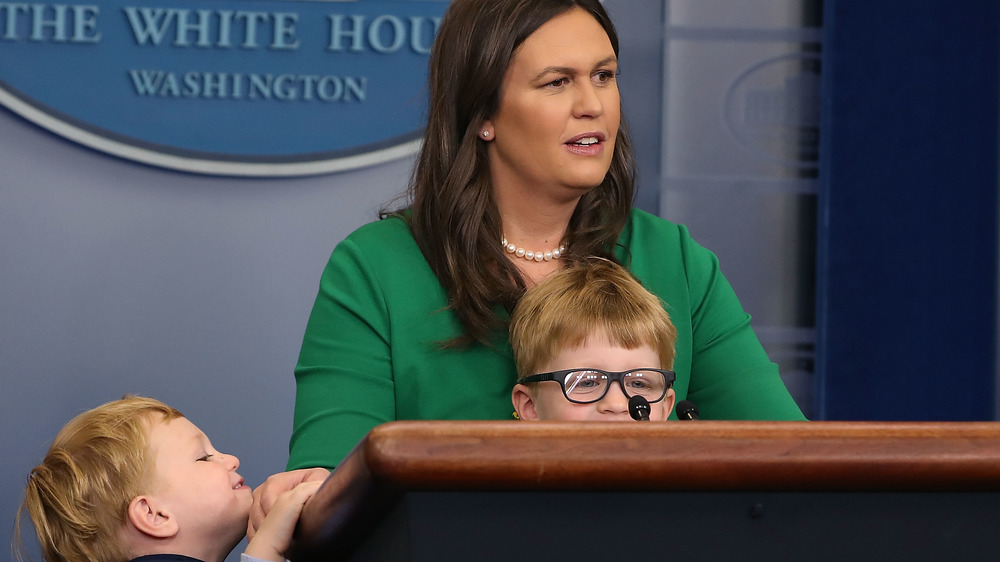 Mark Wilson/Getty Images
Sarah Huckabee Sanders took on the role as White House press secretary in 2017, according to ABC News. Her time at the job wasn't an easy one, for her or the press. As the outlet pointed out, Sanders was so loyal to Donald Trump that "she frequently spread disinformation to defend the Trump administration" and claimed she had a "slip of the tongue" when she admitted to lying to the public during the Mueller Special Counsel investigation.
When news broke in June 2019 that Sanders would be leaving the White House, Trump said in a tweet: "I hope she decides to run for Governor of Arkansas – she would be fantastic" (via ABC News). Clearly, Sanders left on good terms with Trump.
So why the departure? As Politico points out, Sanders regularly clashed with journalists, defending Trump at all costs, which made for some contentious situations. She even stopped formal briefings and chose instead to communicate with the public through Fox News or simply on the driveway of the White House.
When reporters asked Sanders why she was leaving, she said she wanted to spend more time with her children, per Politico. (They're pictured above on a Bring Your Child to Work Day at the White House.) Fair enough. But the job also didn't sound like the easiest gig, either.