Sarah Huckabee Sanders: How Much Is The Rising Political Star Worth?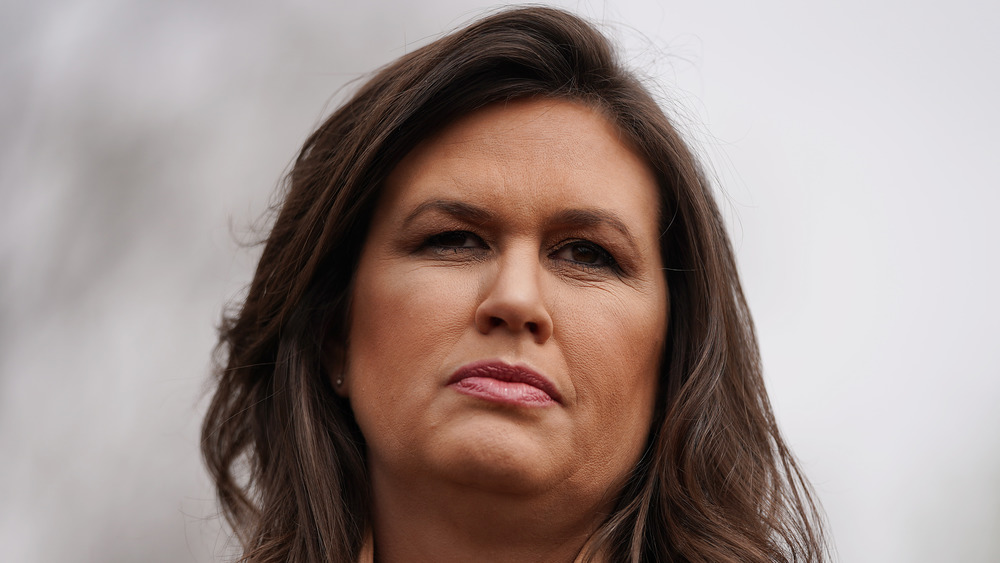 Chip Somodevilla/Getty Images
Sarah Huckabee Sanders may have come into the spotlight fielding questions about Donald Trump, but there's no question that her own net worth is impressive!
Replacing Sean Spicer in the challenging (and turnover-heavy) role as former President Trump's press secretary in 2017, Sanders quickly became a household name for her sharp responses and testy attitude with the press. According to the Washington Post, Sanders maintained a strong relationship with former President Trump even after her departure, with Trump tweeting his well-wishes at the time. "She is a very special person with extraordinary talents, who has done an incredible job!" he wrote, per the outlet. "I hope she decides to run for Governor of Arkansas — she would be fantastic."
Well, it seems Donald Trump got his wish, as Sanders announced on Jan. 25, 2021 that she would be running for that very role in 2022. With a nearly eight-minute Twitter video touting some of Trump's own shining moments as president, Sanders stated her mission in the future midterms and for her home state of Arkansas. Along with a tell-all book including some pretty wild stories about North Korea's Kim Jong-Un, Sarah Huckabee Sanders' time in the spotlight clearly isn't over. In fact it may just be beginning. Scroll down to find out the rising political star's net worth.
Sarah Huckabee Sanders' net worth isn't Donald Trump-level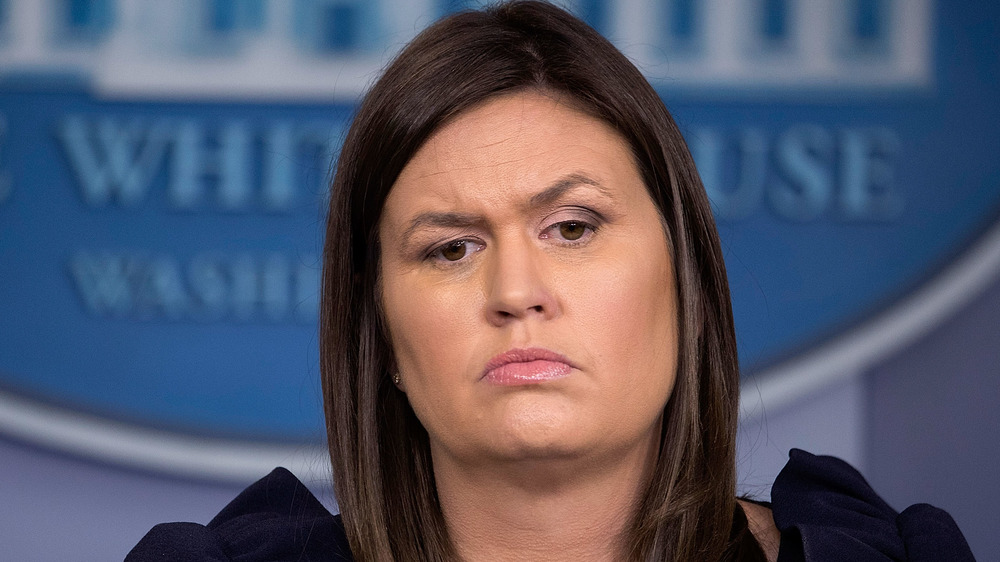 Chip Somodevilla/Getty Images
So what is Sarah Huckabee Sanders' net worth? According to Celebrity Net Worth, the rising figure's salary as press secretary was $179,000, though during a particularly stressful day defending former President Donald Trump, surely that didn't even feel like enough. Yet, Sanders — born in Hope, AK to former Governor Mike Huckabee and politician Janet Huckabee — was drawn to politics from the get-go. She worked on her father's 2008 presidential campaign and was his campaign manager for his 2016 run. "I'm my dad's biggest fan," she told The Hill in 2010. "[Since I was young], I was stuffing envelopes ... knocking on doors ... anything he wanted to do, I wanted to be a part of." 
Real estate-wise, Sarah Huckabee Sanders and husband Bryan Sanders purchased a "sprawling $600,000 home in Pleasant Valley," Little Rock, AK's "wealthiest neighborhood," per The New York Times. In addition to her press secretary pay, she is also now a paid contributor for Fox News, according to the outlet. With that achievement, as well as her 2020 tell-all book, Sanders is racking up some impressive finances. Though not every moment of the road has been smooth (she admitted to lying to investigators in the Robert Mueller investigation in 2019, according to the NYT), she is clearly one to watch. 
With her political career perhaps only just beginning, Sanders has a pretty solid nest egg. Per Celebrity Net Worth, Sarah Huckabee Sanders is worth $1.5 million to date.