The Untold Truth Of Sarah Huckabee Sanders' Husband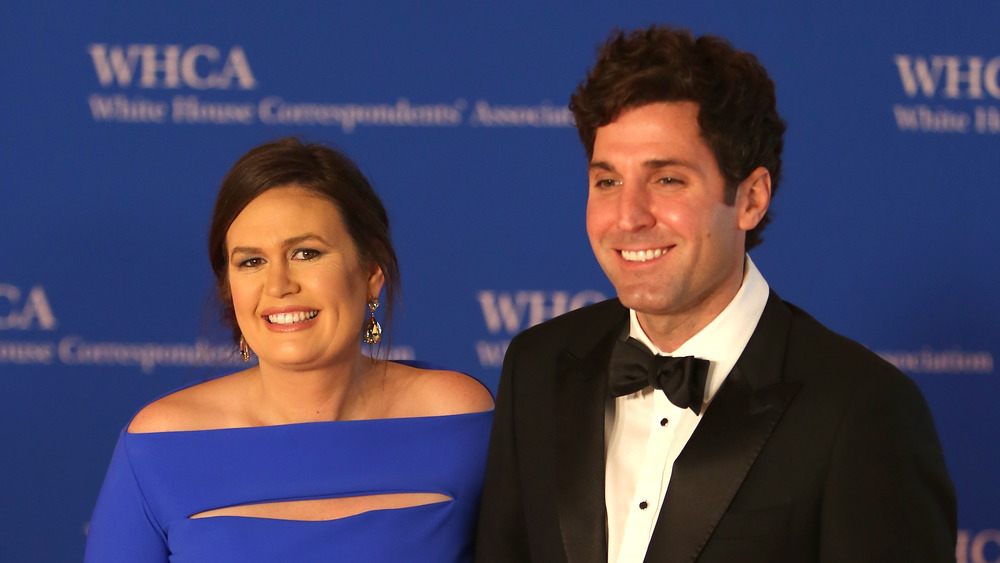 Tasos Katopodis/Getty Images
As always, once a government official announces their run for office, Americans can't help but wonder about their families and Sarah Huckabee Sanders is no different. The former White House press secretary for former president Donald Trump announced her bid for Arkansas state governor on Jan. 25, 2021, just days after her old boss left Washington D.C., following his 2020 election loss, per NPR.
"I've been tested under fire, successfully managing one crisis after another, in one of the most difficult, high-pressure jobs in all of government," she said in a video explaining her fitness for office. "At the table with President Trump, confronting our most dangerous adversaries like China and North Korea." Aside from her job experience, politics seems to run in her blood, considering her father, Mike Huckabee, served as the governor of Arkansas from 1996 to 2007. The proud dad took to Twitter to praise his daughter for stepping into his shoes, however, we have yet to hear from Sanders' husband, Bryan Sanders, following her announcement. With Bryan's background working in GOP politics, it's safe to say he is on board to help his wife achieve her goals. Keep scrolling for more details about the former press secretary's husband.
Republican politics brought Sarah Huckabee Sanders and husband Bryan together
Sarah Huckabee first met Bryan Sanders in 2008 while they were both working on Mike Huckabee's presidential campaign, who would one day become Bryan's father-in-law, per Heavy. The couple wed in 2010 and welcomed three children together, but that didn't derail their career goals. 
Bryan has worked as a political campaign consultant since he began his career as a press assistant to now-Kansas governor Sam Brownback in 2008. He is most known for his work on Florida Congressman Ted Yoho's 2012 campaign for producing a political ad called "Pigs." His work on the project earned him the name of "Rising Star" by Campaigns & Elections magazine, which is considered to be "one of the most prestigious honors in politics." 
Additionally, he and his wife started a consulting firm in 2016, and the following year, Bryan started working for public relations firm IMGE as the Director of Research and Strategy. It's unclear if this is still his main gig, but Sarah said the two started a nonprofit together to help struggling businesses in Arkansas in May 2020, per Talk Business & Politics.
Aside from his career aspirations, it appears he fully supports his wife's political endeavors. Although his Twitter has been dark since 2018, he previously used the platform to gush over her work. Sarah also shares family photos to her Facebook page and previously posted about a day of hunting with Bryan. It looks like we can expect to see Bryan on the campaign trail.