What Sarah Huckabee Sanders' Relationship With Her Dad Is Really Like
Steven Ferdman/Getty Images
While it seems quiet now that President Joe Biden has taken office, it was not so long ago when his predecessor was in office with his "smokey-eyed" press secretary, Sarah Huckabee Sanders. Sanders stepped down in June 2019, presumably to spend more time with her family, according to the New York Times, but her then-boss, former president Donald Trump, immediately encouraged her to run for governor of her home state, Arkansas. After all, her father, Fox News host Mike Huckabee, served as governor of the state from 1996 to 2007 before running for president twice in 2008 and 2016. Not that she needed Trump's encouragement; she had been quietly considering the move for some time.
On Monday, Jan. 25, 2021, Sanders officially announced her run for governor of Arkansas in 2022 in an 8-minute video where she hit many of the talking points of her former boss. The current governor, Asa Hutchinson, fulfilled the term limits and is unable to run again, and Sanders hopes to become Arkansas' first woman governor. She will have competition, though, including from another woman — Attorney General Leslie Carol Rutledge, and Hutchinson's nephew, state senator Jim Hedron, but those folks do not have the same name recognition that Sanders has. Not to mention the support of Trump's base, which may prove to be either a help or a hindrance to the candidate. Only time will tell.
Sanders also has the support of her father, who has encouraged her political career and come to her defense in the past. Let's look at their relationship.
Mike Huckabee has come to Sarah Huckabee Sanders' defense in the past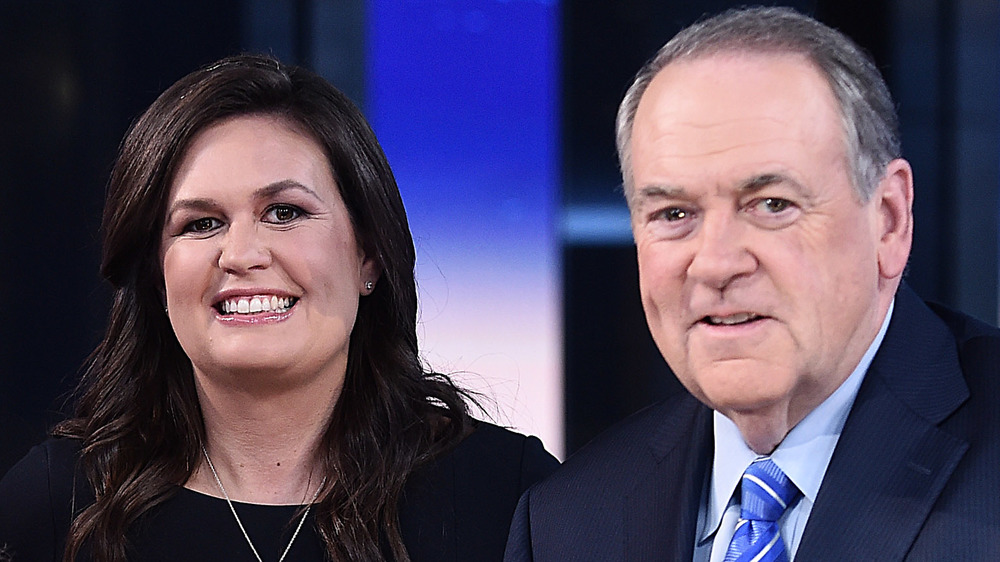 Steven Ferdman/Getty Images
It's not surprising that Sarah Huckabee Sanders would choose a career in politics, given her father Mike Huckabee's standing as the former governor of Arkansas. Sanders has been present in his political career, learning alongside her dad and even working with him. She served on his campaign when he ran for president in 2008 and used his name to get out of a speeding ticket. According to her memoir, as written about in the New York Times, she told this story to the officer who had pulled her over: She was trying to transport 30 pies back to her father's campaign bus before it left for the next rally. The officer offered to escort her to the bus in exchange for a photo with her famous dad.
Huckabee seems well aware of Sanders' love for him, and knows that she supports him and stands by him. She apparently has an electric guitar he gave her, which he signed "always rocking for her Daddy!"
But he supports her, too, and came to her defense when she was depicted on the late night sketch show Saturday Night Live in 2017. Aidy Bryant played Sanders in a sketch that, according to Newsweek, Huckabee called "a little bit silly, sexist misogynist." While he has certainly made his own sexist comments in the past, he is proud of his daughter, whom he called "a generous and thoughtful person." He also assured her and anyone listening, "that she's going to be judged by God," and not by SNL.