Prince Harry's Exes Team Up To Trash-Talk Meghan Markle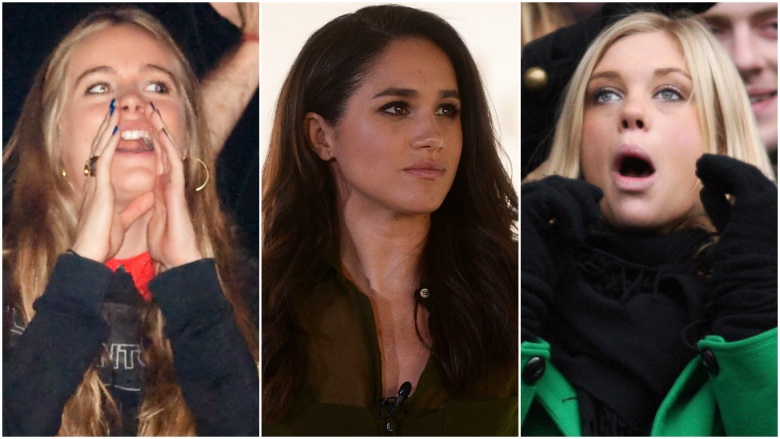 Getty Images
Two of Prince Harry's exes have allegedly teamed up to trash talk Meghan Markle—even though most people who've actually met her only have glowing things to say about the Suits star.
A source told Radar Online that Chelsy Davy, who dated Harry from 2004 to 2010, and Cressida Bonas, who dated the Prince from 2012 to 2014, have been smack-talking Markle together.
"They've been trash talking her all around Sloane Square [a posh area of London]," the source said. "Everything from her hair to her nose to her background. It's so bad that everyone thinks his statement about Meghan was in some way directed to his exes, who have every intention of blocking Meghan's entrance into the elite British upper class."
As Nicki Swift previously reported, Prince Harry released an unprecedented plea to the press and social media trolls, begging them to leave Markle and her family alone once their relationship was revealed to the world.
Still, it doesn't really matter what the blonde duo thinks of Markle, 35, because, well, everyone else—not just Prince Harry—seems to adore her.
South African lawyer Thuli Madonsela, who met philanthropist and humanitarian Markle earlier this year at an event in Ottawa, Canada, told People, "What struck me about her was her personality, compassion and her brain. She is extremely bright. I wanted to know why she was involved in helping young people to discover themselves," Madonsela said. "She encountered some forms of discrimination and awkward moments. When she had this platform, she thought it was her job to make it easier for other young people to discover themselves and lead their fullest life." She added, "Apart from being smart, [Markle is] a very balanced, mature, original thinker."
Another lawyer, Phiwokuhle Nogwaza, told People, "She came across and genuine and warm...She is really soft and gentle. She is friendly and very warm and engaging. It didn't feel like I was speaking to someone from one of the biggest shows on TV," she continued. "It was like talking to a regular girl...She is humble and really down to earth."
Maybe her haters can learn a thing or two from her!