The Bachelorette: How Tayshia Adams Really Feels About Zac Clark's Sobriety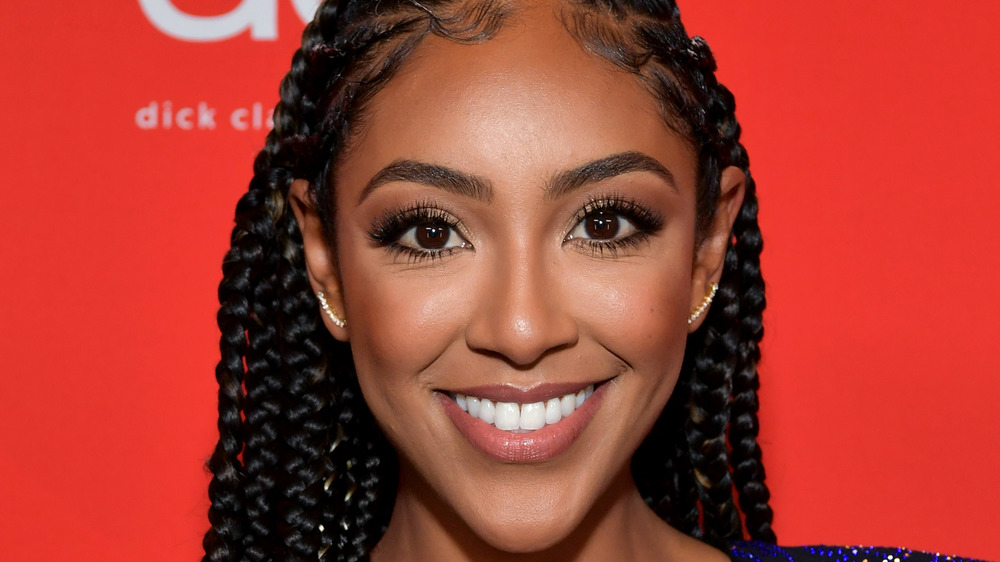 Emma Mcintyre /ama2020/Getty Images
Bachelorette couple Tayshia Adams and Zac Clark are in the early stages of their off-screen romance and it seems to be yet another success story for Bachelor nation to obsess over. Following their final rose ceremony, the engaged couple has been pretty much inseparable, with Zac telling People that Tayshia "has a one-way ticket to New York." He continued, "We're going to get comfortable. And I'm going to date the heck out of her!" Their strong relationship isn't all that shocking, since the duo appeared to have an instant connection on Tayshia's season. Zac quickly opened up to the 30-year-old California native, and one conversation, in particular, revealed a lot about Zac and his past. 
During one of their one-on-one dates, he shared his recovery story. Over that dinner date, Zac walked Tayshia through his struggle with drugs and alcohol abuse after a brain tumor surgery. "It was, like, touch and go. Moments of like, 'I'm not sure if I'm going to make it to tomorrow,'" he said (via Us Weekly). However, despite hitting the lowest of lows, he was able to become sober and turn his life around. After getting sober and his life back together, he ended up co-founding Release Recovery, an addiction treatment center and transitional living facility to help others dealing with substance abuse. 
So, now that Tayshia and Zac are in it for the long run, how does she feel about his sobriety? Keep reading to find out. 
Tayshia Adams keeps an open mind and asks all the right questions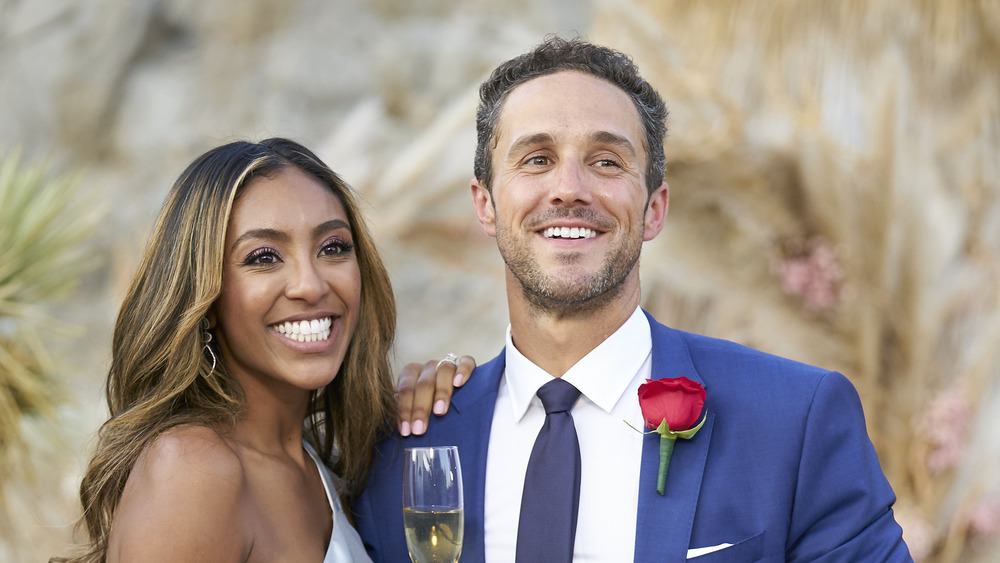 ABC/Craig Sjodin
After Tayshia Adams and Zac Clark's proposal on national TV, the pair has been open about what the future holds for them. However, many fans are wondering how Zac's sobriety affects their relationship. Does she too have to change her lifestyle in order to be with the addiction specialist? In an interview with People, Zac discussed how Tayshia "navigates his sobriety." He told the outlet, "She didn't have any direct experience with it," but adding, "she definitely had an open mind, and she asked all the right questions and some of the ones you hear early on, like, 'Can I drink and then kiss you?'" He continued, "And I'm like, 'Yeah, you're good.'" 
Zac also talked about what it is like now that they are engaged and not in the Bachelor bubble. Zac said that Tayshia is "exposing herself to [his] personal recovery and what that looks like," as well as getting acquainted with his sober friends, per People. He gave an example of their social life, saying they enjoy "going on a trip with a couple of my buddies who are sober, and their wives or partners are not." Zac explained, "Being able to connect with them on that level to show that, one, we have a s—load of fun still and we're not like wet blankets. And two, that she's not alone, that there's other people out there."
It seems the two are handling his sobriety just fine following the final rose ceremony.
If you or someone you know is struggling with substance abuse and mental health, please contact SAMHSA's 24-hour National Helpline at 1-800-662-HELP (4357).