The Transformation Of Cherie Chan From Bling Empire
Bling Empire has been one of Netflix's biggest hits of 2021, enchanting viewers with its depiction of luxurious parties, extravagant lifestyles, and unfathomably expensive clothes. The East Asian socialites who make up the show's cast all have enviable family backgrounds and spend their time in Beverly Hills getting into drama.
One castmate who mostly stays out of fights, however, is Cherie Chan. She won plenty of fans with her calm demeanor, as she mostly avoided all the dramatic arguments and over-the-top parties. Chan, whose full name is Cherie Chan Siu-Ha, focused on being a great mom to her two children instead. Viewers took to Twitter to call her "elegant" and praise her "queen energy." Another viewer claimed that Chan seems like "the sweetest angel."
Her relationship with partner Jessey Lee also sparked a lot of conversation since, as Bustle reported, they had their daughter Jadore without getting married. Her second child, Jevon, is also born during the third episode. The unconventional couple's storyline raised the question of whether they will eventually tie the knot – and from the looks of Chan's Instagram, there's no ring on her finger yet.
Cherie had dreams of being a pop star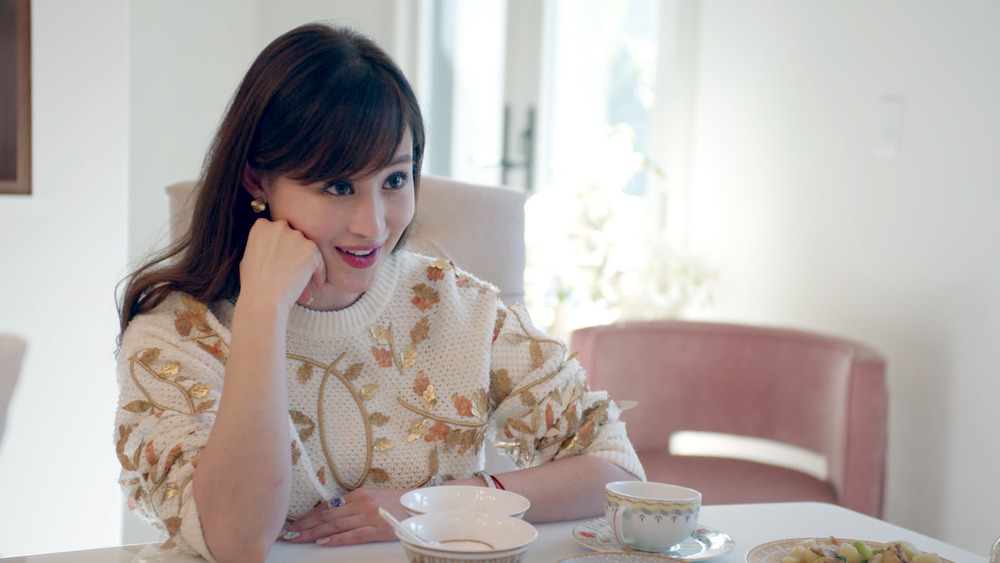 Netflix
Cherie Chan has always lived in the lap of luxury as the heiress to a denim company, per Bustle. She and partner Jessey Lee have a combined net worth of over $200 million, according to Screen Rant, and Lee is preparing to take over his family's high-end furniture business.
Years before she settled into life as a mother, Chan wanted to be a pop star. She was signed to Sony Music Japan, and although no videos of her singing have resurfaced online, there are pictures on her Instagram showing her in a recording studio in 2013. According to Screen Rant, her mother disagreed with her choice of career, so she moved to Los Angeles and gave up her musical ambitions, settling into a traditional life with Lee instead.
In an interview with Page Six, Chan and Lee confessed that they were reluctant to join the cast of Bling Empire at first. "I was thinking maybe I shouldn't do this show, I need my family's permission first because a lot of Asians are very private about our lives," Chan revealed.
She explained that people from her cultural background don't "expose anything," much less appear on reality shows. "So for us, it's a big deal. And for him, it was very hard to convince him," she continued. Eventually, Chan decided that it would be a good opportunity to share her cultural ideals with the world.