The Real Meaning Behind The Weeknd And Ariana Grande's 'Love Me Harder'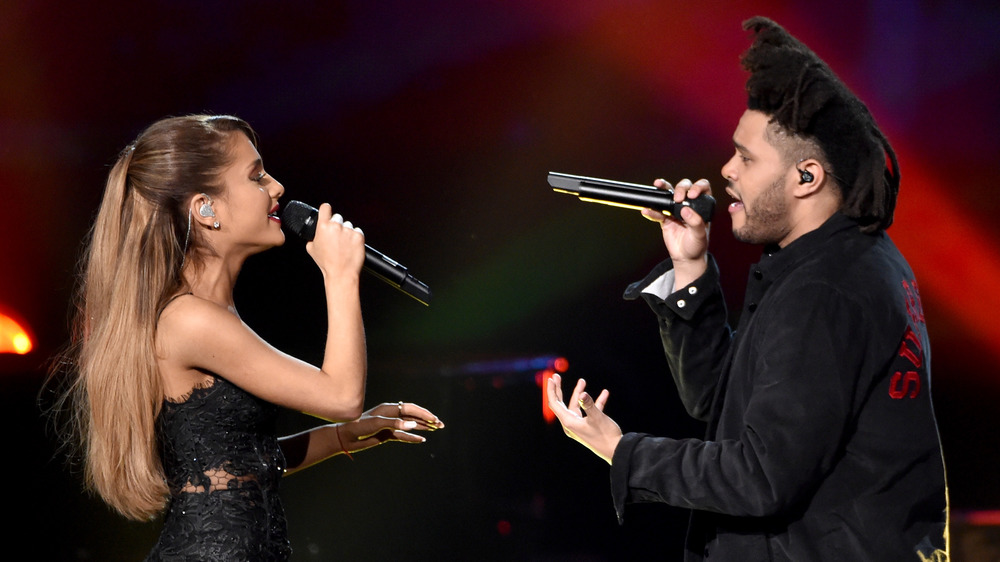 Kevin Winter/Getty Images
Ariana Grande has had quite a turbulent love life, and like any good pop star (looking at you, Taylor Swift), she's documented the many ups and downs in her music. When Grande got engaged with comedian Pete Davidson in 2018 after mere months, she released a song entitled "Pete Davidson" as part of her Sweetener album. When the whirlwind romance came to an end just as quickly as it began, she dropped the absolute banger, "Thank U, Next." "Even almost got married / And for Pete, I'm so thankful," she sings on the tune, before breaking into the chorus, "One taught me love / One taught me patience / And one taught me pain / Now, I'm so amazing."
A few years later, when Grande and Davidson were old news, the singer started dating Dalton Gomez, a man who has been described as both a normal real estate agent and real estate tycoon, depending on who you ask. If you ask Grande, though, she'd probably call him the love of her life, as the two announced their engagement in December 2020. Shortly after she and Gomez started getting serious, Grande dropped a few songs that shed a little light on their blissful relationship, including "Positions" and "Stuck With U."
So, we know Grande has a taste for writing about Davidson and Gomez, but what about her older songs? What are they about? Let's investigate one of her earlier hits with The Weeknd: "Love Me Harder."
Is 'Love Me Harder' by The Weeknd and Ariana Grande about their love lives?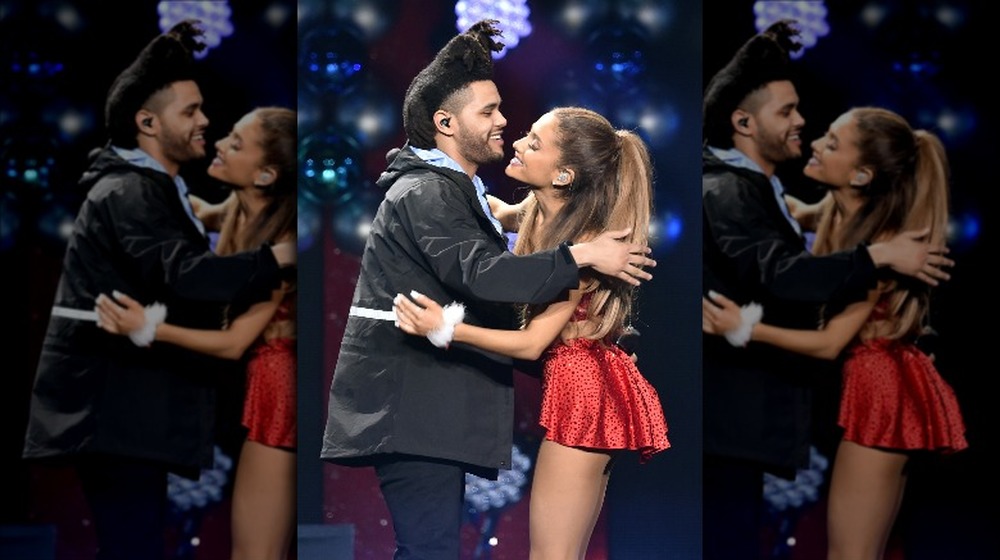 Kevin Winter/Getty Images
Released in collaboration with The Weeknd on Ariana Grande's sophomore album, 2014's My Everything, some of the lyrics for "Love Me Harder" left fans scratching their heads. "Tell me something I need to know / Then take my breath and never let it go," the song begins. The chorus picks up with, "'Cause if you want to keep me / You gotta, gotta, gotta, gotta / Got to love me harder / And if you really need me / You gotta, gotta, gotta, gotta / Got to love me harder."
So, who is this song about? Back in 2013, Grande was linked with Nathan Sykes of the band Wanted, per StyleCaster. That same year, she met and worked with late rapper Mac Miller, who would become one of her most serious boyfriends (via Capitalfm). However, Grande doesn't have a songwriting credit on "Love Me Harder." Meanwhile, The Weeknd told Rolling Stone (via E!) that he rewrote his own verse to make it less "generic" — but he wouldn't begin his first high-profile, on-and-off relationship with Bella Hadid until 2015.
Considering their shared history of writing songs about their significant others, it's hard to believe "Love Me Harder" is just a strictly sexual pop song — Consequence of Sound called it "yearning and infectious" — but it's unclear whether it was written with a particular someone in mind, as both artists have remained tightlipped. But sometimes, a steamy radio hit doesn't need to be anything more than that.