Details You Should Know About Cloris Leachman And Betty White's Relationship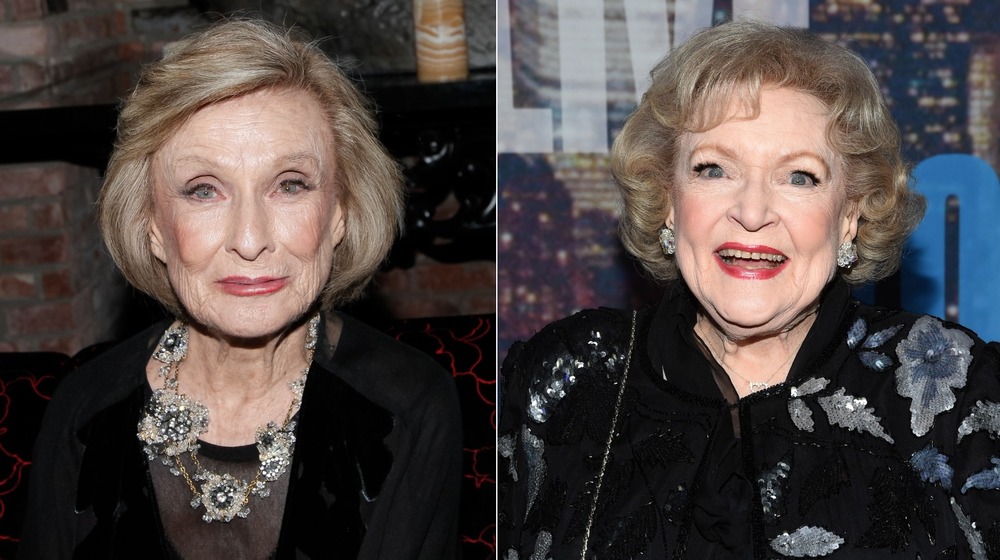 Tibrina Hobson, Larry Busacca/Getty Images
With the tragic death of Cloris Leachman on Jan. 27, 2021, fans and fellow celebrities are remembering the Hollywood legend and her relationships with fellow co-stars. Leachman, who was an Emmy- and Oscar-winning actress, had a career in television and film and on stage that spanned decades, but she was probably best known for her role as Phyllis Lindstrom on The Mary Tyler Moore Show (via ABC News). Leachman had close relationships with cast members on the show, including Betty White.
The two Mary Tyler Moore Show alumni were so close that they took every opportunity to troll each other through social media posts and in interviews. In April 2016, when Leachman turned 90, she went on Twitter to thank her followers and boasted about her age. "Thank u 4 the kind & sweet birthday wishes," Leachman tweeted. "Remember, no matter what I'll always be younger than @BettyMWhite!"
Despite their back and forth trolling, Leachman and White go way back. Here's what you should know about Leachman and White's relationship.
Cloris Leachman and Betty White bonded over their similarities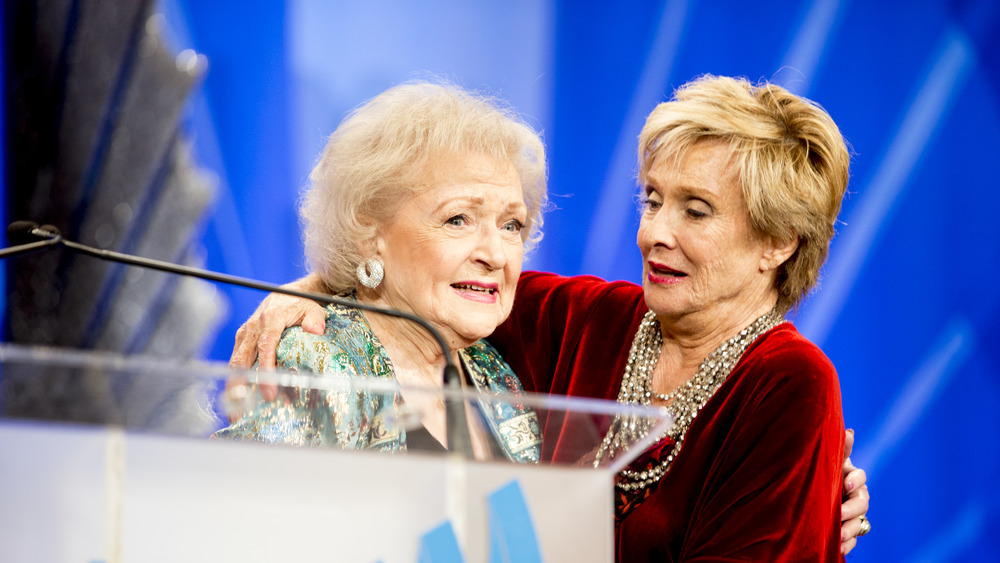 Kevin Tachman/Getty Images
While Cloris Leachman was a main cast member on The Mary Tyler Moore Show, Betty White didn't join until midway through its seven seasons, playing Sue Ann Nivens (via Entertainment Weekly). Both became close on the show, but Leachman wouldn't consider them best friends by any means.
In an interview with the Des Moines Register in August 2016, Leachman clarified that she and White were co-workers. "I hear from people all the time who think we hang out and talk and go places together, I don't know why," Leachman said. "We work together and then we go our own separate ways. My family is who I spend my off-time with."
And work together they did, reuniting on screen for the 2010 comedy film You Again. Both played grandmothers who were at odds with each other because writers were inspired by their relationship on The Mary Tyler Moore Show (via IMDb).
Even though both took part in the fake feud, which became a running gag, Leachman revealed her deep admiration for White. "I remember when (Betty) was roasted (on Comedy Central) I sat across from her and every time someone said something we looked at each other and just laughed," Leachman explained to the Des Moines Register. "We know what it's like to be a woman and work in Hollywood, we've been doing it for so long, so I guess that's why everyone puts us together."