The French Song In That Allstate Commercial Means More Than You Realize
Ever left an object on the roof of your car, began to reverse and immediately had that overwhelming feeling of ... regret? Well, that's the double meaning behind Allstate's latest televisual commercial soundtracked to a famous French song. The insurance company presents that dreaded but all-too-familiar scenario by showing drivers take off with an array of ordinary household items atop their vehicles, much to the horrified expressions of onlookers. While some of the forgotten belongings are a little more believable, such as a cup of tea, a pair of fuzzy slippers, a handbag, or a bag of groceries (we've all been there), others are less so; one driver hits the road with a fishbowl atop their vehicle. In the end, they all arrive at their destination accident-free — and with no regrets — due to safe driving and by having insurance.
The popular commercial, called Smooth: 60, has been viewed over 150,000 times on YouTube with many of its comments discussing the dramatic French backing track. The song in question is called "Non, Je Ne Regrette Rien," which translates to "No, I regret nothing" — fitting for an advertisement based on driving with zero regrets. However, you've probably heard this 60s recorded song before.
"Non, Je Ne Regrette Rien," hit the Billboards after featuring in Inception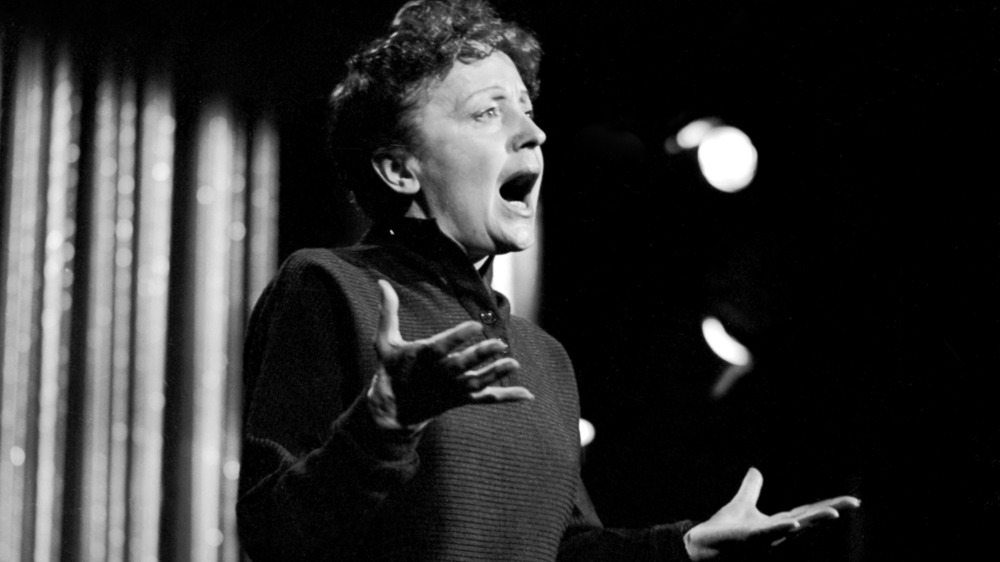 Michael Ochs Archives/Getty Images
Edith Piaf first sang the unforgettable and quirky "Non, Je Ne Regrette Rien" back in 1960, and, despite having died over 57 years ago, she still remains one of France's most famous entertainers. Known as the "Little Sparrow," due to her short stature but big voice, Piaf often sang songs that mirrored the tragedies of her life, per Britannica. "Non, Je Ne Regrette Rien," which was also her final song, is one of them. 
Aside from the Allstate commercial, "Non, Je Ne Regrette Rien" featured in a number of other popular culture settings. Notably, it served as the theme song for Christopher Nolan's 2010 box office smash Inception starring Leonardo DiCaprio and Marion Cotillard. Famed film composer Hans Zimmer, who worked on Inception, told The New York Times, he sampled the epic song "for the game of it." 
"All the music in the score is subdivisions and multiplications of the tempo of the Edith Piaf track," Zimmer revealed. This earned him an Oscar nomination for Best Original Score. Audiences also couldn't get enough of Piaf's hit — just after Inception hit cinemas, "Non, Je Ne Regrette Rien" skyrocketed to number 2 on the Billboard charts.
Edith Piaf now has over 2 million monthly listeners on Spotify
While the song was used in the background of Inception, the film's star, Marion Cotillard, also took center stage with it three years earlier when she played Edith Piaf in the French biopic La Vie En Rose, named after another popular Piaf song. An unrecognizable Cotillard won the Best Actress Oscar for her portrayal of the legendary singer and memorably belts out "Non, Je Ne Regrette Rien" during the film's finale.
Other stars who have also paid homage to Piaf include Shirley Bassey (who recorded an English version of "Non, Je Ne Regrette Rien") and even Lady Gaga. The pop-star dressed as Piaf from head to toe — even drawing on the singer's famously thin eyebrows — to sing "La Vie en Rose" during her film A Star is Born.
And even now during the Spotify generation, Edith Piaf still remains as popular as ever. "Non, Je Ne Regrette Rien" has more than 80 million streams on the music platform with Piaf herself garnering over 2.2 million listeners per month. Decades after the end of her life, Piaf is still finding new fans.