The Real Meaning Behind Machine Gun Kelly's "Lonely"
Rich Fury/Getty Images
Machine Gun Kelly had earned his moniker for his rapid-fire rapping style and enjoyed a successful career in hip hop for years before pivoting to an entirely different genre with the release of his album, Tickets to My Downfall. The pop-punk record was a hit with critics and audiences alike and included some of the artist's most soulful and introspective lyrics he had ever recorded.
The standout single "Lonely" is perhaps the album's most emotional song, as it is an ode to MGK's deceased father and aunt. The musician said he originally conceived the track as a tribute to his aunt who helped raise him. "I called Travis (Barker of Blink 182) after my father had passed and I already had that concept of a song for my aunt who was my closest family member, who passed too," he told Spin.
In July 2017, the artist penned a heartfelt Facebook post about the passing of his aunt. "I wrote my first rap in ur basement when me and my pops shared the bed and none of the kids at school understood me," he shared.
The singer references this time in his life during the first verse of the song when he sings, "My first home since mom had left / and I wrote my first song with him in the basement." During the second verse, Kelly mentions when his aunt picked him after he was arrested and sings, "You called your sister ... G*dd*mn I miss her."
Recording Lonely was therapeutic for Machine Gun Kelly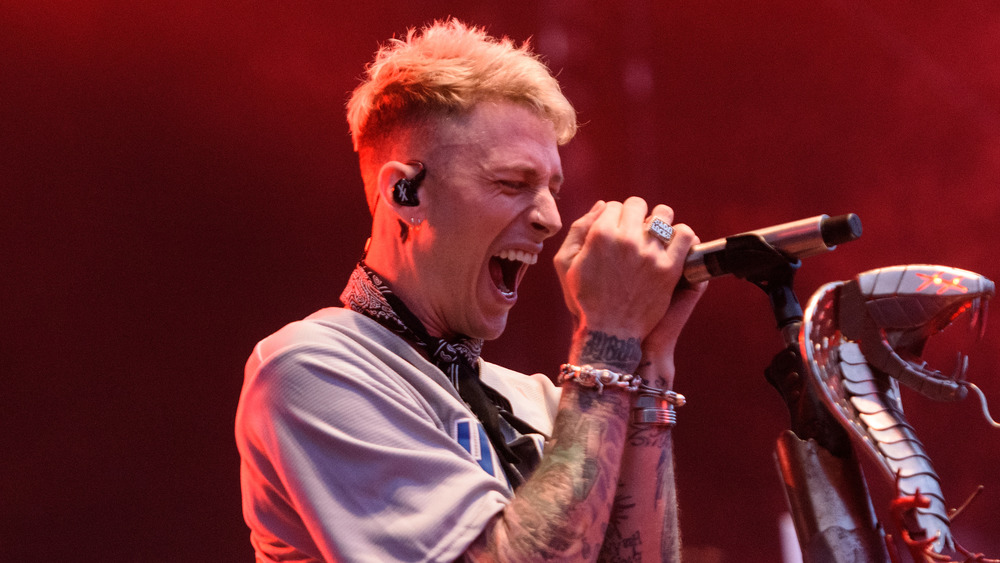 Daniel Boczarski/Getty Images
"Lonely" mentions Machine Gun Kelly's aunt, but is mainly about losing his father. In July 2020, MGK tweeted out that his father had passed away. The performer went on to mention the emotional toll recording the song had on him. "I really feel like my soul was chipped off a little bit and put onto this record," he told Radio.com, "I don't know if it's something I can get back."
The lyrics to "Lonely" poured out of the singer as the song came together. "I think that song wrote itself as I was watching my father die in front of me," he told the outlet. The third verse contains a direct reference to his father's final day. "The last time I heard you / They held the phone, you took your last breath," Kelly sings.
During his interview with Spin, the artist discussed how therapeutic the song was for him. "So I was grateful that Travis allowed me to come in and have that cathartic moment in the booth," Kelly said. In the chorus, MGK croons, "And then he said goodbye way too soon / And this don't feel right without you."
In January 2021, the singer shared the news that he would be appearing on Saturday Night Live which had a special meaning for him. "i remember when i was a kid watching @nbcsnl every weekend with my aunt and my dad," he tweeted, "i'm going to perform the song i wrote for them on the show."