Why Eva Mendes Has Everyone Talking About Her Relationship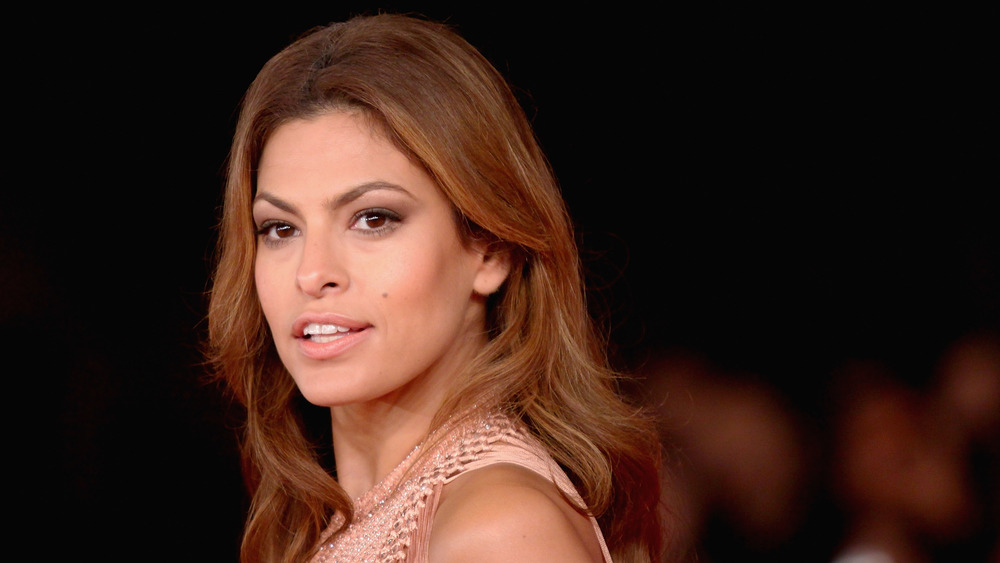 Ernesto S. Ruscio/Getty Images
Eva Mendes and longtime partner Ryan Gosling are a notoriously private A-list couple. The pair reportedly got together on the set of The Place Beyond the Pines in 2011. While filming the critically acclaimed crime drama, Mendes laid eyes on Gosling, six years her junior, and fell madly in love. What followed was a romance for the ages. In 2014, Mendes and Ryan welcomed their first child, a little girl named Esmeralda Amada Gosling. Two years later, in 2016, the family of four was complete when their second daughter, Amada, joined the gang, per The Daily Mail.
Since then, Mendes has kept a low profile. She hasn't taken on many acting roles since the birth of her first daughter. "It kind of worked out to where I was 40 and having my first baby," Mendes told Australia's Nova 96.6 in January 2021, per Entertainment Tonight. "I think I was 42 for the second, so it worked out in that way that I had a career, and then I change my focus to my family." Mendes' decision to focus on her family and put her acting career on hold came as a surprise to everyone, including the actress herself. Mendes added that she never imagined having children until she met Gosling. 
Though they've got a thriving family of four, Gosling and Mendes never tied the knot. Nearly a decade into their relationship, though, some new paparazzi photos of the family have everyone thinking that their relationship status may have finally changed.
Eva Mendes' new accessory is raising some eyebrows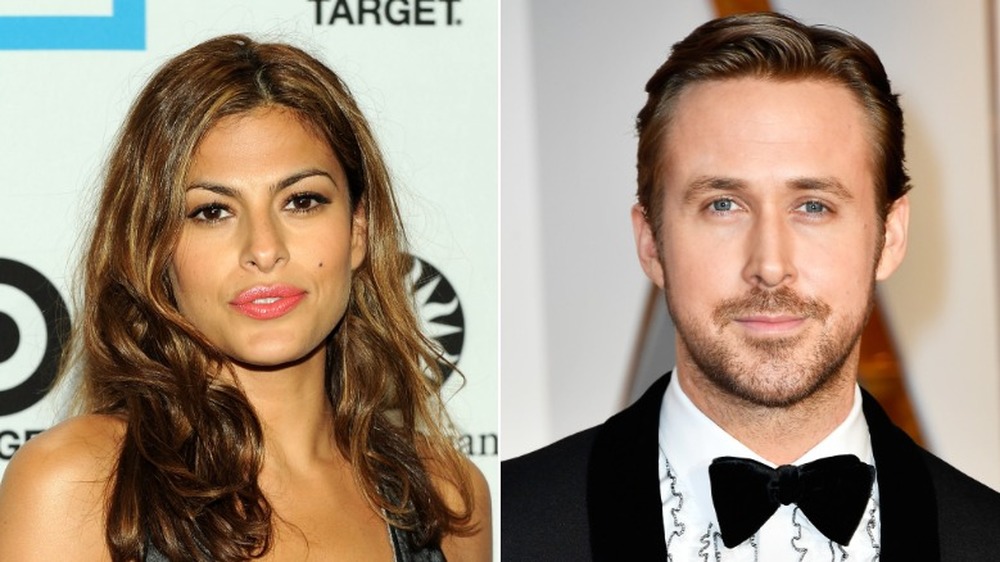 Stephen Lovekin, Frazer Harrison/Getty Images
While Eva Mendes and Ryan Gosling are an extremely private couple, they do give the occasional interview, which sheds a bit of light on their mysterious relationship. When speaking to Oprah Magazine in 2019, Mendes dodged more personal questions about her closely guarded family life. Still, she did confirm that she and Gosling put a lot of energy into their family.
Since Mendes keeps busy playing mom and designer, you might think she didn't have a lot of time to focus on her relationship. To be fair, being a mom to two under 10 and running a business is a lot. That hasn't stopped fans from speculating and spreading rumors that Mendes and Gosling are secretly engaged, or even married, though. There never seemed to be much basis to the rumors — until 2021, that is, when Mendes was spotted wearing an absolutely massive diamond ring on a very significant finger.
In January 2021, The Daily Mail posted some new pictures of Mendes, Gosling, and their daughters on a hike in Los Feliz, Calif. While the outlet made sure to blur out the children's faces, they also made sure to zoom in on Mendes' ring finger, and sure enough, the star was sporting a pretty big ring.
So does this mean Mendes and Gosling are finally engaged... or even married? Unclear. It looks like we'll have to wait and see whether they ever make their very private relationship a bit more public.