The 14 Most Controversial Super Bowl Commercials Ever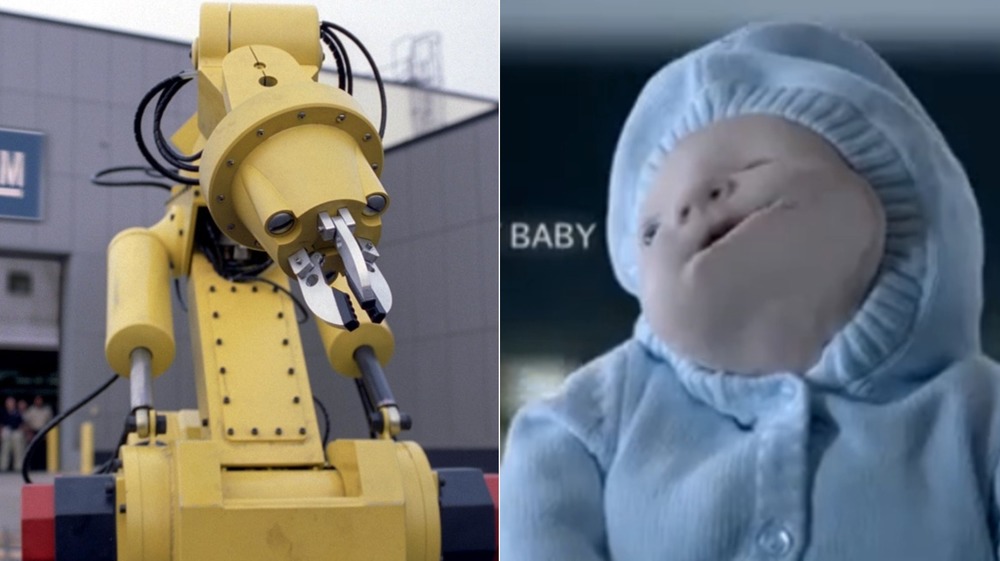 The following article includes references to suicidal ideation, homophobia, transphobia, racism, child abuse, and animal abuse.
Since the mid-aughts, February has marked the advertising industry's national holiday. No, we're not talking about Valentine's Day, though some cynics might argue that it only exists to promote consumerism. We're talking about the Super Bowl, the one time a year when people actually watch commercials rather than fast forward through them on their DVR.
Super Bowl commercials are typically the most coveted — and most expensive — television ad spots of the year. According to The Hollywood Reporter, it cost $5.6 million to nab a 30-second ad in 2020, and this came at a time when advertisers were increasingly moving toward less costly time slots like the pre-game, post-game, or not at all. In the wake of the coronavirus pandemic, some of the event's most prominent advertisers even pulled out of the 2021 game completely, including Coca-Cola, PepsiCo, and Budweiser. But the beer company's famous Clydesdales made their triumphant return the following year — and as fans were looking forward to Rihanna's Super Bowl halftime show as the Kansas City Chiefs took on the Philadelphia Eagles in 2023, they were also treated to a Kevin Bacon narration in the "Six Degrees of Bud" ad.
Nonetheless, there are probably some advertisers we could do without. When they say any press is good press, that's just not true. These controversial Super Bowl ads caused a whole bunch of problems for the companies who spent millions to make them.
Holiday Inn's high school reunion ad
Holiday Inn's "Bob Johnson" Super Bowl ad has arguably aged even worse than milk left out at one of the hotel chain's continental breakfasts. It was offensive when it aired back in 1997, but through the lens of the 2020s, it's an inexcusable mess. As AdAge noted, the company was poised for a Super Bowl comeback. They wanted to use their first spot in nearly a decade to showcase their recent company-wide renovations to the tune of $1 billion. Instead, it showcased some major transphobia.
The ad, which takes place at a high school reunion, follows a glamorous woman as a narrator runs through the cost of her various plastic surgery procedures — $6,000 for a new nose, $3,000 for lips, and so on. The spot then goes on to suggest she had gender affirming surgery, and her classmate appears visibly horrified upon this revelation. "It's amazing the changes you can make for a few thousand dollars," a narrator explains.
The worst part about the ad may just be the way Holiday Inn clung so tightly to their misguided vision. Even though they pulled the commercial and issued an apology, spokesman Craig Smith told AP News that "about two-dozen people called their corporate headquarters in Atlanta about the commercial, and half of them liked it." Gary Schahet, who was in charge of the franchise owner's group, claimed the majority of franchisees supported the controversial commercial 5-to-1. Yikes.
Just For Feet's spot that ran right into hot water
If you haven't heard of Just For Feet, it's because the athletic store went out of business shortly after running what may just be considered the most disastrous Super Bowl commercial of all time. The 1999 spot featured a group of white men in a Jeep hunting — yes, hunting — a Kenyan runner like they're a part of some ersatz human poaching operation. They proceed to drug the athlete, who's rendered unconscious and forced to wear new sneakers against his will.
It's impossible to ignore the colonialist undertones in the ad, which are somehow even worse than the pith helmet Melania Trump wore on her own Kenyan safari. Hunting humans — much less those whose ancestors were historically enslaved — is a bad look. It's the kind of thing that could have bankrupted the company, if the executives didn't do it to themselves first.
According to AdAge, Just For Feet sued their marketing agency, Saatchi & Saatchi, in an attempt to place the blame on someone else, even though they approved the ad in the first place. It's safe to say that they might have been a little preoccupied considering the fact that some of the executives were entangled in what would later be revealed as an accounting fraud scheme. This led to their bankruptcy mere months after the commercial aired. Just For Feet is now a relic of terrible Super Bowl commercials past. They may have shuttered their last remaining store in 2004, but YouTube is forever.
Snickers' 'do something manly' commercial
If you told us that two frat bros crawled out of FiDi, punched each other in their North Face vests, and slammed a Natty Light on each other's foreheads before miraculously being hit with the inspiration for Snickers' controversial 2007 Super Bowl commercial, we'd have to believe you. This advertisement, which depicts two auto mechanics nearly kissing in a "Lady and the Tramp" moment over a Snickers bar, has deep undertones of homophobia that did not go ignored. Even worse, it came with an accompanying website that showed the game's teams reacting to the male-on-male kiss, which shouldn't merit any reaction, much less an entire website's worth.
According to AdAge, the company fielded criticism from a number of organizations, including the Gay and Lesbian Alliance Against Defamation (GLAAD) and the Human Rights Campaign, the latter of which slammed the advertisement in a statement. "This type of jeering from professional sports figures at the sight of two men kissing fuels the kind of anti-gay bullying that haunts countless gay and lesbian school children on playgrounds all across the country," said Joe Solmonese, the organization's president.
Weirdly enough, the advertising team behind the ad told AdAge that they asked GLAAD to review a commercial prior to the game. GLAAD didn't know if it was specifically the Snickers commercial, but regardless, the company ended up changing their minds the following day. Clearly, if it was for Snickers, they could have used the help. According to CBS News, the candy company ultimately pulled the ad.
General Motors' ad about a robot had a 'potentially dangerous message'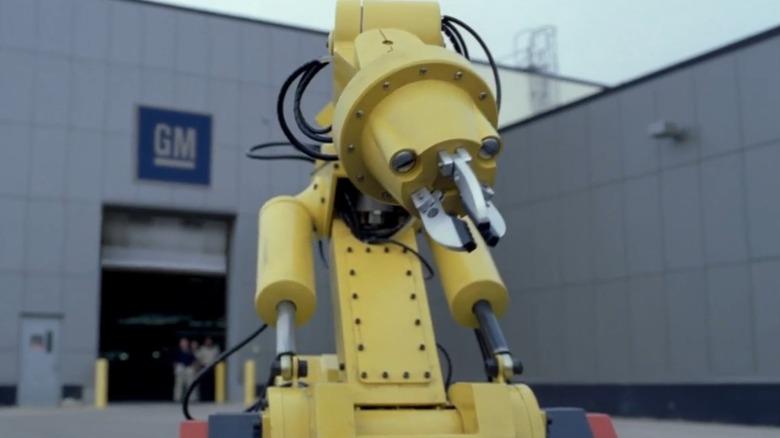 It's not really clear why General Motors thought joking about suicide would help them sell cars, but now there's a generation of children scarred by the morbid idea of a deeply depressed WALL-E whose experience working at the car manufacturer was traumatic enough to make him jump off a bridge — if only in his nightmares. Here's an abridged version of what went down.
In the 2007 Super Bowl spot, GM aimed to promote their 100,000-mile warranty and dedication to quality by depicting an assembly line robot who becomes suicidal after making a minor mistake and losing his job at the factory. Of course, no robots were actually harmed in the making because it was all just a poorly programmed fever dream set to the lighthearted tune of "All By Myself" by Eric Carmen. Honestly, that doesn't exactly make it any better.
According to AdAge, The American Foundation for Suicide Prevention slammed the ad, asserting that it was "insensitive to the millions of people who have lost loved ones to suicide" and "suggests a troubling and potentially dangerous message that suicide is a logical and rational decision should one experience failure or lose their job." GM remained steadfast for two days before cutting out the robot death and going with something less controversial, per CNN Money.
If you or anyone you know is having suicidal thoughts, please call the National Suicide Prevention Lifeline​ by dialing 988 or by calling 1-800-273-TALK (8255)​.
Tim Tebow's pro-life advertisement
In 2010, the Super Bowl attracted a record-breaking 106.5 million viewers. That also means there were a record-breaking number of eyes watching football legend Tim Tebow rally against abortion in a controversial ad paid for by Focus on the Family, a conservative Christian organization. As you'd expect, it didn't go over very well.
Let's be clear, Tebow's commercial doesn't explicitly mention abortion, but it does send a strong pro-life message by telling the story of his birth. Pam Tebow was apparently pregnant when she came down with amoebic dysentery during a missionary trip in the Philippines. Though doctors urged her to abort her fetus, she ended up giving birth to the football star. According to ABC News, once the controversial spot aired on CBS, Tebow didn't back down as Focus on the Family claimed they didn't understand the fuss. "I know some people won't agree with it," Tebow said during a press conference. "But I think they can at least respect that I stand up for what I believe. I've always been very convicted of [my views on abortion] because that's the reason I'm here, because my mom was a very courageous woman."
Even before the advertisement ran, it was met with backlash from women's advocacy groups. CBS stood by their decision to take the Christian organization's money (likely, multi-millions) and issued a statement to AP News (via ABC News) claiming the spot was "appropriate for air."
Groupon's 'Save The Money' TV spots sparked backlash
One would think that Groupon might eventually face some controversy for peddling discount plastic surgery, but shockingly, it was their restaurant offerings that did them in. In 2011, the growing tech company served up two controversial advertisements as part of their "Save the Money" ad campaign, which aimed to solicit donations for social and environmental causes.
Most would agree that their Brazilian rainforest ad — where Elizabeth Hurley claimed "not all deforestation is bad" before hawking a discounted Brazilian wax — was a mere amuse-bouche. The entrée? A TV spot rallying against Tibet's ongoing humanitarian crisis only to seemingly shrug it off to promote restaurant discounts. To be fair, actor Timothy Hutton's delivery — where he flippantly claimed Tibetans "still whip up an amazing fish curry" even though their "culture is in jeopardy" — didn't help.
According to the Chicago Tribune, Groupon's commercial debut was also a massive failure, as angry consumers rushed the brand's official blog to complain. The thing is, it could have actually been one of the Super Bowl's biggest successes had anyone known that Groupon was actually raising money for the causes they seemingly mocked. Per Chicagoinno, the fundraising efforts weren't mentioned anywhere in the ads and could only be found if you went online.
HomeAway's 'test baby' commercial
If only we could be a fly on the wall of the pitch session where someone convinced HomeAway that it was a good idea to feature a lifelike baby doll splattered against a window in an actual advertisement. Nonetheless, that is what went down in their 2011 "Ministry of Detourism" Super Bowl commercial. The ad centers around a fictional organization dedicated to saving family vacations that have been ruined by bad hotels. In a simulated hotel room, an arguing family accidentally sends a so-called "test baby" flying into the air only to smack against a window.
The baby was meant to mimic a test ride dummy, a concept which seems inherently inoffensive, and the company made every effort to make the baby look obviously fake. Those efforts were apparently not enough. According to Statesman, advocacy groups, particularly those focused on preventing traumatic brain injuries, still claimed the advertisement "trivializes child abuse."
As AdAge noted, HomeAway eventually edited their spot ... but not without issuing what may be the most underhanded apology of all time. "We do not believe the ad will result in an increase in violence towards babies, just as last year's Super Bowl ad featuring Betty White didn't lead to an increase in elderly women being tackled in parks," they said in a statement (via SBNation). "However, we feel we made a mistake in judgment, and for that all of us at HomeAway are truly sorry."
GoDaddy's 'puppy mill parody'
What started as a Budweiser parody ended up being so controversial that it didn't even make it to air. Someone on GoDaddy's team clearly didn't get the memo that it's never okay to break a puppy's heart on national television, much less make light of puppy mills, which are widely viewed as epicenters of animal abuse.
According to The Hollywood Reporter, who called the 2015 ad spot a "puppy mill parody," animal activists flooded Change.org after the GoDaddy's Super Bowl commercial was released ahead of the game. It followed the story of a lost puppy who miraculously finds his way home only to be callously sold on the internet. Per USA Today, the petition quickly racked up support, reaching more than 41,000 signatures before GoDaddy eventually pulled the ad. That's without even mentioning the onslaught of social media backlash, including some choice comments from the SPCA.
GoDaddy ultimately issued a public apology, where they assured critics that the dog in the ad came from "a reputable and loving breeder in California." "He's now part of the GoDaddy family as our Chief Companion Officer and he's been adopted permanently by one of our longtime employees," read a statement on their website (via USA Today). At the time of this writing, it's not exactly clear how much money the company wasted on this debacle, but with the price of Super Bowl ad time, we'd guess millions.
Nationwide's controversial ad about a boy
Nationwide's 2015 Super Bowl advertisement was a heartwarming coming of age tale with a twist. The twist was that the boy protagonist was dead, and thus, his coming of age story was over. He would never learn how to ride a bike and never get his first kiss because, in his words, he "couldn't grow up." Nationwide then plays a supercut of all the accidental ways children can die — including drowning in a bathtub, being crushed by a TV set, and ingesting dishwashing detergent.
If you think that's horrific, you're absolutely not alone. Despite Nationwide's disclaimer that the leading cause of childhood death is preventable accidents, the commercial was dubbed "dead boy" in the press and ripped apart online. Nationwide may not have accidentally killed any children, but they did kill the mood. As musician and writer Jono Diener wrote on Twitter, "Nationwide just got the most publicity out of any commercial by crushing the souls of millions."
The insurance company did eventually issue a statement, but it wasn't an apology. "The sole purpose of this message was to start a conversation, not sell insurance. We want to build awareness of an issue that is near and dear to all of us — the safety and well being of our children. We knew the ad would spur a variety of reactions," they wrote (via Fox Sports). According to AdAge, the company sat out the following Super Bowl. Perhaps, they were still grieving.
84 Lumber's 'The Journey Begins' spot
In 2017, the most controversial Super Bowl commercial came from a company recognized by few outside of its industry, the construction supplier 84 Lumber. "The Journey Begins" follows a Mexican mother and her child as they presumably make the difficult journey to cross the United States border. According to AdAge, the original iteration featured a border wall but was rejected by Fox due to its political and controversial nature. Nonetheless, it still served as a powerful statement about immigration, especially off the heels of Donald Trump's inauguration.
The ad pointed viewers to 84 Lumber's website, which had to be throttled after receiving more than 300,000 visits in the 60 seconds after the commercial aired. There, viewers were met with the original ad and the story's ending. The mother finds a door in the wall, the pair cross through, and text flashes across the screen proclaiming "the will to succeed is always welcome here." 
84 Lumber intended the ad to serve as a recruiting tool, but it also served as a major ruckus as naysayers accused the company of supporting illegal immigration. Those concerns were brushed off in a statement. "The mother and daughter symbolizes grit, dedication and sacrifice, characteristics that we look for in our people at 84 Lumber," the company wrote. "President Trump has previously said there should be a 'big, beautiful door in the wall so that people can come into this country legally.' We couldn't agree more."
Fiat Chrysler Automobiles' Dodge Ram Super Bowl ad
Fiat Chrysler Automobiles inadvertently sparked outrage with their 2018 Super Bowl ad when they used a 50-year-old Martin Luther King Jr. speech to sell Ram Trucks. Not only was the move slammed on social media and widely regarded as disrespectful — it also served as the sort of irony that's impossible to make up. As USA Today pointed out, MLK rallied against car advertisers in the very speech featured in the commercial. This was absolutely glaring when a Twitter user shared a clip that mashed up that portion of the sermon with the ad and racked up tens of thousands of retweets in the process. The commercial was officially a meme.
According to AdAge, the company stood by their advertisement, claiming they "worked closely with the representatives of the Martin Luther King Jr. estate." One of these representatives was not The King Center, which was founded by MLK's wife, Coretta Scott King. The organization basically pulled a Mariah Carey and said: I don't know her.
In Fiat Chrysler's defense, they were attempting to promote acts of community service. It just happened to be a colossal miss, appropriating the struggle undergone by an entire group of people for the purpose of turning a profit. At least, that's the way it looks from the outside.
Senatorial candidate David McCormick's 'Let's Go Brandon' spot
While the Los Angeles Rams and the Cincinnati Bengals squared off at Super Bowl LVI in 2022, hedge fund company owner Dave McCormick created some hype for his own battle to snare a spot in the U.S. Senate. Although the candidate was vying to win a midterm election still nine months away, McCormick wanted to make a splash by spending $7 million on a 30-second ad to attract eyeballs during the NFL final. 
A national television spot was unusual, since McCormick was running for a seat representing Pennsylvania, but it was the commercial's content that was even weirder. With images that include a gas pump, military troops in action, and Mark Zuckerberg addressing Congress, the audio simply consists of a crowd chanting "Let's Go Brandon," a listener-friendly variation of the "F**k Joe Biden" mantra first misinterpreted at a NASCAR race by a TV personality interviewing driver Brandon Brown.
To no surprise, Democrat opponent Conor Lamb wasn't impressed over that slight against U.S. President Joe Biden, writing in a since-deleted tweet (via Newsweek), "Dave McCormick is too much of a coward to say 'Let's Go Brandon' himself, but pathetic enough to spend millions on a Super Bowl ad to say it for him." A number of citizens were also angered by the commercial, with one person penning a vitriolic letter to the Patriot News, calling McCormick "undignified and devoid of class and refinement." McCormick would ultimately lose in Pennsylvania's Republican primary to Dr. Mehmet Oz.
FTX's 'Don't Miss Out' Super Bowl commercial
It wasn't difficult for comedian and writer Larry David to curb his enthusiasm for cryptocurrency. The quirky curmudgeon expresses disdain for digital commerce in crypto company FTX's 2022 ad that ran in Super Bowl LVI, as well as some other historical innovations ꟷ from the wheel to the toilet ꟷ in a humorous time warp. Clocking in at more than two minutes, the commercial urges viewers "Don't be like Larry," and entices them to get in on the next big thing in e-finance. 
However, the ad divided viewers on social media, with most opinions in lockstep with their feelings about cryptocurrency in general. Those in favor of more tangible forms of money weren't particularly wild about the FTX commercial. Some fans also weren't exactly holding David in a positive light, believing that the commercial hinted that the "Seinfeld" co-creator was selling out, per the Independent. "Larry David being in a crypto commercial is the single most devastating thing to ever happen to me," tweeted one fan. 
In November 2022, however, things got worse for David, as well as football player Tom Brady, model Gisele Bündchen, and several other famous faces, whom investors named as part of a lawsuit claiming they were fraudulently complicit with FTX when the cryptocurrency market collapsed. FTX has since filed for bankruptcy. In an email, the plaintiffs' attorney Adam Moskowitz stated (via CBS News), "It is still very difficult to comprehend that just one company defrauded more than $11 billion dollars from consumers, all from our backyard here in Miami."
Apple's controversial 'Why 1984 Won't Be Like 1984' ad
Apple's minute-long ad that aired during Super Bowl XVIII in 1984 still ranks as among the greatest commercials to run as part of the NFL summit. Viewers felt mesmerized by a gaggle of zombified workers further numbing themselves to a televised image of its autocratic boss, until a female athlete rushes in to destroy the big screen with a hammer, followed by text assuring folks that "1984 won't be like '1984.'" But the ad almost didn't air after Apple's board of directors rejected it. "Most of them felt it was the worst commercial they had ever seen," said John Sculley, the CEO at the time (via Mental Floss). They relented after realizing airtime was already paid for.
After the $1-million spot ran, viewers clogged CBS reception landlines, stating they either loved it or hated it. On behalf of the estate of George Orwell — who wrote the dystopian novel "1984," upon which the Apple ad was based — Marvin Rosenblum (who owned the story's onscreen adaptation rights) furiously wrote Apple a cease-and-desist letter, claiming the ad's theme violated copyright protection. Meanwhile, academics were appalled by Apple's suggestion that a Macintosh could liberate consumers from the likes of the supposedly Big Brother-ish IBM. "The ad seems to say the remedy to too much technology is more technology," MIT professor Joseph Weizenbaum told The New York Times. "It's like selling someone a pistol to defend himself in the event of nuclear war." 
The controversial ad seemed to do the trick, as Apple sold a slew of Macintosh computers that year.