Tom Brady's Ex-Girlfriends: Who Has The Quarterback Dated?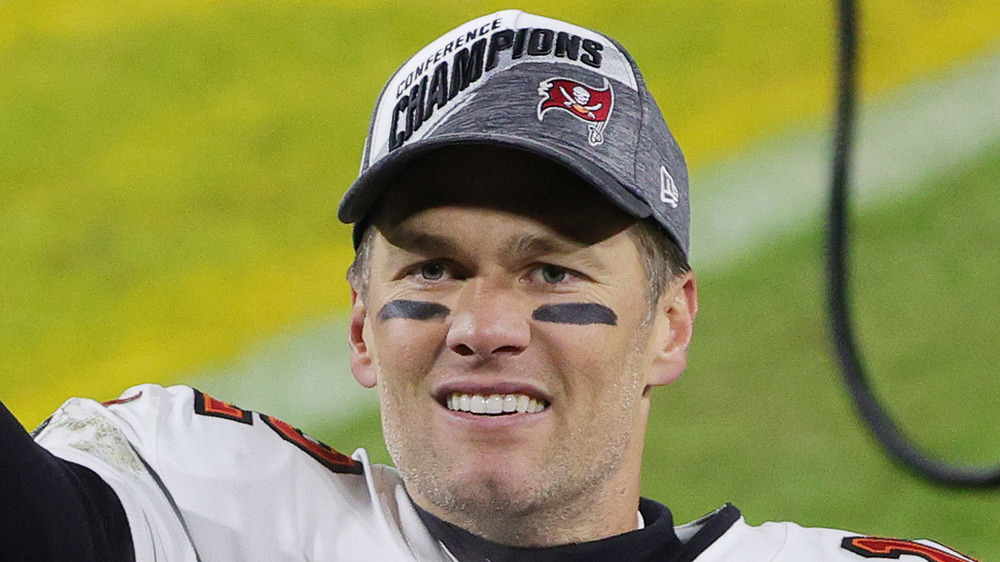 Stacy Revere/Getty Images
In his first season with the Tampa Bay Buccaneers, veteran quarterback Tom Brady has led the team to the Super Bowl. They'll face off against the Kansas City Chiefs at Super Bowl LV on Feb. 7, 2021, marking Brady's tenth journey to the championship. Per Sports Illustrated, Buccaneers outside linebacker Shaq Barrett said of his star quarterback after their Super Bowl-clinching game, "Playing with Tom is amazing... You know he's going to make the play."
Brady's personal life has been seemingly going swimmingly as well. His and his wife Gisele Bündchen celebrated their 10-year anniversary in 2019, with Bündchen writing on Instagram, "There is nothing that I love more in this world than you and our family." In April 2020, however, Brady admitted on Sirius-XM's The Howard Stern Show that even a strong pairing like theirs underwent marriage counseling. As Brady told Howard Stern (via People), Bündchen felt like Brady had taken his eye off the ball at home, leaving her with the responsibilities of housekeeping and child-rearing. Brady realized she was right, sharing "that was a big part of our marriage... I had to like check myself because she was like 'I have goals and dreams too.'"
While it seems the star quarterback and his wife are on the mend, who were the notable women in Brady's life prior to meeting Bündchen? Keep reading to find out.
Tom Brady reportedly hooked up with Tara Reid... and had a shot at Ivanka Trump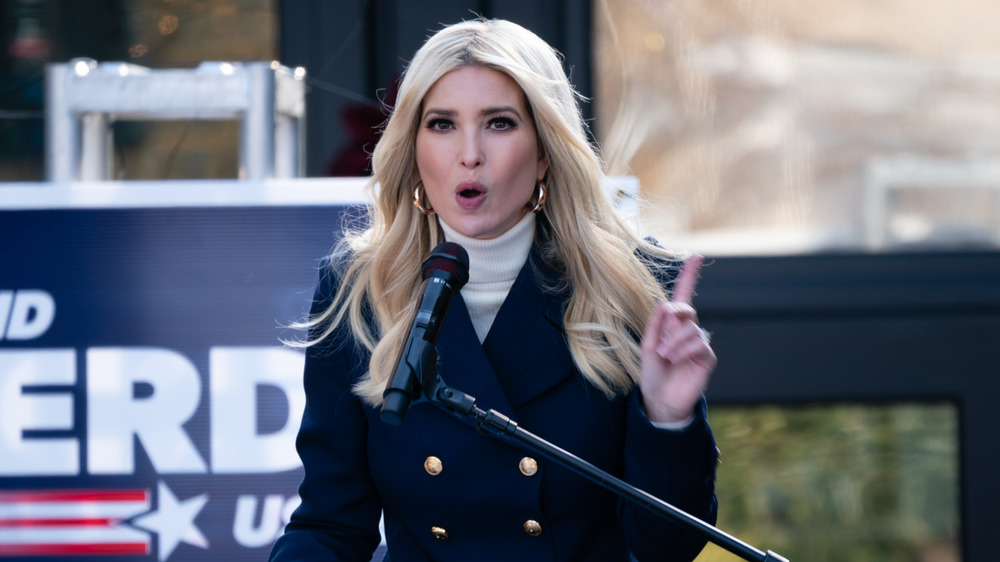 Elijah Nouvelage/Getty Images
Prior to finding wedded bliss with Gisele Bündchen, NFL superstar Tom Brady dated Playboy Playmate Layla Roberts in 2002, according to PopSugar. Roberts, outside of her modeling work, has had a few roles in major studio films like 1998's Armageddon. Per PopSugar, Roberts and action star Vin Diesel were rumored to be seeing one another at the same time as her relationship with Brady. In 2004, the model-actor ended up marrying AltaVista founder John Hilinski. Also in 2002, rumors buzzed that Brady also had a dalliance with actor Tara Reid, who claimed in a 2014 interview that she and Brady "uh, have kissed" and that he's "pretty good looking" (per Us Weekly).
Most interestingly, Brady could have dated former first daughter Ivanka Trump with her father Donald Trump's blessing, if the former president's own words are to be believed. According to New York magazine, Donald has been a longtime "good friend" of Brady, with Brady having judged his 2002 Miss USA pageant. In a vaguely unsettling quote to Sports Illustrated (per New York), Trump remarked on Brady's lady-killing ways, musing ,"If one thing stands out about Tom Brady, it's that he loves those women." He also reportedly once told radio host Howard Stern that he thought "[Brady] and Ivanka would make a great combination." 
Although nothing came of those wishes, Brady as Donald's son-in-law would have made for quite a few entertaining headlines! 
Tom Brady's ex was pregnant while he dated Gisele Bündchen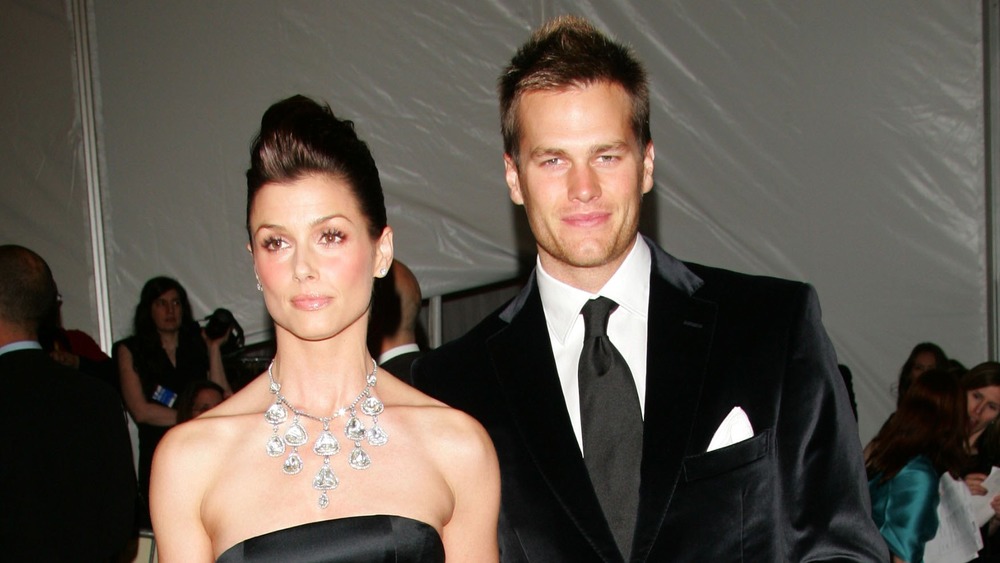 Evan Agostini/Getty Images
For Tom Brady's wife Gisele Bündchen, it was love at first sight when she met the quarterback in 2006. "I knew right [a]way – the first time I saw him," Bündchen told Vanity Fair in 2009 (via Yahoo! Life). However, Brady may still have been entangled in a relationship with his most famous ex, actor Bridget Moynahan, at the time — per Us Weekly, the pair dated from 2004 to 2006. 
Moynahan — who had a notable recurring role on HBO's Sex and the City, as well as a lead role on the CBS cop drama Blue Bloods — had Brady's first child in 2007, mere months after he began dating Bündchen. In 2011, Moynahan told Harper's Bazaar magazine about the bittersweet feeling of realizing she was about to become a single mom, saying (via Us Weekly), "When you're suddenly pregnant and no one is standing by your side, even if you're in your 30s, it's a hard conversation." Moynahan revealed Brady was present on the day of her labor but "he certainly wasn't holding my hand while I pushed."
Despite Moynahan's initially chilly post-breakup feelings toward Brady, the actor congratulated the quarterback on another trip to the Super Bowl in a January 2021 Instagram post. "Could not be more proud @tombrady said he would do it and he did," Moynahan wrote warmly. It sounds like the exes might have finally reached friendly terms, dare we say?