The Truth About Tony Bennett's Wife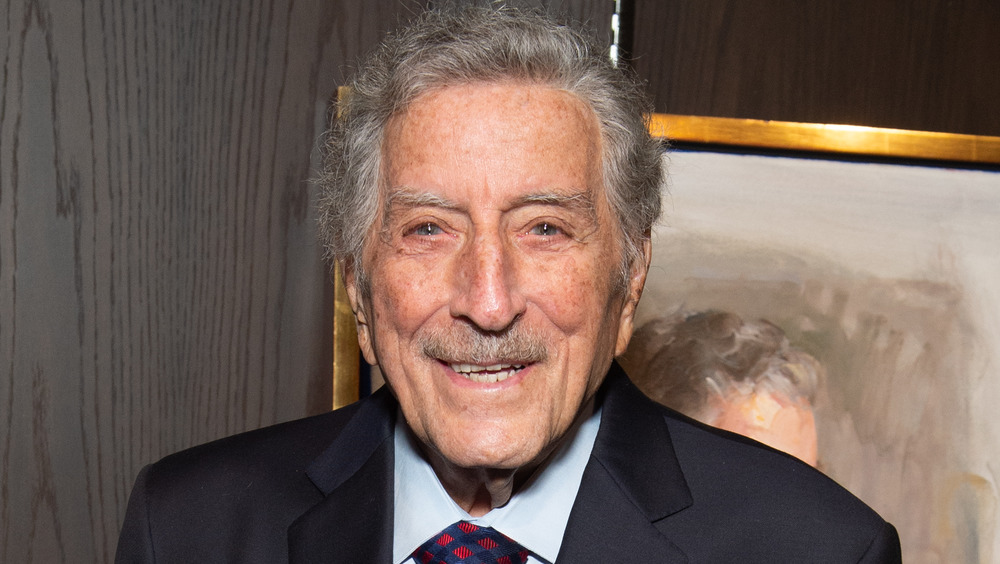 Noam Galai/Getty Images
In February 2021, Tony Bennett and his family revealed that he had been diagnosed with Alzheimer's disease. The singer's family came out with the news that he has been living with the disease since 2015 via a profile published by AARP magazine on February 1, 2021.
According to the article, Bennett began showing signs of Alzheimer's in 2015, and was officially diagnosed in 2016. He kept the news secret and continued to perform at the recommendation of neurologists. He also started following a healthy diet and exercising regularly with a trainer. His son, Danny Bennett, and wife Susan Crow, expressed to AARP that even when displaying symptoms of Alzheimer's, Bennett seems to be cured as soon as he hits the stage.
"Both Susan and Danny said that backstage, Tony could seem utterly mystified about his whereabouts. But the moment he heard the announcer's voice boom 'Ladies and gentlemen — Tony Bennett!' he would transform himself into performance mode, stride out into the spotlight, smiling and acknowledging the audience's applause," the article detailed. 
In a tweet sharing the piece, Bennett thanked AARP, his family and specifically his wife for supporting him. It's clear Bennett has a huge amount of appreciation for Crow and Crow expressed how much he means to her in the sit-down with AARP. In honor of their long, sweet relationship, let's uncover the truth about Tony Bennett's wife.
Tony Bennett's wife has supported him her whole life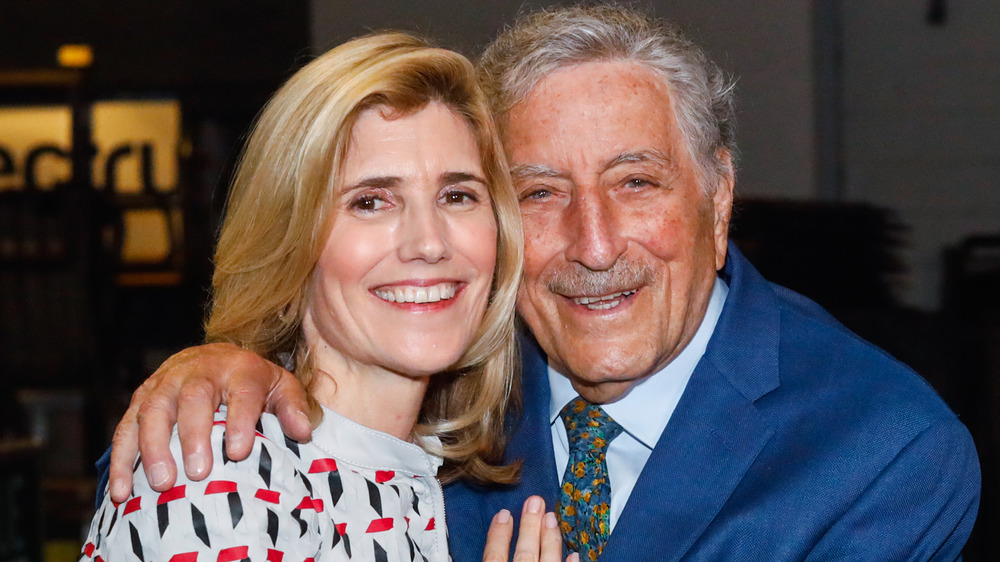 Myrna M. Suarez/Getty Images
Susan Crow was born in 1966, making her 40 years younger than Tony Bennett. Crow had been a passionate supporter of Bennett and his music since she was a child, begging her parents to take her to his shows and often requesting his songs on local radio stations, as noted by AARP. She eventually founded a fan club for Bennett, which helped her score backstage passes to his concert in 1985 when she was 19 years old. The two hit it off and ultimately fell in love, dating for two decades, per The Sun, before saying "I do" in 2007.
They have since lived happily in New York and on the road together, pursuing their passions and supporting one another. Together they founded Exploring the Arts — an organization that raises money for public schools — and the Frank Sinatra School of the Arts in Queens, from where Tony hailed. Crow was Bennett's main caretaker and supporter through his diagnosis and the coronavirus pandemic. Although she has admitted it "gets very difficult," she reminded herself that she and Bennett were in a better position than many handling Alzheimer's disease.
Plus, the passion they felt for each other seemed just as strong as it was when they met. In an Instagram post to celebrate Crow's birthday in 2020, for example, Bennett praised his wife, writing, "She makes my life better in every way, and I owe so much to her."
Susan Crow and Tony Bennett had a shared love for Lady Gaga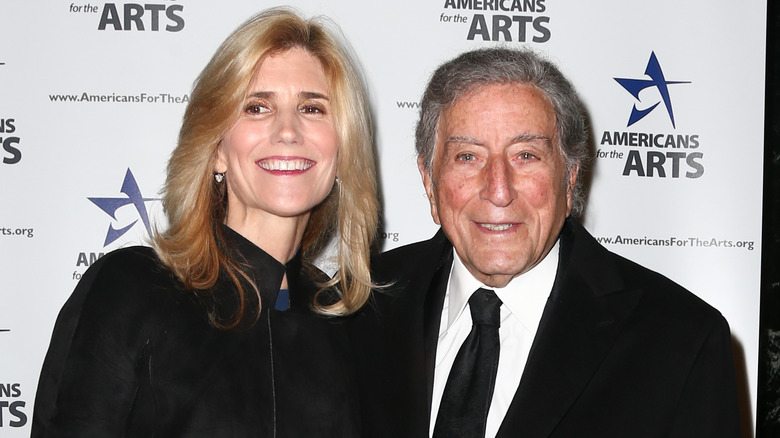 Debby Wong/Shutterstock
Of his many collaborators in the musical scene, Tony Bennett particularly seemed to have enjoyed working with Lady Gaga. As many would recall, the twosome worked together on the 2014 album "Cheek to Cheek" before going on to collaborate on 2021's "Love for Sale". Bennett and Gaga's compatibility, however, went beyond their artistry as the two got along just fine in real life. "Tony is one of my most favorite people on the whole planet and I love him with all my heart. I love his family with all my heart ... I can't tell you how much I learned from him and what it's like to sing with a legend for so many years," Gaga admitted about Bennett back in 2021 (via People).
Unsurprisingly, Gaga's bond with the late singer also extended to his wife Susan Crow, whom she has become fond of. "I love his wife, Susan, with all my heart," Gaga once said of Crow. Speaking during a 2021 appearance on "CBS This Morning," Crow also shed light on her and Bennett's bond with the "A Star is Born" actor, whom she described as wonderful. Despite Bennett's Alzheimer's diagnosis, Crow revealed he was still able to recognize Gaga. "Most definitely. Gaga is hard to forget," she gushed in the interview.
However, Gaga was not the only person that remained committed to Bennett's memory, as Crow also revealed in October 2021 that the singer still recognized his family. "He recognizes me, thank goodness, his children, you know we are blessed in a lot of ways. He's very sweet," she explained on CBS's "60 Minutes".