Who Has A Higher Net Worth: Bruce Arians Or Andy Reid?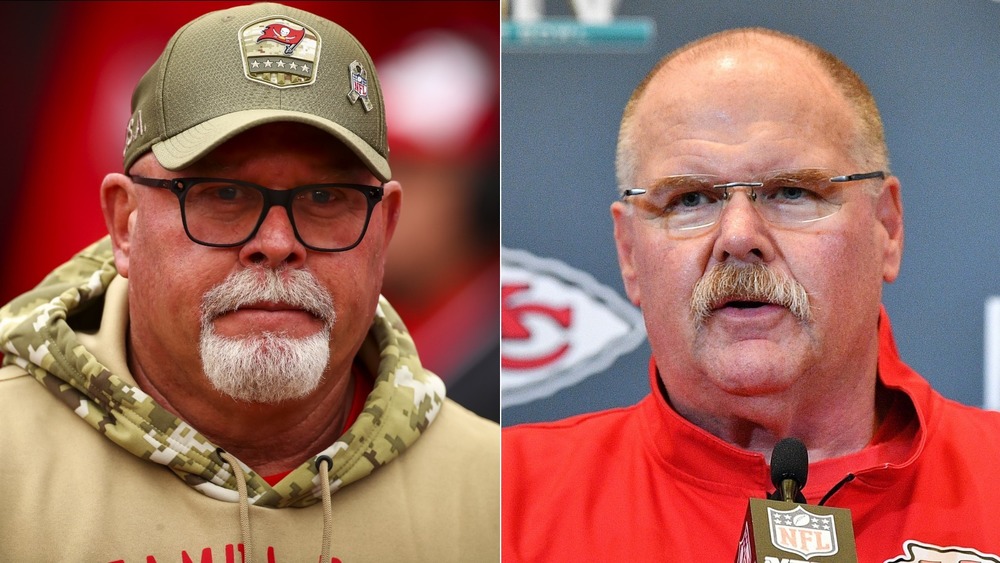 Will Vragovic, Mark Brown/Getty Images
The NFL boasts some of the highest-paid athletes in the world, and is one of the most profitable professional sports, per Forbes. Furthermore, the outlet notes that football was one of the only sports that did not take a hit to player earnings in 2020 amidst the coronavirus pandemic.
NFL players can make a healthy sum of money from their athletic finesse. The three highest paid players in 2020, according to CBS News, were Seattle Seahawks quarterback Russell Wilson, Minnesota Vikings quarterback Kirk Cousins, and Philadelphia Eagles quarterback Carson Wentz, who annually make $53 million, $40 million, and $39.4 million, respectively.
NFL coaches are paid quite competitively as well — although not as much as some of the players they lead. According to NBC Sports, not all coaching salaries are publicly disclosed to "avoid the perception that coaches are overpaid ... and to keep the market from going haywire." However, with the information available, Forbes reported that the highest paid coaches for the 2019-2020 football season were New England Patriots Head Coach Bill Belichick ($12 million), San Antonio Spurs' Gregg Popovich ($11 million), who is tied with Seattle Seahawks' Pete Carroll (also $11 million).
Two head coaches missing from that lineup are Kansas City Chiefs head coach Andy Reid and Tampa Bay Buccaneers head coach Bruce Arians, who are both preparing to face off on Feb. 7, 2021 for Super Bowl LV. Before their teams battle it out on the field, let's see which head coach ranks supreme in the bank.
Bruce Arians and Andy Reid both have impressive salaries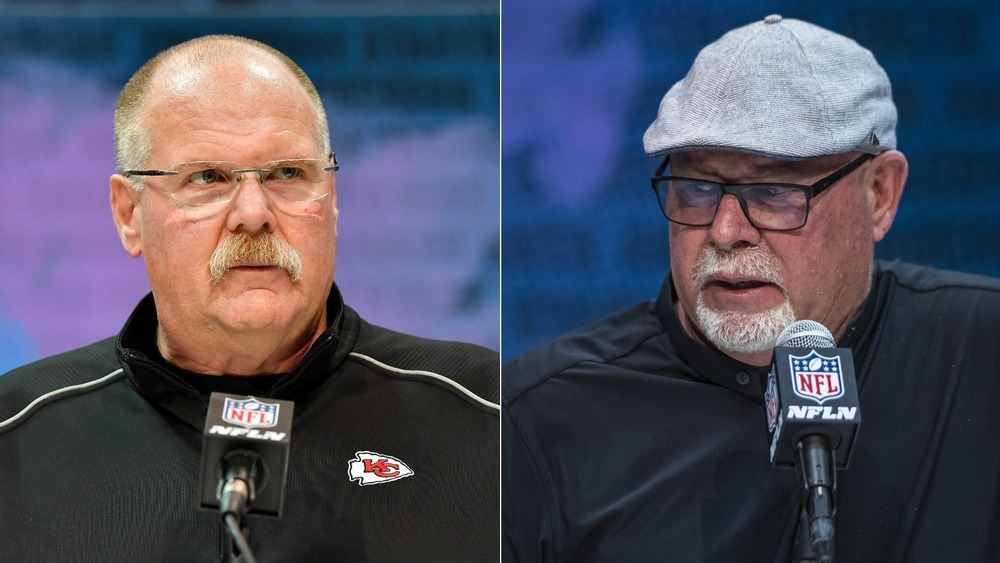 Alika Jenner, Michael Hickey/Getty Images
Both Bruce Arians and Andy Reid are longtime staples to the NFL. Reid got his start in 1992 as an assistant coach to the Green Bay Packers, per Pro Football History. He was named head coach of the Philadelphia Eagles in 1999 and stayed with the team until he transferred to the Kansas City Chiefs in 2013. Bruce Arians joined the NFL in 1989 with, interestingly enough, the Kansas City Chiefs, per his official Buccaneers bio. He began his head coaching journey with the Arizona Cardinals in 2013, per ESPN. After a solid four years with the Cardinals, Arians retired from the NFL following his third cancer scare, per The Tampa Bay Times. He returned in 2019 as the head coach of the Tampa Bay Buccaneers once his health improved.
It's clear that both coaches head talented teams and also have quite the resume themselves, so it's no surprise that both Arians and Reid make millions each year. According to Sports Illustrated, Reid makes about $10 million annually (Celebrity Net Worth reports his annual salary as $7.5 million). Meanwhile, Celebrity Net Worth approximates that Arians makes approximately $5 million a year. With that being said, Reid has a higher net worth at about $25 million and Arians is said to be estimated at $10 million, per Celebrity Net Worth. Reid may have won the battle in the bank, but they have one more chance to face off in Super Bowl LV.