Andy Reid: 12 Facts About The Kansas City Chiefs' Coach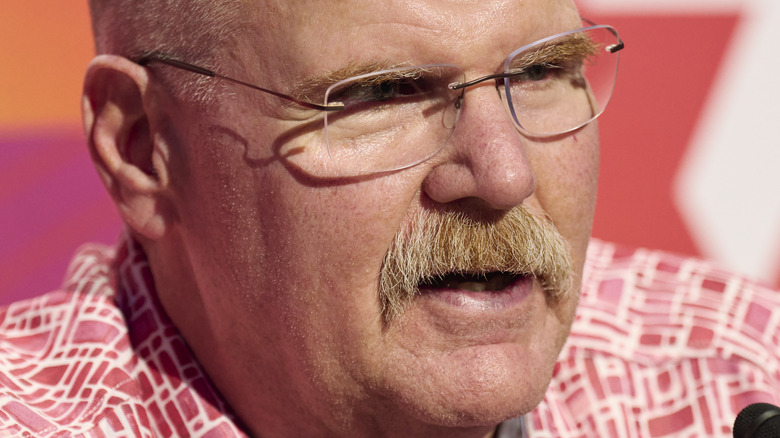 Cooper Neill/Getty Images
This article references incidents of drug and alcohol misuse. 
Kansas City Chiefs football coach Andy Reid is often praised for saving the NFL team from the losing streak that once defined their reputation. He lead his team to victory in 2020 when the Chiefs won the Super Bowl and they went on to prove that their win wasn't just a fluke. The team later earned a spot in the 2023 Super Bowl against the Philadelphia Eagles. "It's amazing to see what the Chiefs have become," Derrick Johnson told ESPN about his former team. "From where we were when Andy came in, to where they are now, you wouldn't believe it if you didn't see it for yourself."
So, who is the magician behind this seemingly impossible shift? There's a lot you might not know about coach Andy Reid. He's been a part of the football world for years, even outside of the NFL. However, he doesn't plan on walking away from his career anytime soon. As of this writing, he's been an NFL coach for 24 years, and by all accounts, his passion for the game doesn't seem to have dulled. Reid still looks forward to jumping back into his job each season. "I still get to that Fourth of July, and ... the juices start going," he said during an interview with SiriusXM NFL Radio. "And you're going, 'Man, I can't wait to get back.'"
But who's the man behind all of these NFL achievements? We take a small peek into the life and career of the legendary football coach, with these 12 facts about Andy Reid. 
Andy Reid is a coach respected by many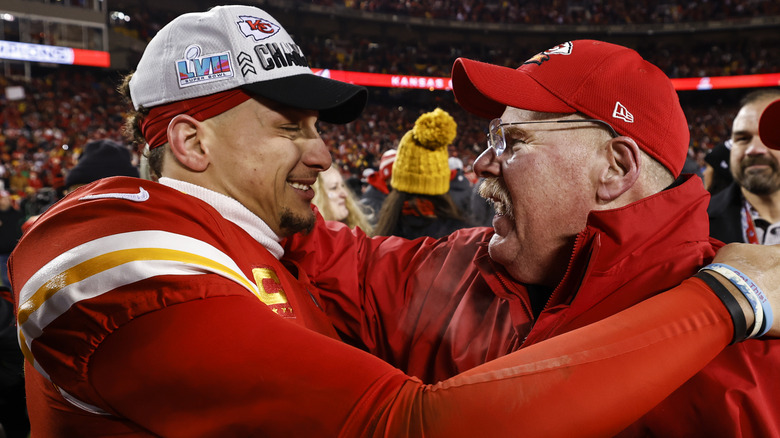 Michael Owens/Getty Images
When Andy Reid joined the Kansas City Chiefs as head coach in 2013, Pro Football Hall of Fame Head Coach John Madden heaped praise on him to USA Today. "He has a plan. And he's very thorough, very smart. He's a good coach, always has been," the former sportscaster said. "... Kansas City is just going to get better. This is just the start of it." Additionally, controversial NFL Commissioner Roger Goodell said he was a great fan of the practiced coach upon his transition to the Chiefs. "He is a person I have tremendous respect for as a coach and family man," he told The Sports Xchange (via Yahoo! Sports). "Andy has been very helpful to me as Commissioner. He has tremendous insight into our game, and we are fortunate to have him in the NFL."
Reid has also gained a great amount of respect from players he has worked with throughout the years, like Chiefs quarterback, Patrick Mahomes (pictured above). The NFL star told CBS Sports that he committed to the Chiefs after Reid promised him he wasn't leaving the team any time soon.  The coach lives and breathes every element of the game, and it shows. "The family atmosphere that he has with everybody is special,"  Mahomes boasted. "You see the amount of plays he draws up on a daily basis and he's showing me — you know his fire is still burning bright and he's not trying to dim out any time soon."
The coach had a football career of his own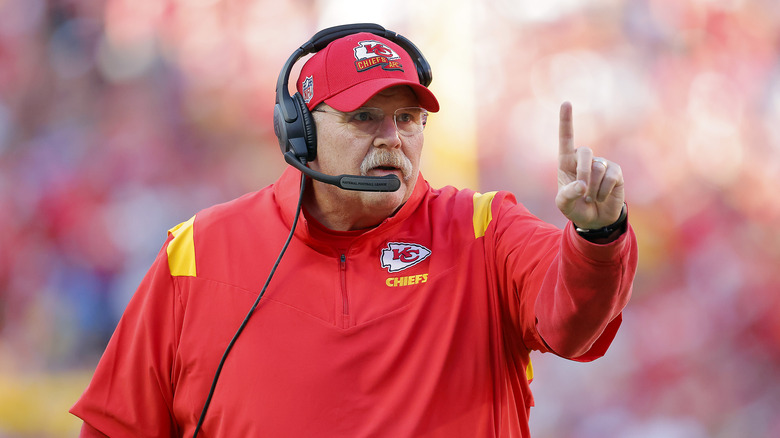 David Eulitt/Getty Images
Andy Reid is among the many coaches who have never played in the NFL themselves. However, Reid did play football throughout high school and college. He began his college football career at Glendale Community College before he was later recruited to play at Brigham Young University in Utah as an offensive tackle.
The coach's former teammates revealed he wasn't the best player, but he was analytical and always asked questions about the technical aspects of the game. "I'm certain Andy hadn't decided to coach [at that time] — he just wanted to know why we slid protections right or left or who was the 'hot' receiver when a linebacker was left unblocked," his former teammate, Vai Sikahema, told Deseret News. "His questions were sometimes simple, sometimes complex. I'm sure that's why LaVell [Edwards] asked him to coach. He had a mind for it." 
Danny Hansen, who also played with Reid at Brigham Young University, likewise shared his recollection of what the coaching legend was like as a college football player. "Andy as a player was a little more cerebral than the rest of us," Hansen said. "He was always watching and analyzing. He spent a lot of time watching [legendary offensive coordinator] Doug Scovil and analyzing what he was doing."
Andy Reid began his career with the Green Bay Packers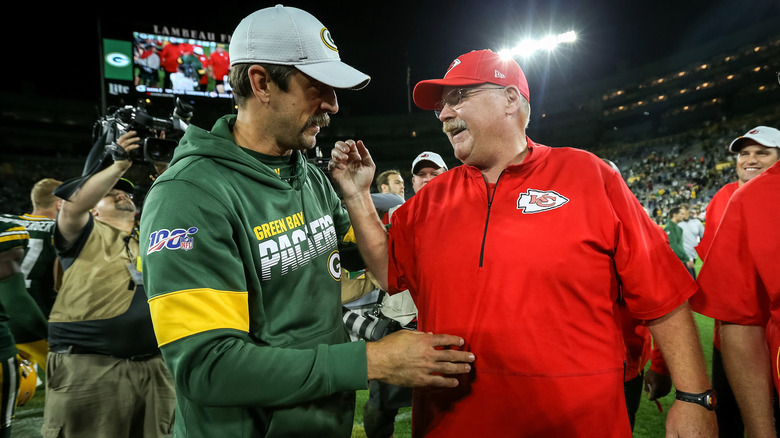 Dylan Buell/Getty Images
In 1992, Andy Reid stepped up as an assistant coach for the Green Bay Packers, where he helped to nurture the offensive line and guide the team's tight ends. His evident talent eventually earned him a spot helping to coach the team's quarterbacks, four years later. In 1997, the Packers beat the New England Patriots in Super Bowl XXXI with the help of Reid's guidance. The Packers also made it to the Super Bowl the following year, though they lost to the Denver Broncos.
Reid's success with this team might explain why his first NFL gig eventually led to a decades-long career. The coach talked about some of his strategies with 610 Sports KC's "Fescoe In The Morning." And it turns out that he was a bit unconventional at times. He shared that while working with the Packers, a janitor often approached him with a play that ended up being a great move. "So I gave him a big card, one that we used to show ... the scout team players what to run for that week," Reid explained. "So he drew the play up, and he did have 12 guys on there, but the concept was actually very good, so we ended up putting it in ... And we dial this play up, and this stinkin' play scores a touchdown." Reid added that watching the janitor and his family get hyped off seeing the successful play is why it remains one of his faves.
He was the head coach of the Philadelphia Eagles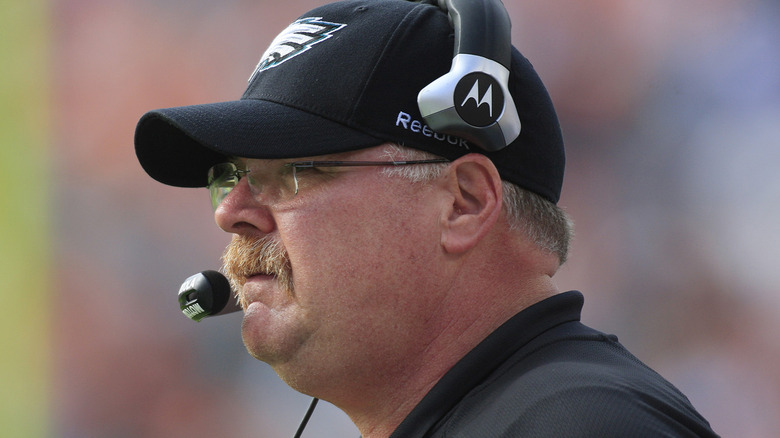 Ronald C. Modra/Getty Images
After proving himself during his years with the Green Bay Packers, Andy Reid earned a role as the head coach of the Philadelphia Eagles in 1999. There, he replicated his previous success, leading them to Super Bowl XXXIX in 2005 as well as five NFC title game appearances. After 14 years with the team, and despite his successes, Reid was eventually let go from the Eagles. 
In 2023, of course, Reid faced going up against his former team after the Kansas City Chiefs made it to the 2023 Super Bowl. Per NFL, during a press conference following the AFC Championship Game earlier that year, the coach addressed the speculation that it may be difficult to compete against a team that he once led. However, he gave his assurances that he was focused purely on the game itself. "Your minds at making sure you have a solid game plan and that you come out and you can perform to the best of our ability," he explained. "That's I think where the major focus goes ... it doesn't matter who you're playing, you try to blank out all the hype that goes with the game." Reid went on to reflect on his time with the Eagles, sharing there were no hard feelings after he was let go from his role as the team's head coach.
He turned things around for the Kansas City Chiefs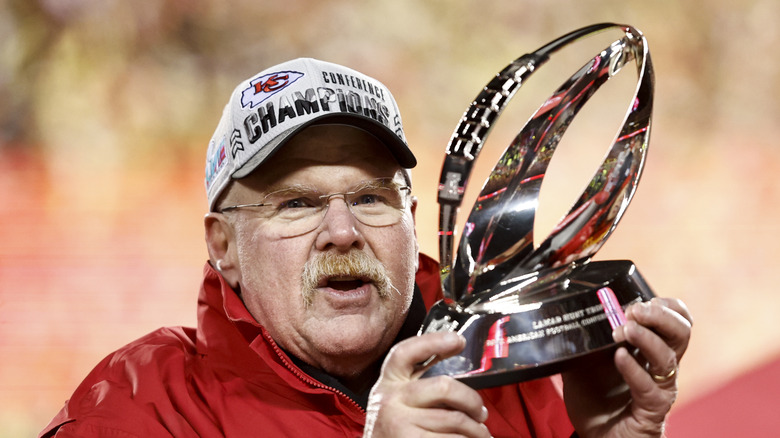 Michael Owens/Getty Images
One of Andy Reid's most impressive career moves was reviving the Kansas City Chiefs. According to ESPN, the football team finished out 2012 with 14 losses and only two wins. This left them tied for the fewest wins in the NFL. Just one year later, Reid took over the role of former Chiefs coach Romeo Crennel, with ESPN reporting that one of the team's challenges was the conflict between the former coach and the front office. Reid put an end to this when he took over.
Former Chiefs player Derrick Johnson shared that the coach was dedicated from his very first day on the job. "As soon as he walked in the facility, you could hear the confidence in his voice. We appreciated the way he conducted himself, the way he treated everyone like men," Johnson told ESPN. "I remember the first team meeting we had, he jumped all in and he never looked back. He never talked about what he did in his Eagles days. It was all about being a Chief and what we were going to do from that day forward." Reid is known for his leadership skills, so it is perhaps no surprise that Johnson held him in such high regard. After all, he allows players to voice their concerns and works to accommodate them.
Many of his coaching assistants have become NFL coaches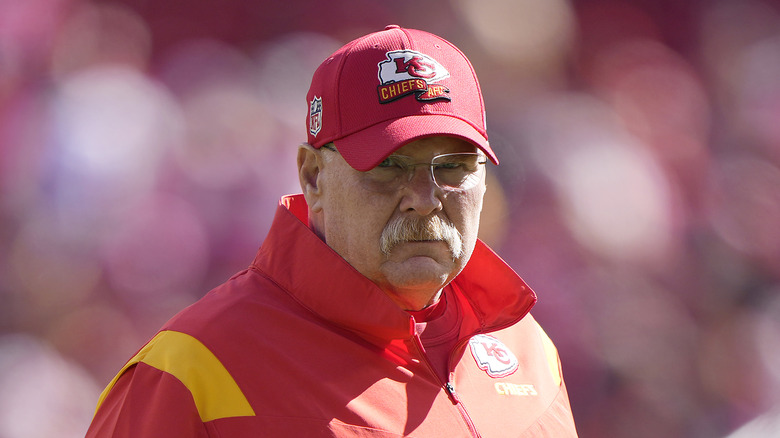 Thearon W. Henderson/Getty Images
It seems that leadership is second nature to Andy Reid, and it may well be one of the secrets to his success. After all, his players have only had good things to say about him over the years. It turns out that Reid's players are not the only ones who benefit from his expertise. His assistant coaches have also gone on to achieve great things. For example, Chad Hall played for the Philadelphia Eagles while Reid was the team's head coach. He went on to become a wide receiver coach for the Buffalo Bills. Eric Bienemy is now Reid's offensive coordinator, but he played for the Eagles while the football expert was the team's coach in 1999.
James Urban was once Reid's coaching assistant and has gone on to become a quarterbacks coach for the Baltimore Ravens under their head coach, John Harbaugh. Harbaugh also once worked for Reid as his special-teams coordinator. Former Eagles assistant coach Brad Childress went on to become the head coach of the Minnesota Vikings. Steve Spagnuolo also worked with Reid as a linebackers coach for the Eagles and later became the head coach of the St. Louis Rams. Finally, Ron Rivera worked alongside Reid when he coached the Eagles and he later became the defensive coordinator for the San Diego Chargers. To his credit, most of Reid's former assistants-turned-head coaches went on to lead their teams to success.
Andy Reid was featured in a State Farm commercial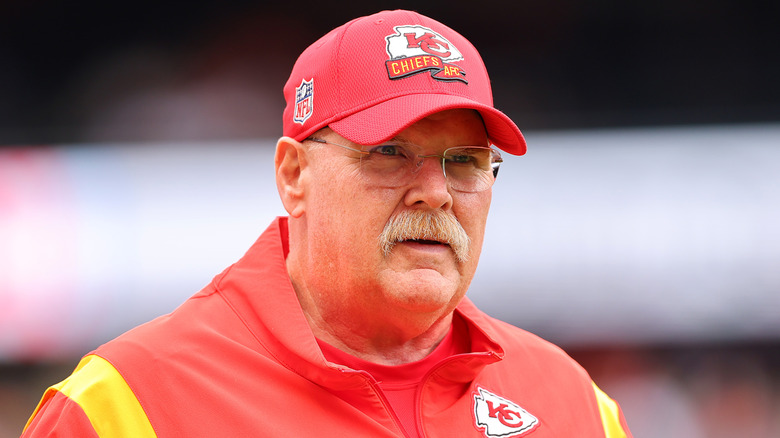 Michael Reaves/Getty Images
Kansas City Chiefs fans got to see a side of Andy Reid they may have been previously unfamiliar with when he starred in a commercial for State Farm. The hilarious ad also featured Chiefs quarterback Patrick Mahomes — and some fairly impressive acting skills all around. In the commercial, the coach is seen drawing mustaches on football players' faces while they sleep on a plane. Mahomes then walks up with an elaborate curly mustache that has been inexpertly scribbled on his face in marker pen, and says, "Coach, it happened again." 
The QB revealed that he had to convince Reid to agree to take part in the ad. "It was funny because they asked me about the idea — I was like, 'Man, I'll ask him, I just don't know if he'll do it,'" the NFL star said during an interview for 610 Sports Radio show "The Drive" (via ChiefsWire). "When I asked him, he was like, 'Do you want me to?' And I was like, 'Yeah, it'd be cool and people would be able to get to see your personality on a different level and different scale.' I got there, and he crushed it. He's a natural at that kind of stuff."
Andy Reid is worth a healthy sum of money
Jamie Squire/Getty Images
Considering he has such an impressive coaching record, many can assume that Andy Reid's paycheck is reflective of his NFL success — and they would be correct to do so. As noted by NBC Sports, coaching salaries are not always publicly disclosed to avoid major disruptions in the market. It also prevents people from concluding that coaches are overpaid. Still, in 2020, Sports Illustrated estimated that Reid makes about $10 million per season. This would make him about even with coaches like Sean Payton, John Harbaugh, and Jon Gruden. Of course, none of this has been confirmed.
As of 2023, Celebrity Net Worth estimated that Andy Reid was worth about $30 million. This figure is only expected to rise, as he plans to keep coaching through at least 2025. Whenever he does retire, Reid and his wife have an impressive residence in which to kick back and relax. According to Realtor.com, the couple lives in a $2.2 million brick mansion that boasts five fireplaces, a 1,500-bottle wine cellar, and a huge media room.
He was ready for Super Bowl LVII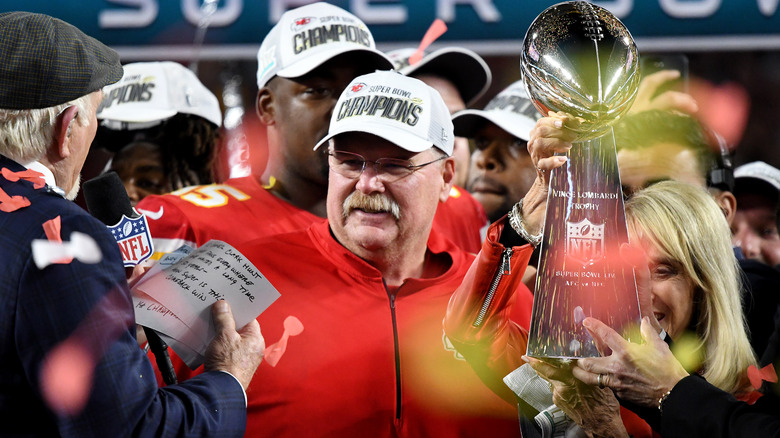 Focus On Sport/Getty Images
Andy Reid helped the Kansas City Chiefs secure their spot in the Super Bowl for a third time in 2023 — this time against the Philadelphia Eagles. Some outlets argued that the Chiefs would win ahead of game day. Even before they played the game, it was clear that 2023 was a great year for them — and the many predictions in the team's favor for the Super Bowl result were a clear indication of that, whatever the final result.
Ahead of the big game, Reid told Sports Illustrated's FanNation newsletter about his plan to ensure that the Chiefs were prepared before they headed off to Arizona for Super Bowl LVII. The coach revealed that parts of the planning process took place in Kansas City long before they boarded their planes. Regardless, they had to still set things up so that there was a seamless transition for a focused workplace in Arizona too. "Ted [Crews] does a good job of kind of managing that. And ... each coach will have an office so that [we] can focus in on that. Players ... have meeting rooms they can focus in when they're in there," Reid said regarding the pre-game plan. "But on the other hand ... we want to get it done [in Kansas City]. Get the foundation of it in here, and then when we're down there, we can go back and review it, so that's what we're doing."
He's known for celebrating with cheeseburgers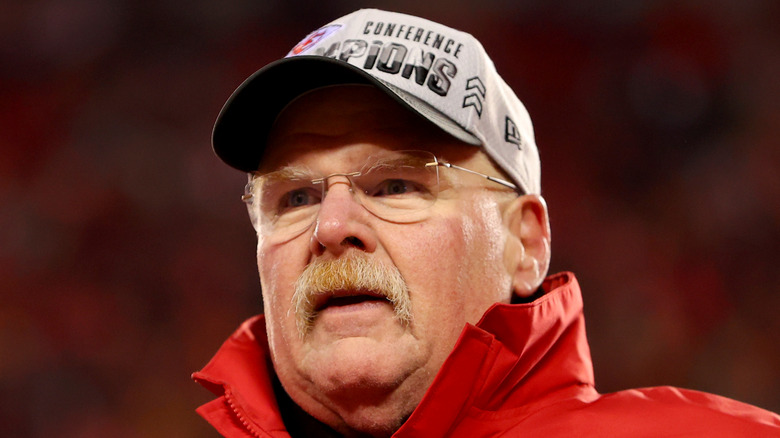 Kevin C. Cox/Getty Images
Andy Reid is a simple guy. When the Kansas City Chiefs won the 2020 Super Bowl, he decided to go the simple routine with his celebration. "I'm gonna go get the biggest cheeseburger you've ever seen!," he said following the victory, per AP News. Reid's love of cheeseburgers seems to be a running joke between him and his team because Chiefs players have been known to poke fun at him for it.
Chiefs quarterback Patrick Mahomes and tight end Travis Kelce once surprised the coach with a hamburger hidden inside a Nike shoebox. Reid was still grateful for the gift despite the hilarious prank. "May you all get a gift as great as this," he said after opening the present in a locker room. "Cheeseburgers in paradise baby." On a separate occasion, an imposter dressed as the coach momentarily took his place during a press conference. Reid stepped in and jokingly told the man, "Go get a hamburger." Another video of the football expert includes clips of him saying, "I'll bet you a cheeseburger," during games. Seriously, a cheeseburger is a perfect way to celebrate any occasion, so we totally get where Reid is coming from.
He's been married for over 40 years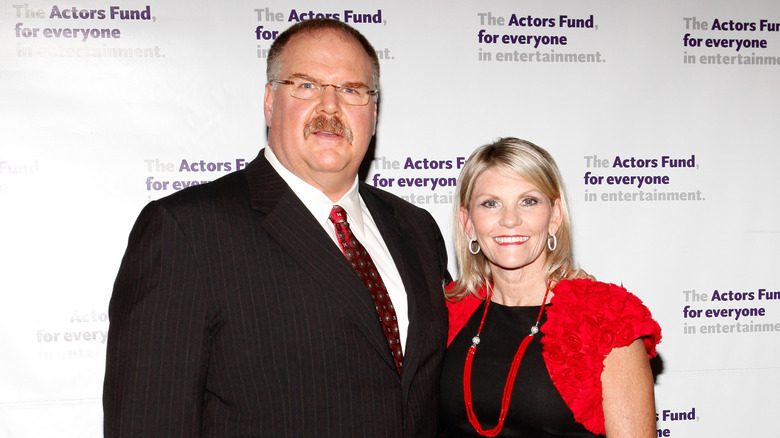 Cindy Ord/Getty Images
Andy Reid met his wife Tammy Reid at Utah's Brigham Young University in Utah and they've been together ever since. Heartwarmingly, the couple seems to still be very much in love. "I've been ... with her for about 40 years now," Andy told The Philadelphia Enquirer of his wife. "Every day is a special day. I'm telling ya. I call her my girlfriend for that reason. You never lose interest if you do that, right, you guys out there? Call them your girlfriend and you always do special things for them."
During their relationship, the couple have welcomed five children together. Sadly, tragedy struck their family in 2012 after Andy and Tammy's son, Garrett died of an accidental drug overdose at only 29 years old. Understandably, the Reid family shared an emotional moment together following the Chiefs' 2020 Superbowl win as Garrett couldn't be there to celebrate with them.
Andy also had his wife on his mind following the big win. "I didn't really sleep last night, but I didn't spend it with the trophy," the coach said during a press conference, following his 2020 Super Bowl win. "Well, I did — I spent it with my trophy wife, how's that?" Tammy is a major part of Reid's support system, and she isn't shy about it. "Just seeing all the hard work he puts in, I'm just so happy for him," she gushed to The Philadelphia Inquirer.
If you or anyone you know needs help with addiction issues, help is available. Visit the Substance Abuse and Mental Health Services Administration website or contact SAMHSA's National Helpline at 1-800-662-HELP (4357).
Andy Reid's family has had ups and downs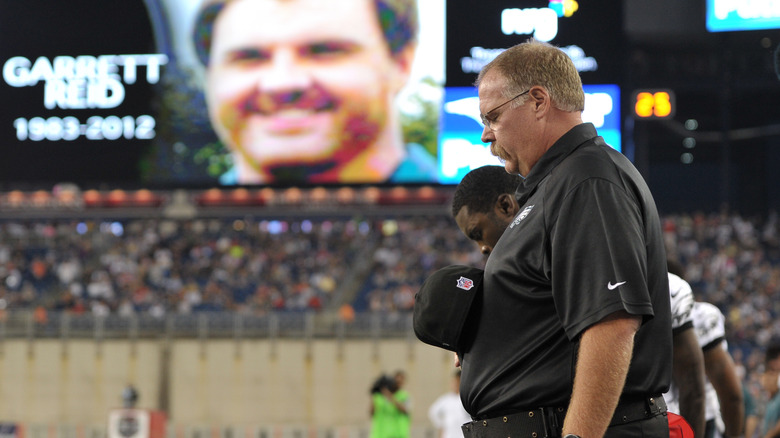 Drew Hallowell/Getty Images
Andy Reid and his wife have quite a big family. Having grown to adulthood, many of their kids have since even welcomed kids of their own. Andy's daughter, Drew Ann Reid, is married to Devin Woodhouse. The couple met at Brigham Young University while Woodhouse was a strength and conditioning coach. The NFL coach's daughter, Crosby Reid is reportedly also married with three children. Meanwhile, Spencer Reid is a strength and conditioning coach for Colorado State University football.
Sadly, two of Andy's other sons have experienced personal troubles throughout their lives. According to the Los Angeles Times, both Garett and his brother, Britt were charged and sentenced to jail time in 2007 for two separate respective incidents. Garrett was accused of injuring another driver during a car accident when he was said to be under the influence of heroin. He was sentenced to two years. "I don't want to be that kid who was the son of the head coach of the Eagles, who was spoiled and on drugs and OD'd and just faded into oblivion," he stated in court. Garrett died five years later, aged 29. 
Meanwhile, Britt was accused of pointing a gun at a driver during a disagreement on the road, for which he was handed 23 months of jail time as well as five years probation for firearms and drug offenses. 15 years later, Britt plead guilty to one felony count of driving under the influence resulting in a car accident that left a five-year-old with life-threatening injuries, per The New York Times.
If you or anyone you know needs help with addiction issues, help is available. Visit the Substance Abuse and Mental Health Services Administration website or contact SAMHSA's National Helpline at 1-800-662-HELP (4357).