Anniversary Of Mom's Funeral Sent Kanye West Over The Edge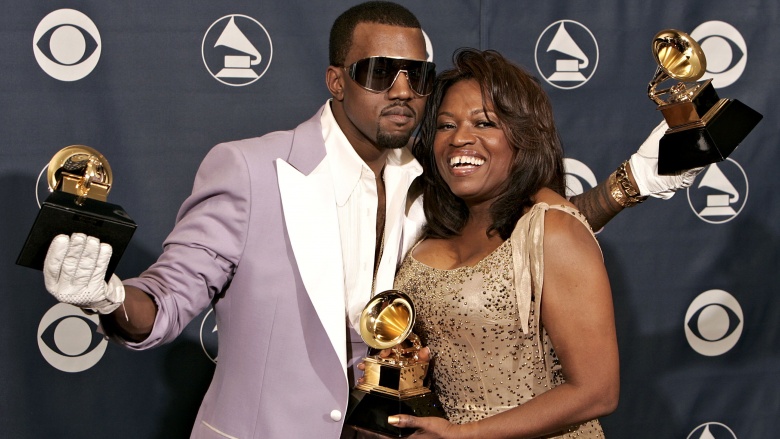 Getty Images
Kanye West's breakdown may have been triggered by the anniversary of his mother's death.
TMZ reports that West, 39, was increasingly emotional and volatile in the weeks leading up to his hospitalization on Nov. 21, 2016. West was initially reported to be suffering from extreme sleep deprivation and dehydration. Sources told TMZ that he also suffered from pressures of touring and running his businesses (including his much-maligned fashion line), as well as stress from parenting North and Saint and taking care of Kim Kardashian, who was traumatized after her Paris robbery in early October 2016.
But now, sources claim the major trigger for his breakdown was the anniversary of Donda West's death, which he hasn't actually grieved properly and fully: her funeral was November 20, the same day he cancelled his show at the L.A. Forum. The next day, Nov. 21, 2016, West cancelled his entire tour and was taken to the hospital for a "psychotic episode." "He was having difficulty identifying what was real," a source told Us Weekly.
However, other insiders claim that marital strife has been a bigger factor than the Kardashian clan wants the world to believe.
"It's just been hell for them," a source told Us Weekly, noting that when West went back on his Saint Pablo tour after Kardashian's robbery, things got shaky. "The trauma of the incident made her more hesitant to do things [like go on tour with West]," the source said. "Of course it strained their relationship, because she hadn't seen him."
The robbery traumatized Yeezy, too, the insider said. "The mere thought of his wife being taken from him was too much—it was like his mother's death. Seeing Kim close to death did a major number on him. It sent him into a tailspin...[the robbery made West] completely freaked out." The source added, "[Kardashian] felt like now she needed him to be stable and her rock instead of the other way around. Kanye's so used to getting Kim's constant support and coding, but it's always about Kanye."
The source added that West's mental state was a problem for a while. "He would be up all night ranting about things. They were fighting because he was impossible to live with...Kanye's behavior took a huge toll on their marriage." Insiders have hope, however. "Kim feels relieved he is getting the help he needs," an insider said. "She thinks this is what it will take to save him—and help their marriage."