Everything To Know About This Year's Puppy Bowl XVII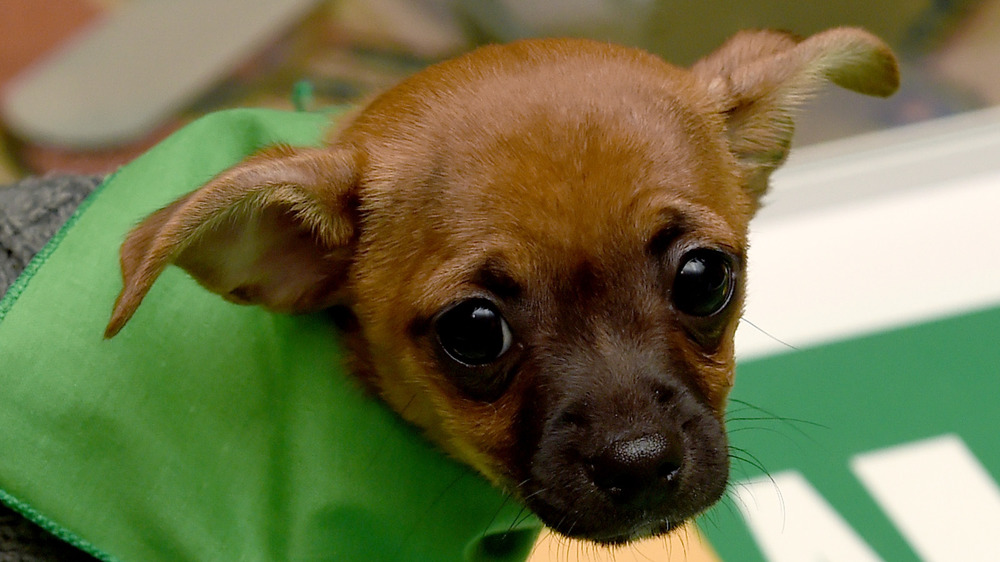 Amanda Edwards/Getty Images
As some people anxiously await game time on Super Bowl Sunday, while others are more hype for the commercials and refreshments, there's a third subgroup of folks who can't wait for Feb. 7, 2021, for an entirely different reason. Just a few hours before and a couple channels away from game day coverage, Animal Planet's 17th annual Puppy Bowl will be in full swing. If you're now picturing a Yorkie in shoulder pads and a jersey, your imagination isn't far off. The Puppy Bowl, which first premiered in 2005, aims to replicate the Super Bowl on a much smaller, and furrier, scale.
This year, the three-hour long event will feature 70 puppies, all hailing from animal shelters and rescue organizations, and of course, they will all be up for adoption, per Discovery. In years past, all pups who participated have been adopted after their stellar performances on the field.
As for the details of the game, the hounds are split into two teams — Team Ruff and Team Fluff — as they compete for the "Lombarky" trophy. However, the only football at this game is plush, and perhaps squeaky. In order for the doggies to score a "touchdown," they must carry one of the toys scattered around their mini field across the goal line, which they sometimes do as a group effort. Keep scrolling for more details about this year's Puppy Bowl!
Puppy Bowl 2021 will have all the fixing of a Super Bowl game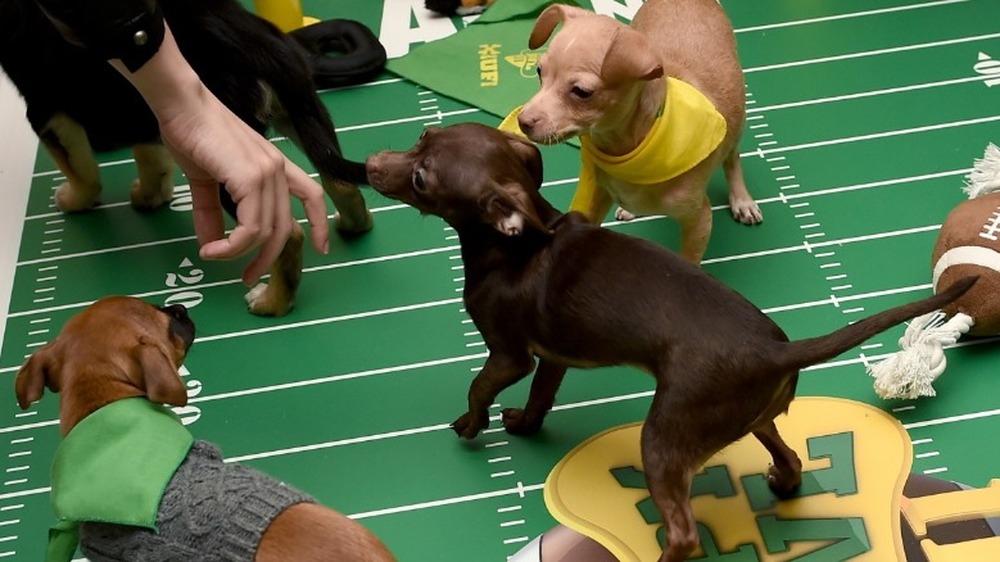 Amanda Edwards/Getty Images
Despite being the cute and cuddly version of the Super Bowl, the Puppy Bowl is treated just like any major sporting event. In fact, as Discovery noted, the canine game will be announced by "ESPN's Monday Night Football play- by- play announcer Steve Levy and SportsCenter host Sage Steele." Additionally, "sports correspondents Rodt Weiler, James Hound and Sheena Inu" will cover the pre-game show, which begins at 1 p.m. ET / 10 a.m. PT.
This year, the Puppy Bowl will be hosted by none other than best friends Martha Stewart and Snoop Dogg — and when they're around, you know it's going to be a party! Even President Joe Biden's dogs, Major and Champ Biden, will be featured in a commercial during the friendly competition. A cat named DJ Grand Master Scratch will host the halftime show, veteran "Rufferee" Dan Schachner will also be there, and according to a statement (via People), the Puppy Bowl staple that is the water bowl cam will be present and accounted for. This year's event will be in their "all-new 'stadium within a stadium,'" a venue that Discovery promises to be "bigger and better than ever before."
You can tune into Puppy Bowl XVII on Feb. 7, 2021 at 2 p.m. ET on Animal Planet and it will also be streaming live on Discovery+. If you're the kind of person who can't walk past a puppy on the street without losing your cool, this is the Bowl for you.