Lil Uzi Vert's Diamond Implant Is Inspired By This Rapper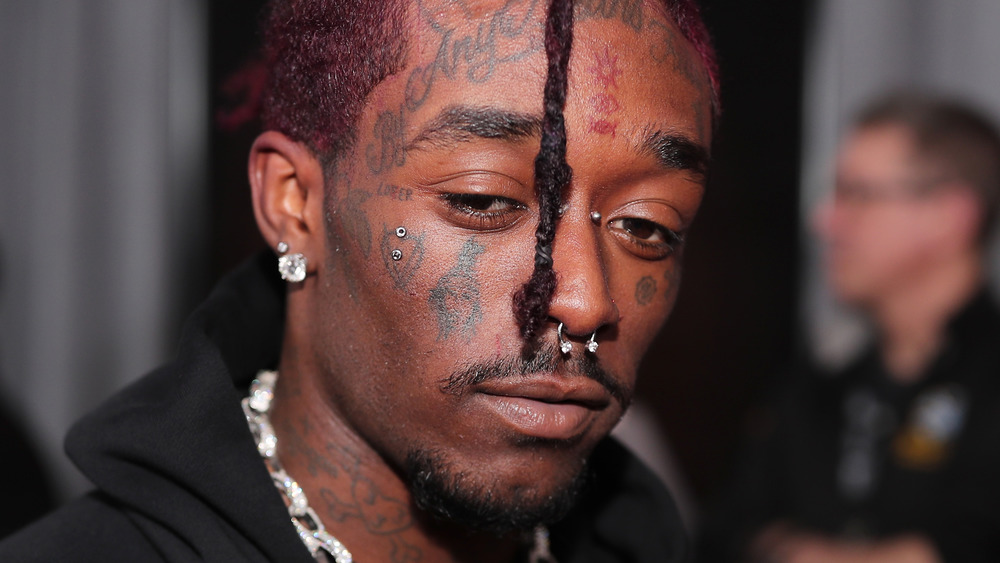 Christopher Polk/Getty Images
Diamonds are a girl's best friend...apparently, they are also Lil Uzi Vert's. The Eternal Atake rapper took body jewelry to another level when he debuted a pink diamond implanted in the middle of his forehead. Uzi took to Instagram to debut his face bling in early February 2021, just a week after tweeting his desire to have the expensive gem implanted on his face. "I've been paying for a natural pink diamond from Elliot for years now," Uzi tweeted on Jan. 30, 2021, referring to celebrity jeweler Elliot Elianette. "This one stone cost so much I've been paying for it since 2017." The rapper retweeted a fan's comment suggesting he paid $24 million for the estimated 11-carat gemstone, further noting that his "Bugatti can't even pay for it."
Uzi's pink gem look is receiving mixed reviews from some of his fans. While some fans pointed out the rapper's "unnecessary" purchase amid a global pandemic, one critic in particular didn't take well to Uzi's new statement piece: Sauce Walka. The Texas rapper, who got a diamond implanted on his face in December 2020 (The Source), took to social media to slam Uzi for not giving him credit for the diamond trend. "2017 lies later‼️‼️‼️‼️Now What I tell y'all," the de facto "Drip God" posted on Instagram on Feb. 4, 2021. "#WHATYOUGONEDO YEAR AFTER YEAR FOLLOW THE LEADER #DripGOD W for Texas." Although Sauce Walka claims Uzi stole his swag, Uzi says he drew inspiration from a different rapper.
Lil Uzi Vert says his diamond forehead implant is inspired by Lil B
Move over, Sauce Walka. Despite the "Drippin'" crooner's claims that he did the diamond implant first, Lil Uzi Vert says otherwise. Following Sauce Walka's comments, Uzi set the record straight about who inspired his unconventional body jewelry. Without mentioning the Texas rapper, Uzi tweeted a throwback photo of California rapper Lil B The Based God. In the photo, the "Caillou" rapper sports a shiny object in the middle of his forehead.
DJ Akademiks later reposted the tweet on Instagram to open up discussion about Lil B's influence on the rap game. Sauce Walka wasn't having it. He commented, "THAT IS A STICKER IN LIL B HEAD #NOT A DIAMOND IMPLANT." Yikes. Regardless of who started the eclectic facial jewelry trend first, Uzi doesn't seem to be concerned with Sauce Walka's comments. After the debut of the pink diamond, the "XO Tour Llif3" crooner has regularly updated concerned fans about his health since revealing he could reportedly die if the stone isn't removed properly, per HotNewHipHop. Beauty is pain, right? After all, Uzi has an interesting motto when it comes to his blinging investment: "If it's accepted from the jump it's not ICONIC."