Mary Trump Has A New Message For Donald Trump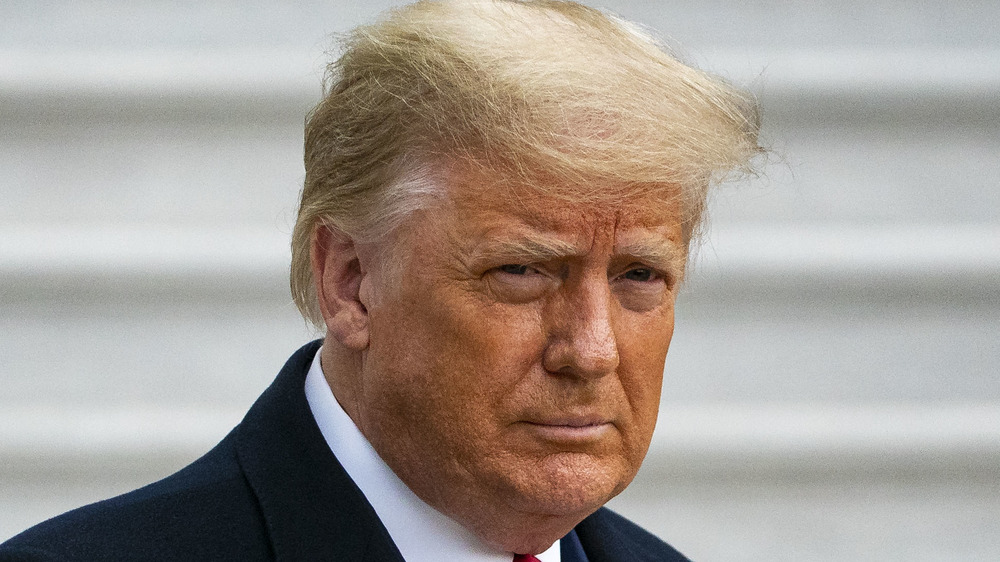 Al Drago/Getty Images
Donald Trump has a long list of critics ranging from fellow politicians to international leaders, but he also doesn't have a fan in some of his family members. For years, the former president's niece, Mary Trump, has spoken out against her uncle's presidency, including in her New York Times bestselling book, Too Much and Never Enough. Mary's bombshell memoir, which was released in July 2020, details the "revelatory, authoritative portrait of Donald J. Trump and the toxic family that made him," according to the book's summary (via Simon & Schuster). In her own words, the trained clinical psychologist "shines a bright light on the dark history of their family in order to explain how her uncle became the man who now threatens the world's health, economic security, and social fabric."
The author's frustrations with her uncle became even more evident amid the 2020 election, as well as the events that led up to his loss to President Joe Biden, who was sworn in alongside Vice President Kamala Harris during the inauguration on Jan. 20, 2021. Following the deadly insurrection at the U.S. Capitol just weeks earlier, Mary told CBS News that Donald should be "barred from ever running for public office again."
In addition to her book and public interviews, Mary has also been quite vocal on social media. In February 2021, she shared a new message for her uncle. Keep scrolling to find out Mary Trump's latest thoughts on Donald Trump. 
Mary Trump called for Donald Trump's conviction
Mary Trump hasn't been shy when it comes to sharing her true feelings about Donald Trump. Not only has she slammed what she calls her uncle's "tawdriness" personality and his "unfathomably dangerous" presidency (via The Guardian), she's also raised the alarm on why she believes he should face legal charges ahead of his second impeachment trial in the Senate. 
On Twitter, the businesswoman made her feelings clear while retweeting a message that said "Convict Trump" on Feb. 6, 2021. "This shouldn't even be in question, but we need to keep saying it until it happens," Mary proclaimed, while adding, "(Also, Donald)," alongside the Slightly Smiling Face emoji. Mary has been calling on Donald to be charged for his involvement in the deadly insurrection that claimed the lives of five people after pro-Trump supporters and white supremacists stormed the U.S. Capitol on Jan. 6 (via ABC News). Following the unprecedented riots that took place two weeks before Donald transitioned out of his role as commander in chief, Mary explained why the 25th amendment should be invoked.
"This is not a time to deliberate. It's time to act quickly," she told the Observer (via The Guardian). "My uncle is unstable. He needs to be removed immediately." Mary echoed her sentiments while chatting with Business Insider, noting that Donald needed to be "impeached" right away. "If that doesn't happen, that is an abject failure of our system and it doesn't bode well for our very fragile, wounded democracy," she insisted.