The Truth About How Tom Brady Stays In Such Good Shape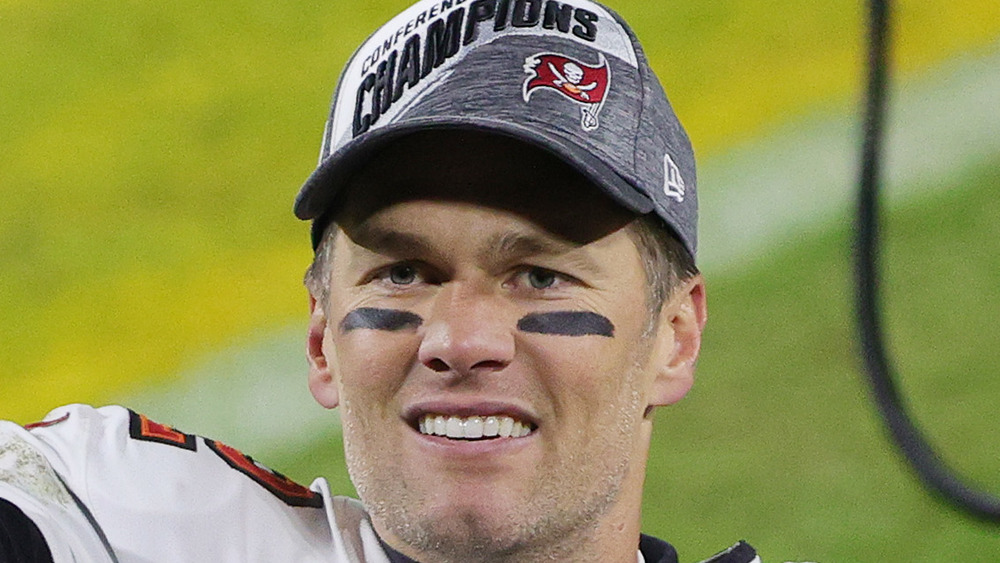 Stacy Revere/Getty Images
Love him or loathe him, NFL quarterback Tom Brady is a football legend. The sports superstar has reached the Super Bowl a staggering 10 times in his professional career, according to The Sporting News — and he's won six of those games. Those championships were all won when Brady played for the New England Patriots, but in 2021, he led his new team, the Tampa Bay Buccaneers, to Super Bowl LV as quarterback, where the Bucs are facing off against the Kansas City Chiefs.
Brady has also played for 21 seasons and is older than many professional football players at 43 years old. But don't think for a second that age has slowed him down. The gridiron all-star follows a strict daily workout and diet regimen, according to the New York Post. Read on to find out more about just how Brady has stayed in such good shape over the course of his long and successful athletic career.
Tom Brady daily schedule includes lots of workouts
Jamie Squire/Getty Images
According to the New York Post, Tampa Bay Buccaneers quarterback Tom Brady has a strict daily workout and diet regimen that even makes time for his children and famous wife, Gisele Bündchen. His long days start off at 5:30 a.m., when he wakes up and drinks electrolyte-enriched water and smoothie. From there, he'll have breakfast with his family at 7 a.m. before spending the rest of the morning on strength and conditioning at the gym, working out at the beach, and studying up on football game footage.
In the afternoons, according to the newspaper, Brady will either head to the Buccaneers' team practice, or in the off-season, he'll go surfing. By 6 p.m., he'll eat dinner with his family, but afterward, he's back to work reviewing team footage, strategizing with his coach, or working with his charities. At 7:30 p.m., Brady spends time with his kids, before heading to bed at 8:30 p.m. to do it all again the next day.
"Tom's sustained success over the past 20-plus years is a testament to his incredible drive and his meticulous approach to everything he does," John Burns, CEO of Brady's TB12 wellness organization, told the NY Post. "It's that mindset that allows him to keep going."
Brady's workout schedule isn't the only thing planned to a tee — so is his diet.
Tom Brady's diet is all organic food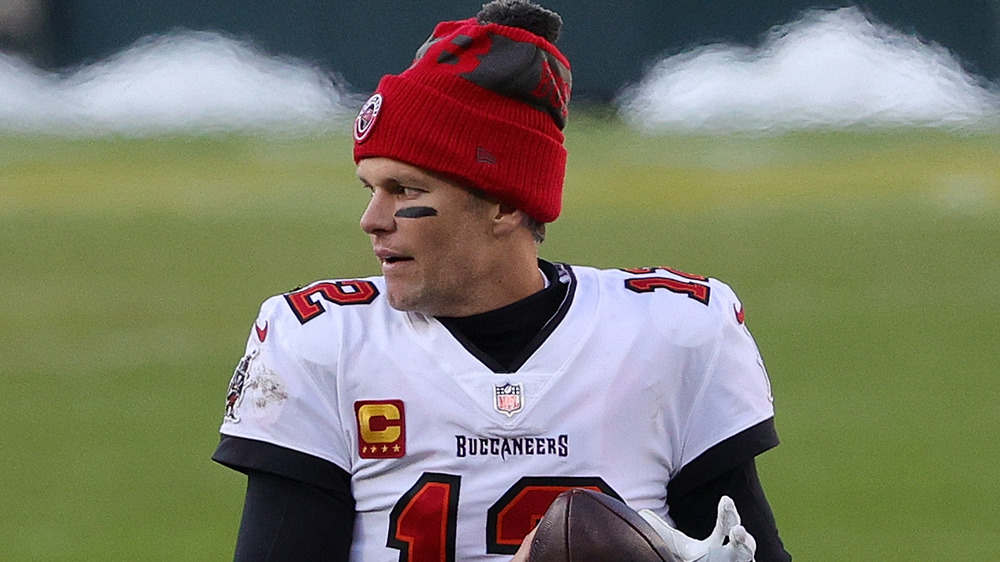 Stacy Revere/Getty Images
As for his diet, Tampa Bay Buccaneers quarterback Tom Brady knows which foods he prefers and when, according to the New York Post. Brady's diet is strictly organic and he stays away from caffeine, white flour, white sugar, dairy, gluten, and veggies that could cause inflammation, like tomatoes, eggplants, peppers, and mushrooms.
So what does Brady eat, then? He aims to drink "a couple of hundred ounces" of electrolyte-enriched water. His former personal former chef, Allan Campbell, told the NY Post that Brady's daily food menu while training during the season focuses on "dark leafy greens, some grass-fed animal protein as well as legumes and whole grains." However, when Brady is due to play in a game, he makes a very simple choice for a meal: a smoothie and a sandwich of almond butter and jelly.
While Brady's diet is super strict, like everyone else, he does occasionally make room for a cheat meal or two. Campell told the NY Post that Brady especially enjoys burgers, dark chocolate, and plant-based ice cream. Brady has always made his winning plays look effortless on the gridiron, but as it turns out, the football superstar puts a ton of effort into staying in great shape.