The Historic Significance Behind Jazmine Sullivan's Super Bowl Outfit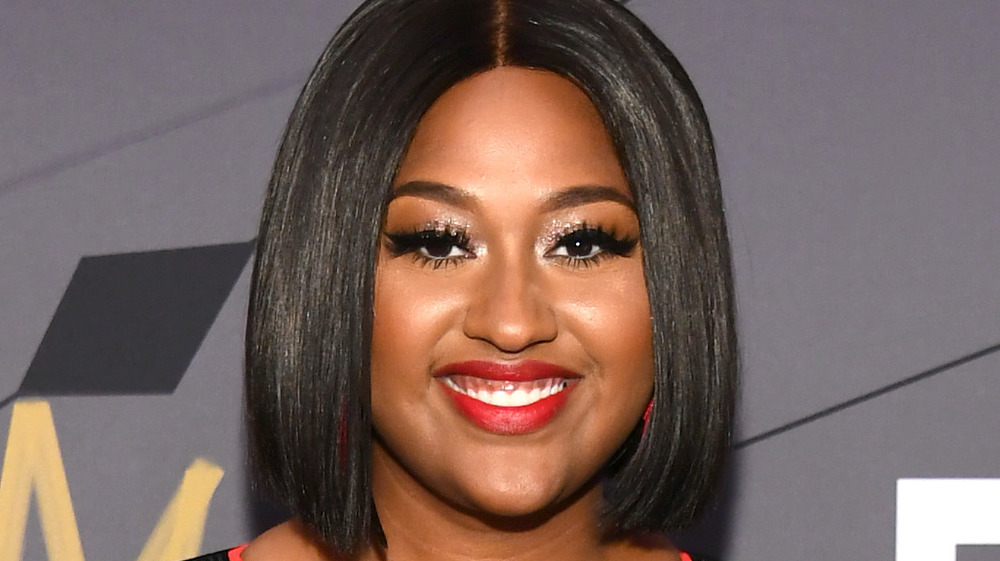 Dave Kotinsky/Getty Images
Jazmine Sullivan looked amazing when she sang the national anthem at Super Bowl LV, but she also turned heads during rehearsals when she donned a chic white track suit. That outfit was more than just a comfy-chic practice look. A couple of eagle-eyed fans on social media pointed out that her rehearsal style might have been an intentional nod to another iconic Super Bowl moment.
Sullivan performed her rendition of "The Star Spangled Banner" at the 2021 Super Bowl in Tampa, Florida in a duet with country star Eric Church, who accompanied the vocal powerhouse on guitar. In such a historic year, the national anthem feels particularly powerful, just as it did when Lady Gaga performed the song at President Joe Biden's inauguration the month prior. The combined talents of Church and Sullivan seemed intentionally coordinated to emphasize a message of unity, togetherness, and patriotism.
During her rehearsal, Sullivan seemed to communicate another message, honoring one of the best renditions of "The Star Spangled Banner" in Super Bowl history.
Jazmine Sullivan's rehearsal outfit delivered historic vibes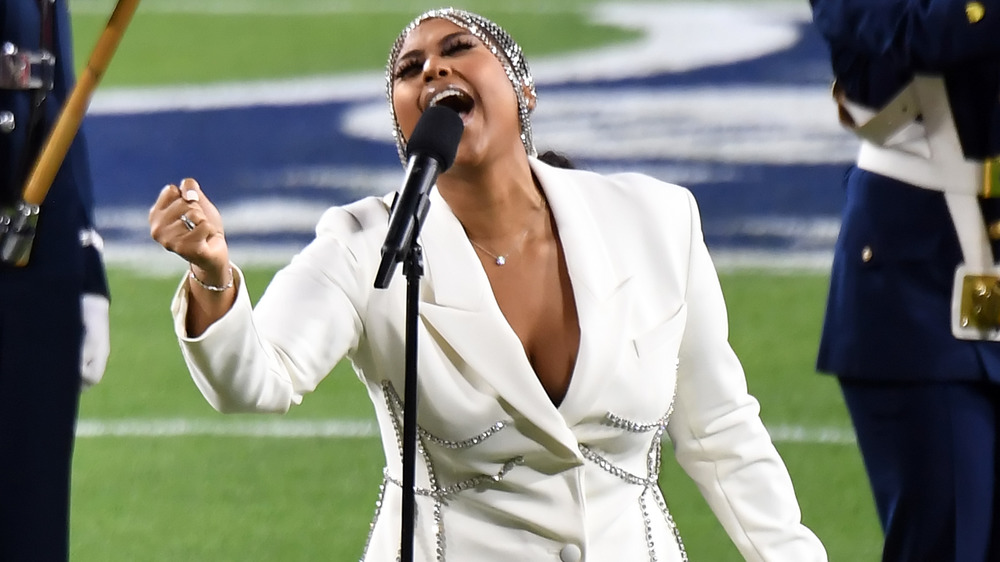 Kevin Mazur/Getty Images
Super Bowl national anthem singer Jazmine Sullivan performed "The Star Spangled Banner" at Super Bowl LV in Tampa, Florida exactly 30 years after another Black woman — the incomparable Whitney Houston — sang the anthem at Super Bowl XXV, which was also held in Tampa. People have pointed out the poignancy of this symmetry, and it looks like Sullivan isn't oblivious to it either.
Fans noted the white track suit Sullivan wore during rehearsal closely resembled the bright white sweatsuit Houston wore when she gave her now iconic Super Bowl performance in 1991. Houston's version is considered by many to be one of (if not the) best in Super Bowl history. Sullivan's outfit seemed to pay subtle homage to Houston's genius. 
For the actual game, Sullivan opted for a crisp white suit and dazzling rhinestone headdress. No one can recreate Houston, of course, but Sullivan, alongside country star Eric Church, definitely held their own.
#SBLV rehearsal: @jsullivanmusic rocks a sweatsuit similar to the one Whitney Houston wore when she performed the national anthem at '91 Super Bowl. ♥️ pic.twitter.com/KsdU94Dfyw

— Jackée Harry (@JackeeHarry) February 7, 2021