Inside Lady Gaga And Joe Biden's Relationship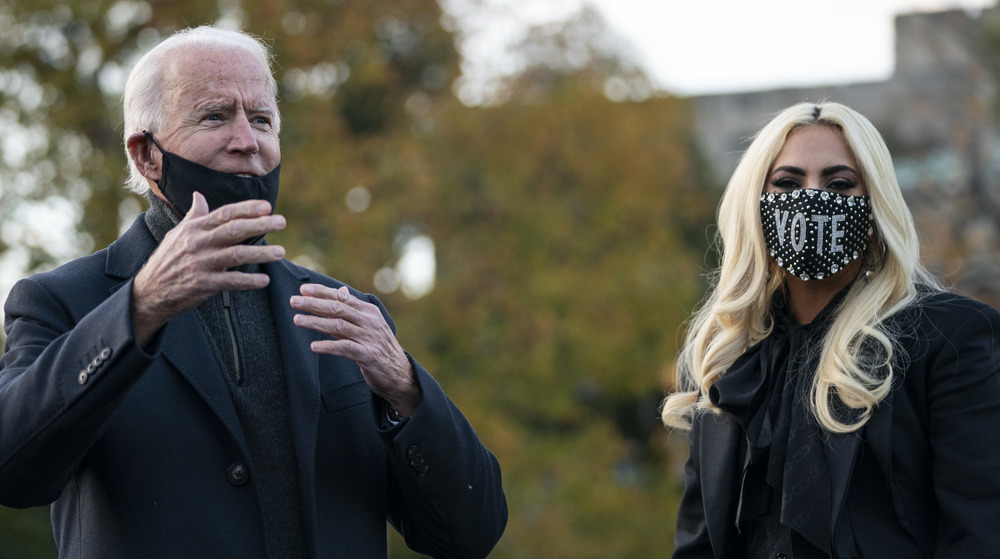 Drew Angerer/Getty Images
The Biden Inaugural Committee announced the musical performers set to dazzle the stage at the Jan. 20, 2021 inauguration of Joe Biden and Kamala Harris, and what a colorful setlist it is! As People reported, most notable among the performers are singers Lady Gaga and Jennifer Lopez, the former of which will perform "The Star-Spangled Banner."
Gaga took to Instagram to share her own enthusiasm about the opportunity. "I am deeply honored to be joining @BidenInaugural on January 20 to sing the National Anthem and celebrate the historic inauguration of @JoeBiden and @KamalaHarris," she wrote in her Jan. 14 post's caption, with the accompanying photo showing her dancing and wearing a shirt with "JOE" on it. 
The "Rain on Me" singer has been an ardent supporter of the Biden-Harris campaign throughout the 2020 election season. Read on for a few of her and Biden's shared highlights.
Lady Gaga and Joe Biden have collaborated before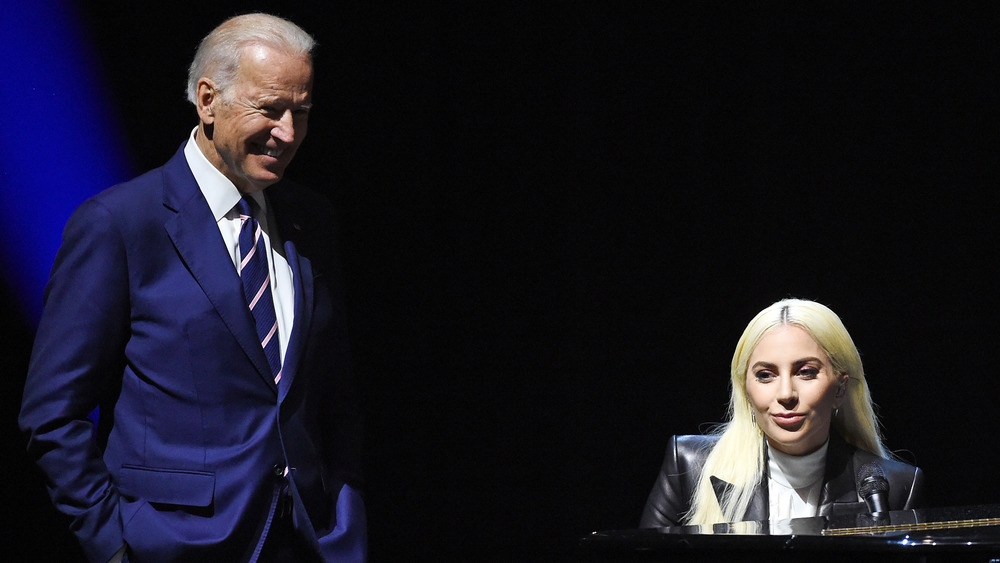 Ethan Miller/Getty Images
Lady Gaga is no stranger to using her massive platform in support of Joe Biden. Prior to his 2020 presidential election bid, Deadline noted that Gaga and Biden had previously collaborated on a college campus sexual assault awareness campaign "It's On Us," started by Biden and President Barack Obama in 2014.
Lady Gaga also performed at the President-elect's final stop of his campaign in Pittsburgh the night before election day as his opening act, according to C-Span. During her performance, she told the crowd exactly why they should vote for Biden instead of Donald Trump. Gaga said, "To all the women and... men with daughters and sisters and mothers... Now is your chance to vote against Donald Trump, a man who believes his fame gives him the right to grab one of your daughters or sisters or mothers or wives by any part of their bodies." She summarized her acerbic jab at Trump with the bottom line, "Vote for Joe — he's a good person."
After Biden defeated Trump in Pennsylvania on Nov. 7, 2020, making him the projected winner of the election, Gaga's celebratory tweet was nothing short of effusive. "Joe Biden, Kamala Harris and the American people, you just gave the world one of the greatest acts of kindness and bravery humanity has ever seen," the singer gushed. We are sure, with her invitation to sing nothing less than the National Anthem itself at his inauguration, that Biden returns the singer's fond feelings.