Amanda Gorman's Coat At The Super Bowl Is Getting Attention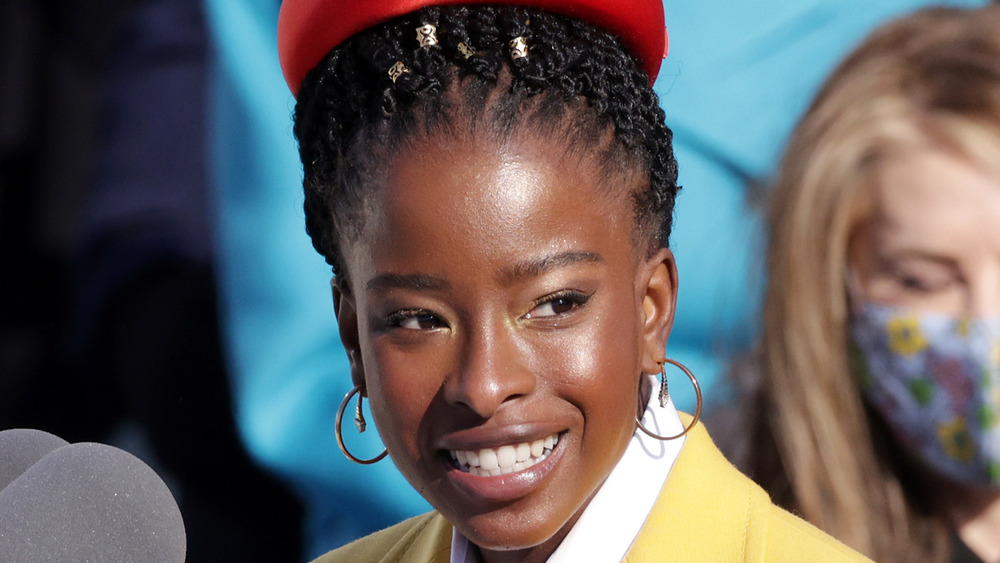 Alex Wong/Getty Images
Another day, another eye-catching coat from National Youth Poet Laureate Amanda Gorman. Gorman, who gained national attention for her moving spoken word performance at President Joe Biden's inauguration, is now the first poet to perform for the Super Bowl, per The New York Times. Ahead of the Super Bowl kickoff, the poet honored the three "honorary captains" of the game, who helped with the coin toss before the game started. And while her tribute to the captains was a moving one, fans were focused on another aspect of Gorman's Super Bowl appearance: her blue, embellished coat.
Several people were quick to identify Gorman's coat as Moschino, and plenty more were just happy to praise the 22-year-old's style. The poet also wore a bright yellow coat to Biden's inauguration; she clearly has a flair for colorful winter clothing. You can see Gorman's Super Bowl performance, and her coat in all its glory, in this Sports Center video. A queen!
Fans had nothing but positive things to say about Amanda Gorman and her coat
"Amanda Gorman's coat/pearl combo is unREAL," tweeted comedy writer Jenny Jaffe. "Thank god amanda gorman and her amazing coat are lowering my blood pressure," another person tweeted. "Amanda Gorman's poetry is phenomenal and her coat game is exceptional," someone else wrote.
And some fans even tweeted that the poet was the only reason they tuned into the Super Bowl in the first place. "Not gonna lie, this was the main reason I turned on the game," one person tweeted. "@TheAmandaGorman is the only reason I turned on the game," another person wrote.
Gorman's coat — and her work — have countless fans, and her appearance at the Super Bowl shows a much-needed change to the sporting event. Inclusion is always a good thing; Gorman could be the first of many poets to appear at the Super Bowl. And until then, fans are eagerly awaiting where Gorman and her coats will show up next.