What Joe Biden's Inauguration Will Look Like
Chip Somodevilla/Getty Images
After the events of Jan. 6, 2021, in which a mob of hundreds of right-wing Trump supporters, a number of which were affiliated with white supremacist groups, staged at insurrectionist coup at the Capitol Building, the idea of beefing up security for President-elect Joe Biden's inauguration has almost been considered a given. Now, according to Jan. 15, 2021, reports by both CNN and The New York Times, it looks like the incoming administration isn't taking any chances. 
The insurrectionists, which The New York Times called "extremists," purportedly "remain a concern due to their ability to act with little to no warning, willingness to attack civilians and soft targets, and ability to inflict significant casualties with weapons that do not require specialized knowledge," according to documentation authored by federal officials, per the media outlet. So what parameters have been put in place to make sure there will be a peaceful transition of power from the Trump administration to the Biden administration, despite the fact that Trump himself won't be there for the swearing-in ceremony? Read on below to find out. 
Joe Biden's inauguration will have thousands of National Guard members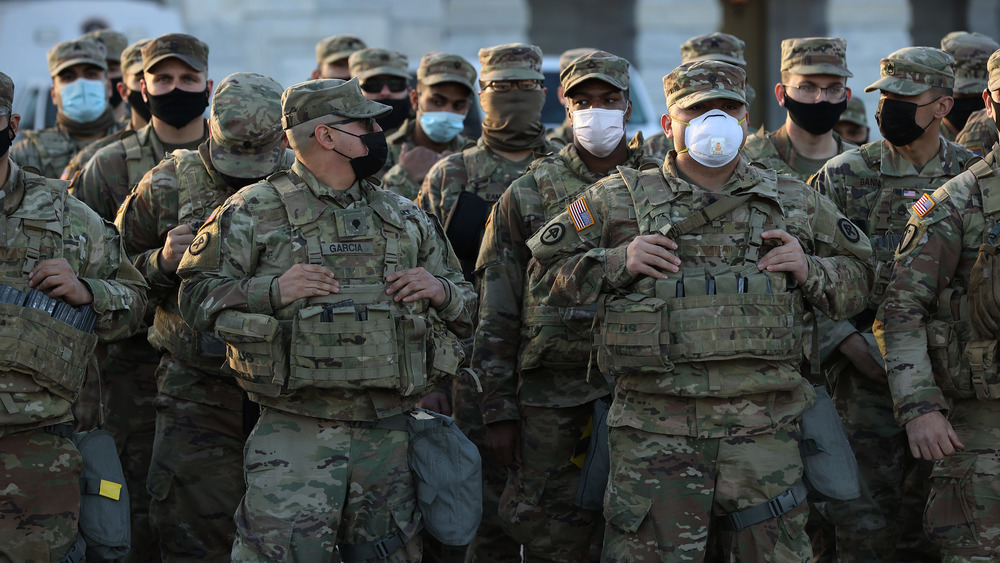 Chip Somodevilla/Getty Images
As CNN reported, the Pentagon purportedly gave the green light for at least 25,000 members of the National Guard to help with security for the Jan. 20, 2021, inauguration ceremony of President-elect Joe Biden. While plans were already underway for intensifying the security detail for the ceremony, word of "armed protests," per CNN, received by the FBI were instrumental in the increase. NBC also reported the National Mall could be completely closed the day of the ceremony.
In light of the actions of the insurrectionist mob on Jan. 6, head TSA official David P. Pekoske told The New York Times that airport security across the nation has been told to be on high alert in light of the upcoming inauguration, especially the day of. "Our intelligence and vetting professionals are working diligently around the clock to ensure those who may pose a threat...undergo enhanced screening or are prevented from boarding an aircraft," Pekoske said. The Times also added that the higher-ups representing the Defense Department and National Guard called on Jan. 14, 2021, for governors from all states to send over additional service members to help aid in security detail during the event. 
NYT additionally noted that while some have suggested that the ceremony be moved indoors in order to place security measures in a more controlled environment, Biden himself dismissed the notion due to the risk of possibly spreading COVID-19 in the midst of an ongoing coronavirus pandemic.