Russell Wilson's Super Bowl Appearance Is Causing Quite A Stir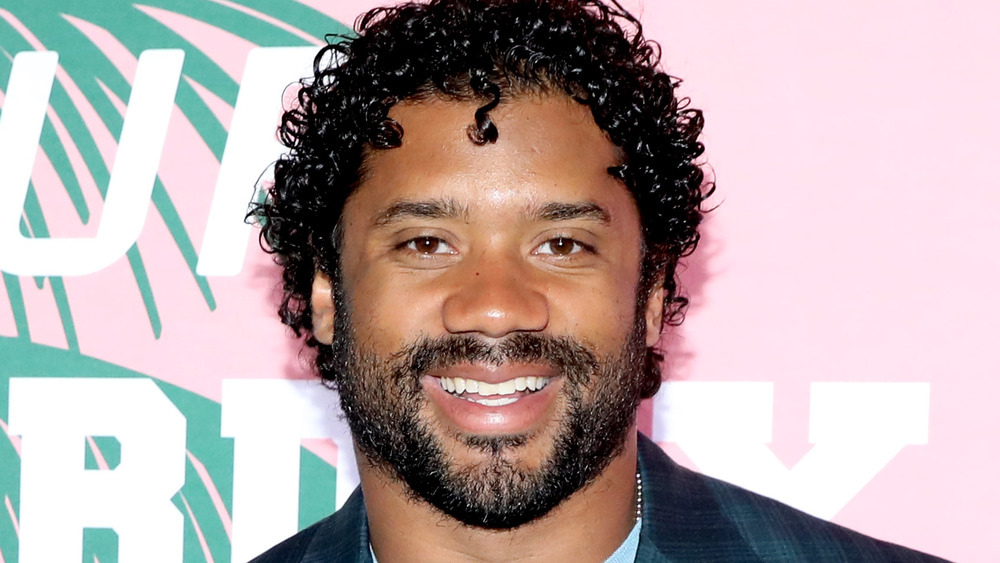 Robin Marchant/Getty Images
Although the stadium wasn't at full capacity for the 2021 Super Bowl, there were still plenty of people in the crowd watching the game in person, along with 30,000 cardboard cut-outs, according to BuzzFeed. Former Super Bowl champ Russell Wilson of the Seattle Seahawks and his wife, singer Ciara, were also in Tampa Bay for the big game. In fact, they were seated alongside NFL Commissioner Roger Goodell. They were all wearing face masks to comply with coronavirus safety guidelines, but nevertheless, Twitter users just could not help but dissect Wilson's facial expressions, mask and all. Apparently, his eyes really conveyed a lot, and based on one specific moment captured on camera (via the New York Post), the Twitterverse has concluded that Wilson was not happy to be sitting between his wife and the commissioner.
NBA alum Richard Jefferson correctly predicted: "Can't wait to see the Ciara, Russell Wilson and Goodell memes in 3..2..1..." No one even had to edit the photo to create a meme. You know the old adage — a "picture is worth a thousand words." Well, this photo was worth a thousand tweets, at least.
One Super Bowl viewer tweeted, "Russell Wilson looks so bummed to have to watch the Super Bowl with Goodell." Another armchair quarterback felt that "Russell Wilson looked like he wanted to be anywhere but sitting beside Goodell lol. Who can blame him though." 
In response to all of the commentary, another Twitter user shared, "Glad I was not the only one that noticed this. Lol." Fear not, plenty of folks had a lot to say about the man behind the mask. 
Russell Wilson did not seem happy at the Super Bowl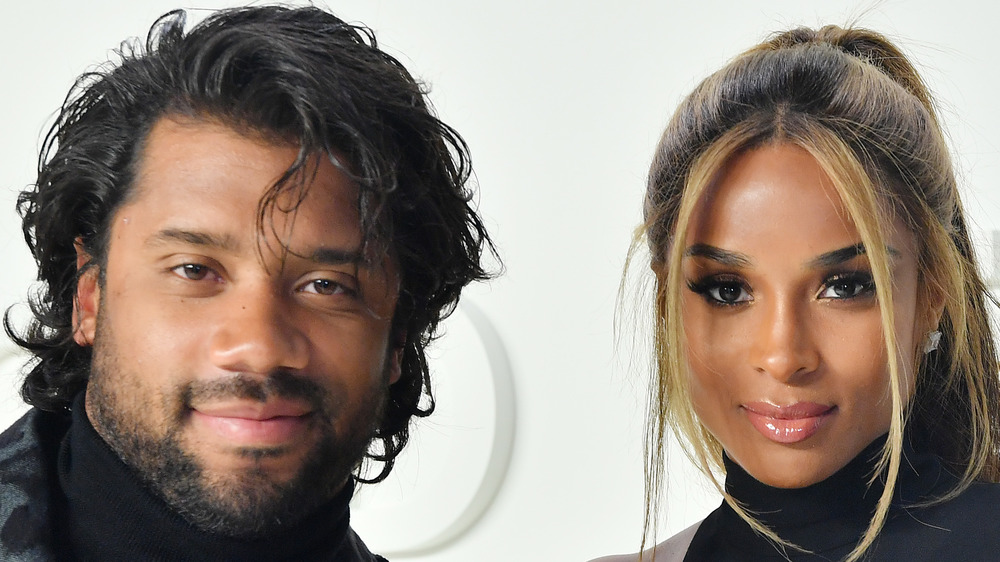 Stefanie Keenan/Getty Images
Perhaps Seattle Seahawks quarterback Russell Wilson just did not feel like being at a Super Bowl that he was not playing in. Maybe he was just nervous being out in public in the midst of the ongoing coronavirus pandemic, especially since he and Ciara have three kids at home – two children together and Ciara's son from a previous relationship with rapper Future. It's also very possible that Wilson just happened to be captured in a less-than-flattering moment, which happens to everyone. Taking a screenshot at one specific moment can tell a way different story than what was actually happening throughout the duration of an entire conversation. Even so, Twitter sure had fun poking fun at Wilson, with one social media user acknowledging: "I know they clowning Russell Wilson for kicking it with Goodell." That's for sure. 
Another Super Bowl body language expert joked: "When Ciara was talking to Goodell it was like Russell Wilson didn't even exist." Someone else quipped, "Russell Wilson don't care what Goodell and Ciara talking about he want some sleep." One fan assumed that Wilson was "forced to hang out with Goodell." 

At this point, no one involved in the viral moment has publicly acknowledged it, but it is refreshing to see some fun shade on Twitter instead of the heavier content that has been dominating the news cycle for the past year. 
Roger Goodell recently honored Russell Wilson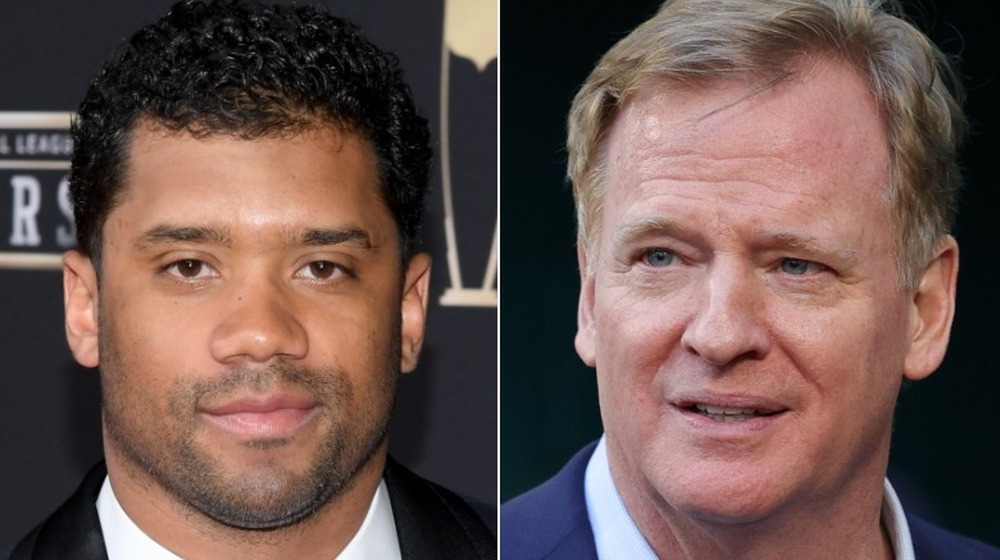 Jason Kempin, Maddie Meyer/Getty Images
The Super Bowl was the major event of February 2021, but there were other big moments in football recently. The NFL honored Seattle Seahawks quarterback Russell Wilson with the Walter Payton NFL Man of the Year award. The title acknowledges a player for their "outstanding community service activities off the field, as well as excellence on the field." The award's previous recipient, DE Calais Campbell, presented Wilson with the award. NFL commissioner Roger Goodell (pictured right) was also on hand for the moment, which included sharing some kind words about Wilson and his philanthropic efforts.
"Russell Wilson has always prioritized serving his community, but this year, he met the challenge and more when it was needed most," Goodell said. In addition to mentioning Wilson's success as an athlete, the commissioner praised him for starting his own organization called the Why Not You Foundation. "Russell is extremely deserving of this award and I know he will use this as an additional springboard to continue to positively impact others," Goodell added. 
Considering the timing of that award and the Super Bowl, it makes sense that Wilson was in Tampa Bay for the game and that he would sit with Goodell. As for that meme-worthy moment in the stands during Super Bowl LV, it's still not clear what Goodell and Ciara were chatting about or why Wilson looked so unenthused behind his facemask. Nevertheless, the controversial conversation has certainly provided hours of amusement for countless pop culture play callers on Twitter.