Gisele And Camille Recreate Hilarious Brady And Gronk Video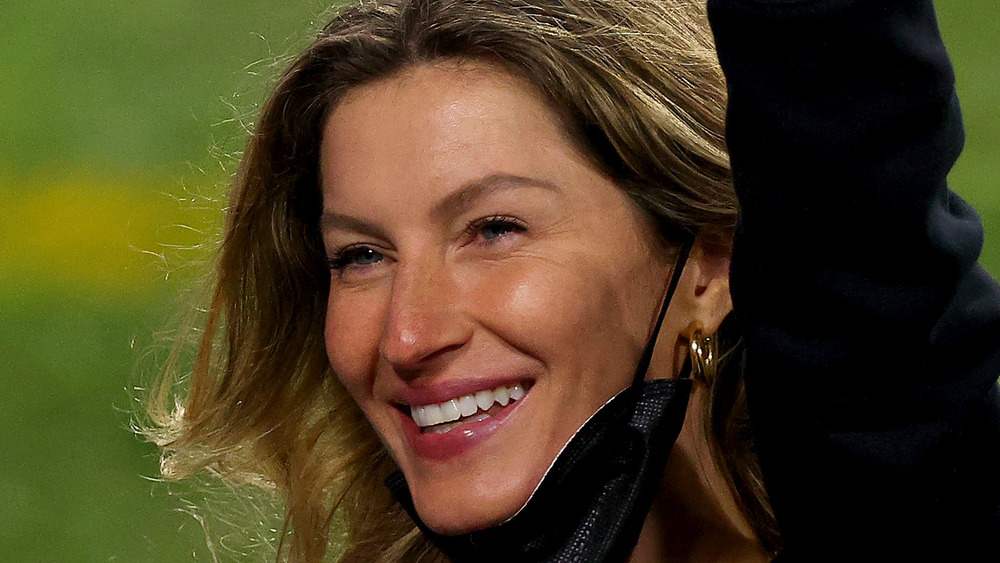 Kevin C. Cox/Getty Images
Tom Brady and Rob Gronkowski are a dynamic duo both on and off the football field. From winning three Super Bowls together for the New England Patriots to adding another win to that list after their Super Bowl LV victory with the Tampa Bay Buccaneers, this QB-tight end duo is truly unstoppable. Part of what makes their chemistry as players so great is the bond they share off the field and their close-knit friendship. They aren't the only ones who are close, though. In fact, their respective partners — Brady's wife Gisele Bündchen and Gronkowski's girlfriend Camille Kostek — are also good friends.
The models even took to social media to share a video of them celebrating their S.O.'s Super Bowl win together on Feb. 7, 2021. The video was more than just a celebratory social media clip, though. It was actually a recreation of an iconic, viral video their partners had previously made. Keep reading to learn more about how Bündchen and Kostek celebrated their guys' 2021 Super Bowl win.
Gisele Bündchen and Camille Kostek celebrated their 'Bad Boys for Life'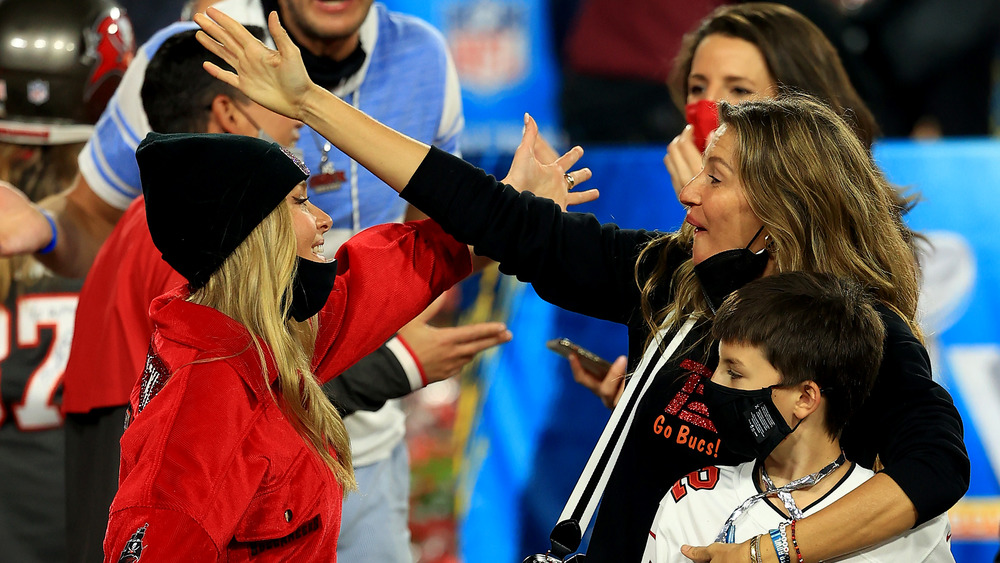 Mike Ehrmann/Getty Images
After their partners cinched a victory for the Tampa Bay Buccaneers against the Kansas City Chiefs at Super Bowl LV, models Gisele Bündchen and Camille Kostek celebrated on the field by recreating a viral video set to P. Diddy's song "Bad Boy for Life" that Tom Brady and Rob Gronkowski had previously made, per the New York Post.
Following the Buccaneers impressive win against the Green Bay Packers on Jan. 24, 2021 — which advanced them to Super Bowl LV — Brady posted a video captioned "W" to Instagram as an ode to a similar video he made with his friend and teammate back in 2019. The original video came when the New England Patriots — the team Brady and Gronkowski had previously played together on — won the AFC Championship Game, per the New York Post. 
It was only fitting of them to recreate the viral video that had millions and millions of views ahead of Super Bowl LV, as it marked their fifth Super Bowl together. It was also a significant game for the duo as it was both of their first times playing in the Super Bowl for a team other than the Patriots. Furthermore, Gronkowski had all but retired before Brady convinced him to suit back up and follow him to Tampa.
This viral video is really just a video that just keeps on giving, and its significant back story makes Bündchen and Kostek's tribute all the sweeter.