Kanye West And Kim Kardashian Living Apart While He Recovers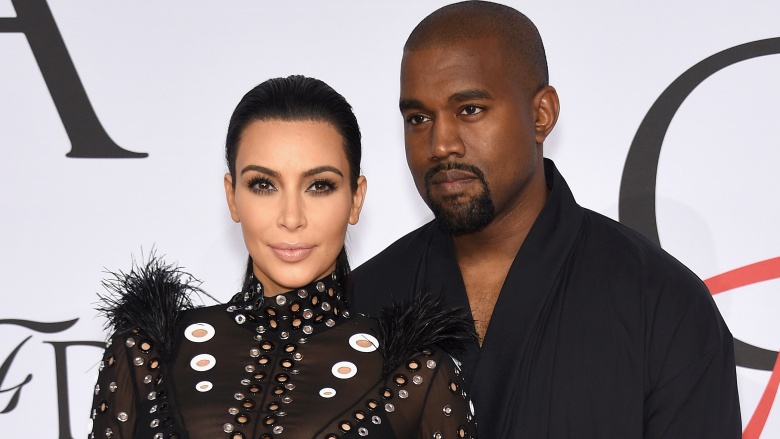 Getty Images
Kanye West and Kim Kardashian are reportedly living apart as he continues to recover from the meltdown he suffered on Nov. 21, 2016. A source told Us Weekly, "Kim is being very protective and doesn't want Kanye around the kids right now." The source added that she isn't keeping the kids from their father, but that their contact with him is "a valid concern."
"He is receiving outpatient care somewhere else with a medical team. Kim still seems concerned but is supportive. They don't know for how long Kanye will need outpatient care," an insider told People. A source also claimed Kardashian feels "overwhelmed" and "is very worried about the kids being around Kanye." Still, their relationship seems solid, with the insider adding, "There are frustrations and problems, like any relationship, but they love each other deeply."
Part of Kardashian's concern may stem from the situation surrounding West's hospitalization. The 911 call between West's physician, Dr. Michael Farzam, and a dispatcher was released on TMZ, and it's understandable that she'd be nervous after hearing it. "He's definitely going to need to be hospitalized. I wouldn't just do the police by itself," Farzam says in the recording. The dispatcher responds, "Keep an eye on [West]...Don't let him get any...weapons or anything like that...If anything changes, if he does become physically combative between now and when the police and/or paramedics get there, call us back immediately at 911."
TMZ reports that West's issues involve his medication. Sources told the site West has suffered from psychological problems for a long time that were successfully treated by medication. It's unclear if West altered or stopped taking his medications, the tab reported, but his downward spiral reportedly began after Kardashian's robbery in Paris. While he was hospitalized, doctors were reportedly able to stabilize him and find a good balance of medication, but during outpatient treatment, "it's up to him to stay on the correct dosage," TMZ reported.
West himself has suggested he uses antidepressants. On his song "FML" off The Life of Pablo album, he raps, "You ain't never seen nothing crazier than this n***a when he off his Lexapro."
Despite the stress, West has a strong support system in his wife. "[West] will remain getting outpatient treatment [until] he is fully recovered," an insider told E! News. "Kim wants him to continue getting therapy even after all of this. He has support from so many people. Kim is doing okay...She has many things on her plate so being overwhelmed is expected." The source added, "She wants to get Kanye back on his feet. She is not leaving him. She loves him."