The Real Reason Donald Trump Hasn't Apologized To Mike Pence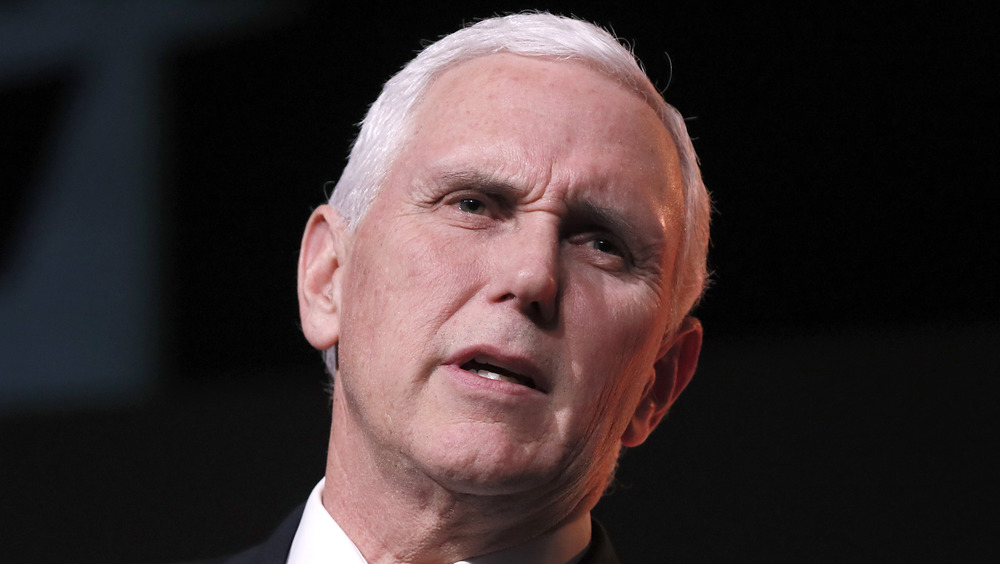 Paul Morigi/Getty Images
In the midst of ex-President Donald Trump's ongoing second impeachment trial, almost every major media outlet has reported on the shocking, previously unreleased footage taken the day of the Jan. 6, 2021 insurgency at the U.S. Capitol Building. Some of that footage shows former Vice President Mike Pence and his family being escorted by officers from his chambers to a safer location in the basement. This evacuation occurs horrifyingly close to a large mob of violent rioters making their way towards Pence's office. 
Aside from being used as evidence by House managers prosecuting Trump, the footage has shone a spotlight on Pence, who some have speculated has not found a permanent residence in his home state of Indiana since stepping down from office due to the possibility that it will make him easier for right-wing extremists and die-hard MAGA supporters to find. 
But as CNN noted, the footage of Pence being evacuated has also prompted another set of questions. Has Trump apologized for publicly rebuking his vice president and allegedly fueling death threats against Pence and his family? Will Trump's apparent lack of remorse cost him his last get-out-of-impeachment-free card. 
One Trump source says apologizing 'is just not his style'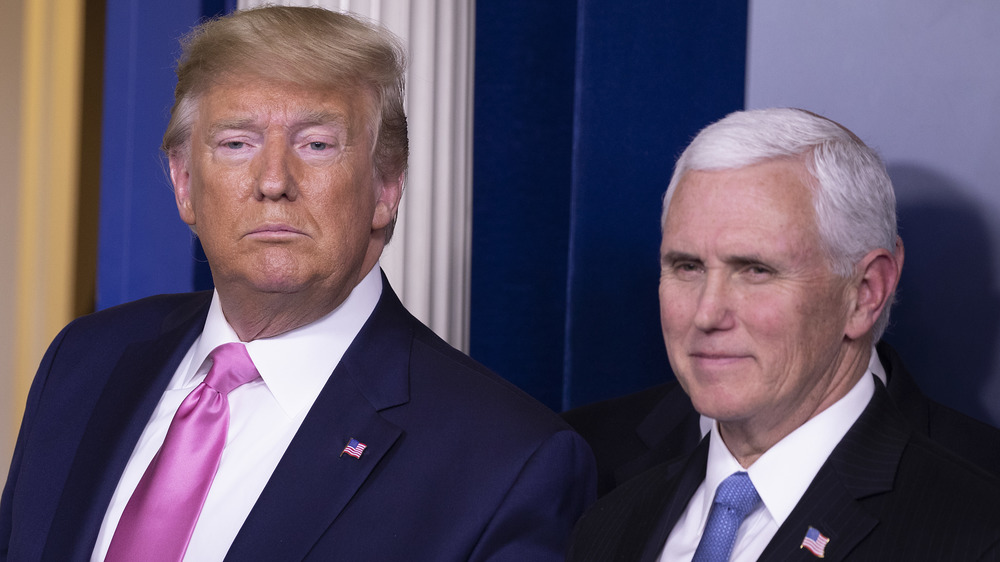 Tasos Katopodis/Getty Images
According to insiders who were part of Donald Trump and Mike Pence's respective inner circles during their White House term, the men reportedly met to discuss the insurrection at the U.S. Capitol, but the former president did not express remorse for his actions that day and the role they may have played in the violence, reported CNN. Sources say Trump has also not apologized to Pence for publicly castigating him for not helping to overturn the November 2020 election results. "When asked if Trump has any remorse, the source laughed and said that to Trump there's no greater offense than saying 'sorry,'" reported CNN.
In the moments leading up to the electoral vote count that was temporarily disrupted by the Capitol attack, Trump disparaged Pence in public and private, "alternately cajoling and browbeating him" to try to get the vice president to help overturn the election results, per The New York Times. Sources say Trump told Pence: "You can either go down in history as a patriot, or you can go down in history as a pussy." 
Despite the violence that ensued at the Capitol, including calls to locate and execute Pence, the vice president reportedly refused to leave the area. In fact, he presided over the certification of the electoral votes around 3:30 a.m. the next morning. 
When CNN asked a former Trump advisor if the ex-president would ever apologize for his treatment of Pence, the source said gestures of remorse are not likely: "That's not his style."