Donald Trump Was Much Sicker With COVID-19 Than Anyone Thought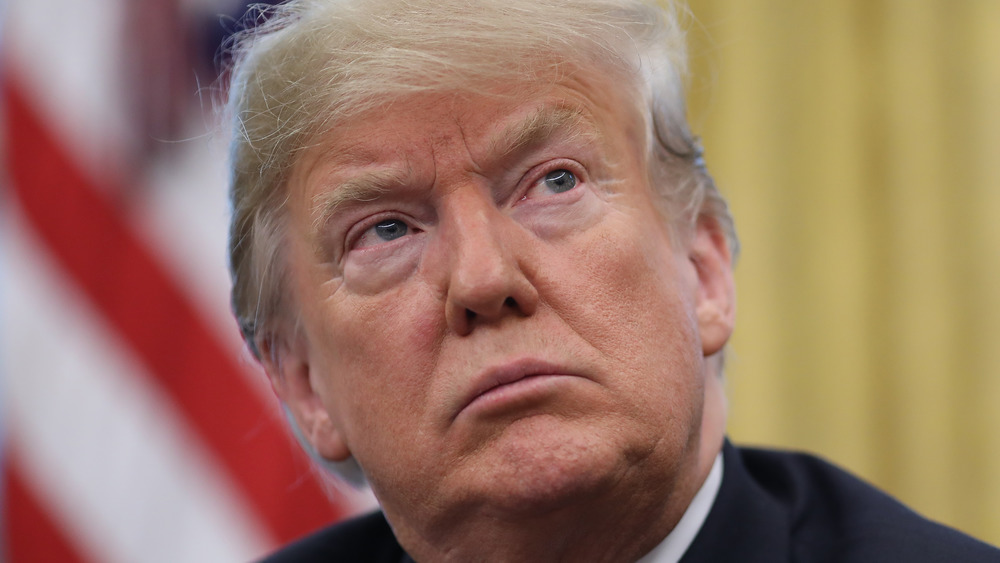 Win Mcnamee/Getty Images
Donald Trump's condition while he had COVID-19 was a lot worse than the public knew, according to The New York Times. The new report claims that his doctors even apparently considered putting him on a ventilator at the time because his oxygen levels were dangerously low.
The former president first tested positive for the disease on the first of October 2020 and entered the Walter Reed National Military Medical Center a day later. As CNN reported, Trump had trouble breathing and it was rumored that he had received supplemental oxygen. During a press conference, his physician Dr. Sean Conley refused to confirm that Trump needed it, saying that he was not on oxygen "right now" and reassuring the press that Trump was doing "very well."
Trump's chief of staff Mark Meadows privately gave reporters a less sunny idea of the president's health after the medical briefing, clarifying: "The President's vitals over the last 24 hours were very concerning and the next 48 hours will be critical in terms of his care. We are still not on a clear path to a full recovery."
According to the report published in The New York Times, Trump's oxygen levels dipped into the 80s, which is low enough for someone to be hospitalized immediately. Scans of his lungs also apparently show evidence of lung infiltrates, the result of his lungs becoming inflamed and full of fluid or bacteria. This symptom only appears in patients with an "acute" case of COVID-19, according to the Times.
Trump played down how serious his case had been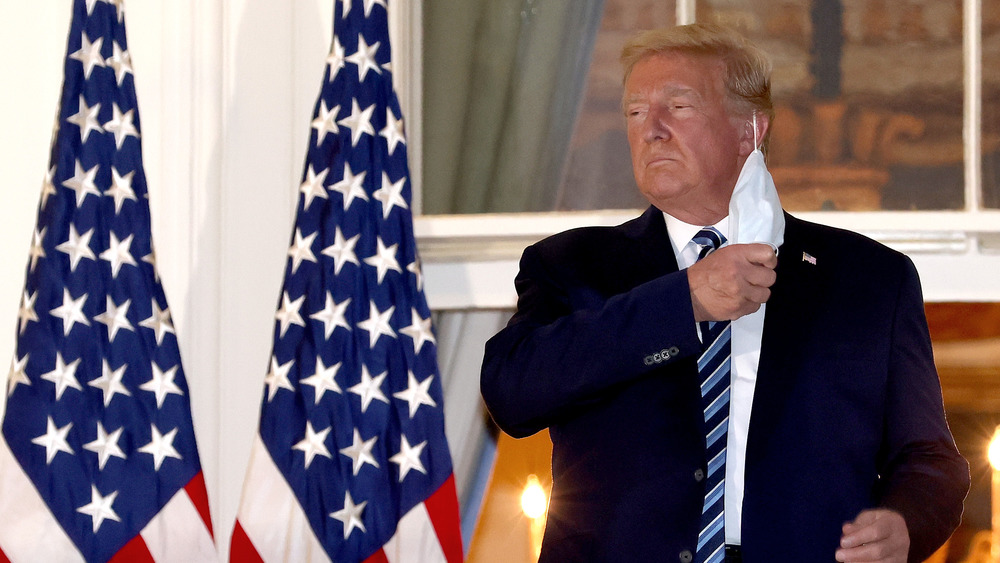 Win Mcnamee/Getty Images
As soon as Donald Trump tested positive for COVID-19, he was given an experimental antibody therapy developed by Regeneron Pharmaceuticals, per The Independent. During his hospital stay, the former president took dexamethasone, a steroid that The New York Times reported was usually reserved for patients with a "severe or critical" case of COVID-19.
As the BBC reported, Trump downplayed the severity of his brush with the disease as soon as he returned home. After three days under medical supervision, the former president made a dramatic appearance on the White House balcony, removing his mask and waving to supporters. He also publicly speculated that he was now "immune," and claimed that he had beaten it because he was a "leader."
Many White House staffers, aides, and Republican senators contracted COVID-19 at the same time as Trump. His wife Melania also tested positive; at the time, it was reported that she never took the Regeneron antibody treatment and instead opted for holistic remedies. However, per The New York Times in February 2021, a source close to the former first lady denied that she had turned down the treatment.