Brandy Recalls Having 'So Much Fun' With Whitney Houston On The Set Of Cinderella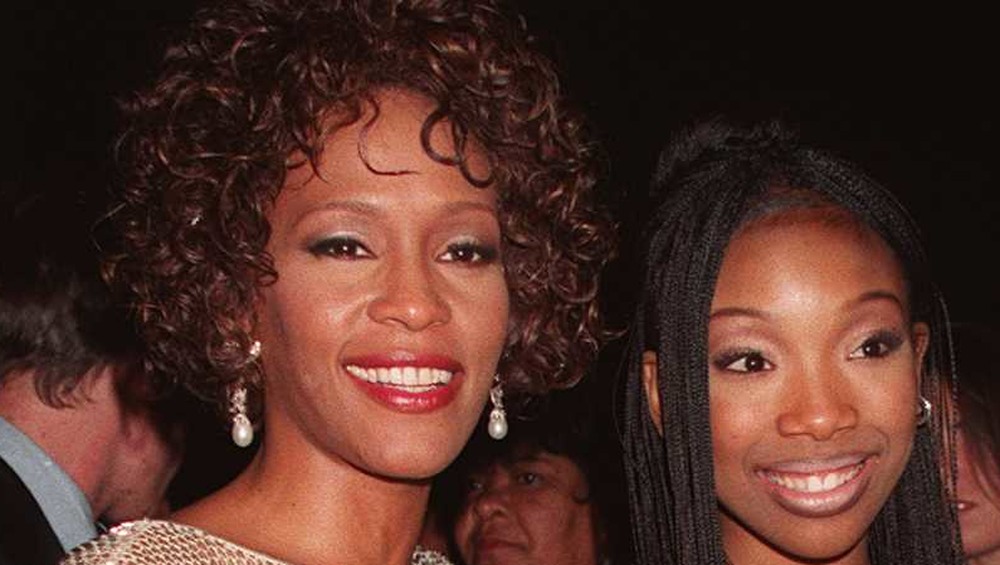 Brenda Chase/Getty Images
It's been over 20 years since Brandy Norwood's fairytale came true when she starred in 1997's Rodgers & Hammerstein's Cinderella next to her idol, the late Whitney Houston, who died in 2012. But now Brandy gets to relive her special relationship with Houston thanks to the Feb. 12, 2021, premiere of Cinderalla on Disney+. (The magic will begin at the stroke of midnight!) 
During a cast interview with Entertainment Tonight, Brandy reminded fans that Houston was the one who brought the film to life with her talent. "What I love about this film, Rodgers & Hammerstein's Cinderella, is that we're gonna see her in this enchanting light," Brandy said about her Fairy Godmother. "This is how we need to see her... Her voice, her talent, her vision for, not just me, but this entire cast and bringing this whole film to life, it's unforgettable." 
Although Houston's mark in the music industry is indisputable with hits like "I Will Always Love You" and "I Have Nothing" (both songs appeared in The Bodyguard) Brandy is overjoyed that younger generations will get to know her greatness. "She has changed my life forever and she's gonna change so many others that never really got to see her in her prime," she said. "I'm so glad that they're gonna see her in this light. This is the light that she should always shine in." Of course, Brandy had more to say about Houston, including her favorite memory of the star.
Brandy shares her 'fondest memory' of Whitney Houston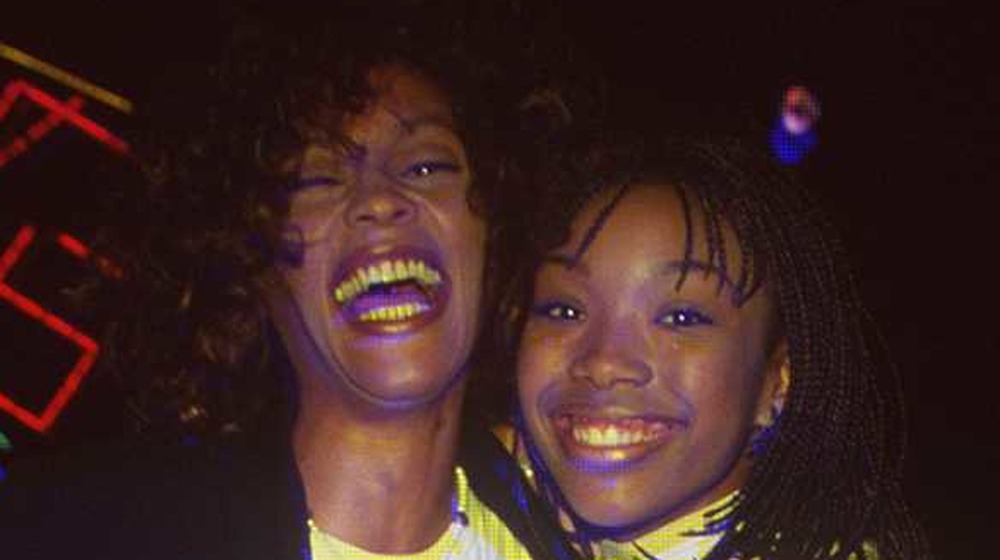 Ron Wolfson/Getty Images
It's safe to say Brandy adored working with Whitney Houston in Cinderella. "My fondest memory is being in the studio with Whitney Houston," she told Entertainment Tonight. "I was having so much fun. It was like nothing that I could ever really imagine, because she's right there, and I'm like, 'That's Whitney!'" She continued, "I spent my whole life trying to meet her, so moments with her were the best... I just love her so much, still love her today."
Aside from Houston's presence, there was a lot to be excited about, including Cinderella's realistic and detailed set. Then there was the iconic casting, which consisted of all-star names such as Whoopi Goldberg, Bernadette Peters, Jason Alexander, and Victor Garber. And who could forget Brandy being the first Black Disney princess? Although the film contained all these elements, the kind of history that the film made was something Brandy couldn't have imagined. "I couldn't really grasp the history ... But I did know that something special and magical was happening." Brandy recalled to Entertainment Tonight. "I was just so happy to be around my childhood idols and really work with them and learn from them. I was over the moon about it."
The news of the film coming to Disney+ is so exciting that we could fling out our arms and sing, but we'll leave the singing to Houston, Brandy, and the rest of the cast.
Whitney Houston saw the magic in Brandy
Leon Bennett/sta 2020/Getty Images
In a behind the scenes look at the making of Cinderella, we get a look at how the magic began. Originally it was Whitney Houston who suggested Brandy Norwood play Cinderella. "Someone who probably had a lot more energy, and who really was Cinderella to me should play the part," Houston explained in the throwback clip. "And I suggested Brandy." 
Brandy remembered screaming and running around the house she got the call from Houston. "She called me one day all hype and I was like 'what's going on Whitney?' and she was like 'I got this project. Debra [Debra Martin Chase] and I have this project and we want you to do this movie called Cinderella and we want you to play Cinderella.' And I said, 'I thought you were gonna be Cinderella?'" Brandy said, recalling the phone conversation with Houston. However, Houston admitted that she didn't feel like Cinderella. Brandy happily accepted, but on one condition ... that Houston would accept the role of her Fairy Godmother.
From the moment the two started the project, it was clear something special was happening.