The Truth About Jinger Duggar's Husband Jeremy Vuolo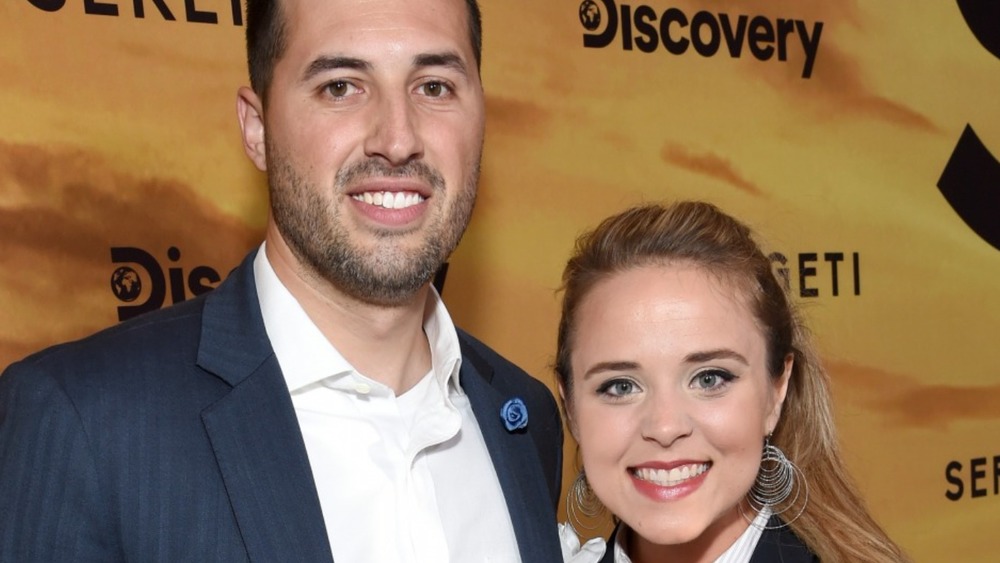 Michael Kovac/Getty Images for Discovery Channel
Some Duggar family fans are speculating that Jinger Dugger Vuolo is unhappy in her marriage to Jeremy Vuolo. While there has been buzz online and on social media about Jinger's troubled marriage, there may be another motive explaining why Duggar family fans criticize Jeremy.
There has been more information about the Duggar family in the news, alleging a darker side to Michelle Duggar and her husband, Jim Bob Duggar. An eye-opening report from video blogger Katie Joy about Jim Bob may shed light some of the online negativity toward Jeremy. Joy's YouTube channel, Without a Crystal Ball, is known for getting the inside scoop on the Christian fundamentalist ("fundie") reality TV world.
Sources close to the Duggar family have alleged to Joy that Jim Bob disowned Jinger and Jeremy after moving to California. On the Without a Crystal Ball vlog, Joy said that Jim Bob believes Jeremy "stole" Jinger from the family and took her to California, which is the "land of the heathens." According to vlogger Joy, Papa Duggar is angry that he's lost control of his adult daughter. Keep reading to learn the truth about Jeremy, Jinger, and the Duggars!
Is Jeremy Vuolo not nice to Jinger Duggar?
There has been a flurry of negative articles and social media posts about Jeremy Vuolo. According to CafeMom, some fans think Jeremy is not nice to his wife, Jinger Dugger Vuolo, based on his Instagram post about a card game. Hollywood Gossip reported fans being concerned about the couple, while CafeMom cited fans' concern about the couple's Instagram video. Are some of the articles and posts criticizing Jeremy out of turn?
One example of this criticism was reported by the U.K. Sun. The British outlet said Jinger's husband got slammed on social media after posting on Instagram during a golf round. Jeremy captioned, "Had a great afternoon playing find-the-golf-ball-in-the-woods." He received mean comments from fans about why he was golfing instead of helping out with the kids!
Pop Culture reported on Jeremy and Jinger's home in Los Angeles in January 2021, and it appears they are living their best life. The U.K. Sun said that Jeremy hired a skywriter to tell his wife, Jinger, that he loved her. Fans have pegged Jinger as the "rebel" of the Duggar family for years. When we say "rebel," we mean Jinger was the first Duggar daughter to wear pants and change her hair color. Keep scrolling to find out the truth about Jeremy (and Jinger).
Jeremy Vuolo is conservative, but more modern than other Duggars
It's clear that Jinger Duggar's husband, Jeremy Vuolo, is conservative. He is studying to become a pastor, and his views may be much more traditional than other men his age. But sources close to the Duggar family supposedly told vlogger Katie Joy that Jim Bob Duggar has never been a fan of Jeremy. Papa Duggar's dislike of his son-in-law might be driving some of the online negativity towards Jeremy. 
Joy maintains that Jeremy's approach to marriage and his wife, Jinger, is more modern than his father-in-law. On her vlog Without a Crystal Ball, Joy says sources close to the Duggar family supposedly gave her the scoop about Jeremy. Joy said, "Although Jeremy prefers to live a more modern life, he doesn't care about like if girls wear pants or women wear pants, or have short hair. They can sort of take advantage of those world things that are in the world... but Jeremy still has very conservative beliefs about marriage, about a lot of different things."
The vlogger continued talking about Jeremy on Without a Crystal Ball, saying, "He's a lot more open to Jinger having a voice and a choice." We'll just have to wait and see what happens next with Jeremy and Jinger.