Why Kendall Jenner's Latest Photo Is Turning Heads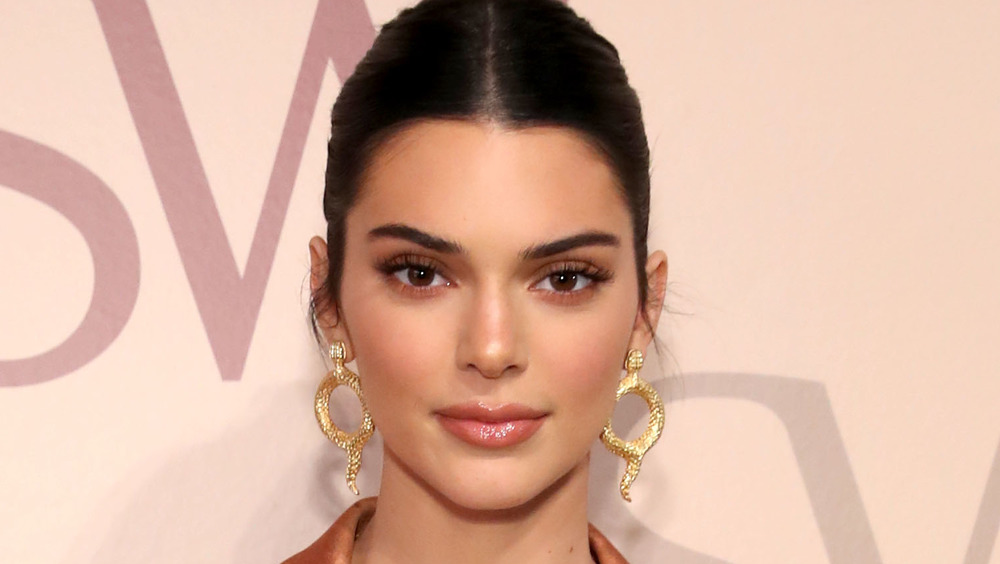 Cindy Ord/Getty Images
It's safe to say Kendall Jenner's famous family is one of the most-talked about families in Hollywood. Whether it's a scandal, a new love interest, or just straight-up drama within their inner circle, the KarJenners are often headline news. But other than Kim Kardashian and Kanye West's rumored marital problems and the fam's lavish parties amid the pandemic, they kept a relatively low profile in 2020. But, in 2021, the Keeping Up with the Kardashians star started the new year with a bang by not only confirming her relationship with boyfriend Devin Booker, but posing in big sister Kim's new Valentine's Day SKIMS campaign. 
On Feb. 13, 2021, Kendall shared several behind-the-scenes shots via Instagram from the photoshoot, which also featured Kylie Jenner, in which the model wore the brand's red micro thong. Though the shoot received a lot of praise and support from Kendall's friends and family, many fans pointed out that the images promoted unrealistic body standards. In fact, some are completely convinced Kendall photoshopped the images to make herself appear even thinner than she is.
Keep scrolling to see read Kendall's reaction to the criticism and why the images made some people feel very uncomfortable.
Some think Kendall Jenner photoshopped her body to look like Barbie
Following the backlash, Kendall Jenner tried to reassure fans and remind them to never compare themselves to others. She tweeted, "I am an extremely lucky girl. appreciative of all that I have. but I want you to know I have bad days too and that i hear you! you are beautiful just the way you are!!! it's not always as perfect as it may seem."
But though many appreciated the model's comments, Instagram user @problematicfame went on to accuse Kendall photoshopping the images. "This photo is very Photoshopped," the person wrote on their Instagram Story (per the Daily Mail). "Kendall is obviously very gorgeous but these are not her real proportions, nor are they anybody's. Please don't compare yourself to heavily edited images. Even Kendall doesn't look like this irl." The person added, "The smoothing around the bikini line is ridiculous. Nobody looks like that. Gals have lines, razor bumps, discoloration, etc. Nobody is completely smooth down there."
Meanwhile, another Twitter user also compared the reality star's body to a Barbie doll, pointing out the photos seem "clearly edited and elongated."