The Director Behind The Tekashi 6ix9ine Documentary Has Some Words To Say About Him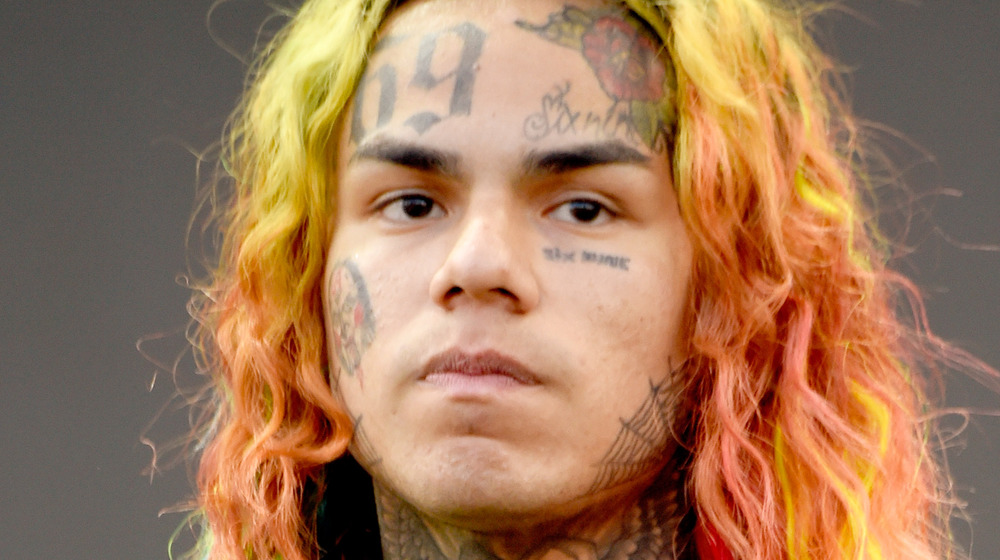 Kevin Mazur/Getty Images
Even before Tekashi 6ix9ine's career skyrocketed to mainstream fame in 2017, the rapper was always focused on building a following on social media. The rainbow-haired Brooklyn rapper's first single, "Gummo," peaked at #12 on the Billboard Hot 100 chart in December 2017. The song accompanied by the viral video brought a lot of attention to 6ix9ine, leading him to start doing more interviews. Around the same time, his 2015 sexual misconduct charges with a minor resurfaced, resulting in negative publicity for the "GOOBA" crooner.
Since then, we've seen 6ix9ine seemingly thrive off of bad publicity. Aside from publicly beefing with celebs such as The Game, Chief Keef, and Trippie Redd on social media, 6ix9ine's legal troubles make it hard to keep our eyes off of him. In 2018, the "KOODA" rapper was arrested in several incidents on charges of driving without a proper license, assaulting a police officer, and allegedly choked a 16-year-old in Texas. After pleading guilty to nine different charges related to his involvement with the Nine Trey gang in February 2019, 6ix9ine agreed to cooperate with federal prosecutors in the investigation, per Insider. 6ix9ine spent 17 months in custody and was released in April 2020. Labeled a "snitch" and "rat" by his critics, the rap supervillain is still getting under people's skin — even the director of his documentary.
Karam Gill says 6ix9ine is a 'horrible human being'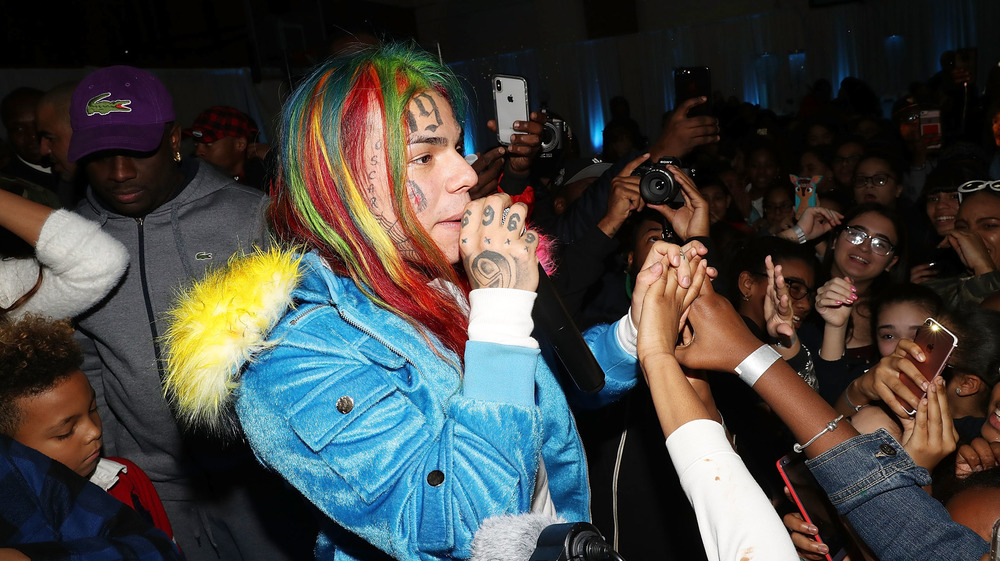 Shareif Ziyadat/Getty Images
Even when 6ix9ine isn't posting a bizarre video on his Instagram, he still seems to rub people the wrong way. In conversation with Page Six, Supervillain: The Making of Tekashi 6ix9ine director Karam Gill didn't leave much room for compliments. "I think viewers will be shocked to realize how hyper calculated" Tekashi is, Gill said. "Tekashi was someone who never did anything online on accident. Every click, word and action online was designed with care to spark a reaction."
Although Gill never met the rapper in-person to create the three-part project, he says he has enough information to make a judgment about his character. "The public and media hates him because he is truly a horrible human being who has done terrible things," Gill added. "And from an overall perspective, he loves to instigate and aggravate which is something that naturally sparks a reaction." Gill's point isn't too far-fetched, considering 6ix9ine nearly coaxed Meek Mill into a random altercation in February 2021 — Ironically, 6ix9ine claimed the "Dangerous" rapper worked with off-duty cops.
Despite his initial reluctance with taking on the project, Gill saw a bigger picture and "an important story." He continued, "We're living in the era of manufactured celebrity, where people can create inauthentic online personas and rise to fame without any talent or morals. Tekashi's story is exactly that — he's someone who realized the power of having your own platform." As of this report, 6ix9ine hasn't responded to Gill's comments, but we can surely expect him to.