The Truth About Cara Delevingne And Jaden Smith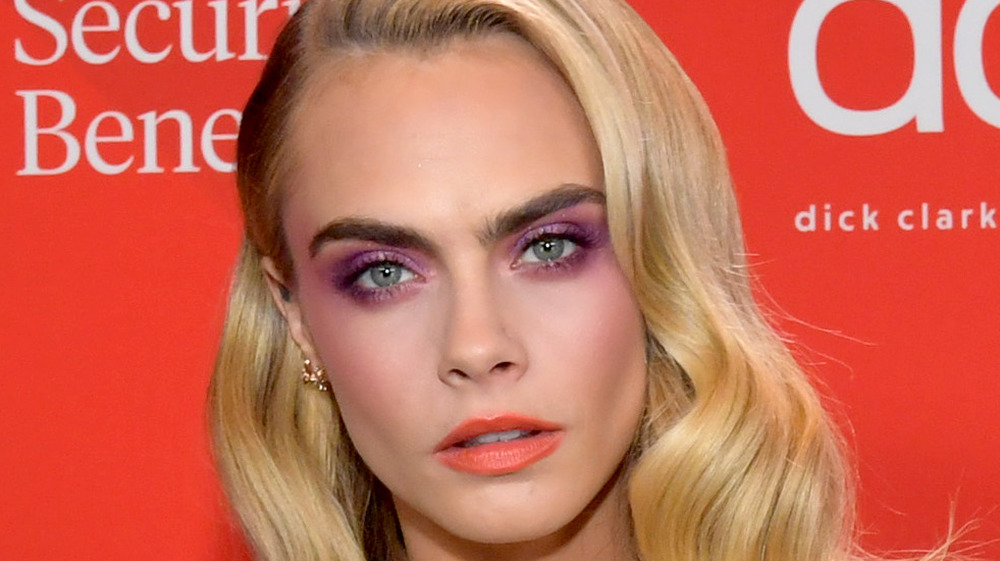 Emma Mcintyre /ama2020/Getty Images
Supermodel, actor, and eyebrow virtuoso Cara Delevingne was lip-locked with fellow acting star Jaden Smith on Valentine's Day 2021, and the news has people's tongues positively wagging. Per Hollywood Life, few, if anyone, had any inkling the two were romantically involved. In a paparazzi-shot photo shared by the news outlet, Delevingne is seen holding a large bouquet of roses as the pair closely embraced and smooched.
As Hollywood Life pointed out, if the couple is actually a couple, this would be the first relationship Delevingne partook in since her May 2020 split from Ashley Benson, whom she dated for two years. Rumored ex-lovers of Smith include the likes of rapper Tyler the Creator (per Independent), model Sofia Richie (per Us Weekly), and reality star-turned-businessperson Kylie Jenner (per Distractify).
The Twittersphere understandably went into a surprised head-spin upon seeing the V-Day snapshot. One user tweeted their shocked happiness, writing, "Wait are Cara Delevingne and Jaden Smith dating? Why do I ship these two so hard... that actually is so cute." Another fan appeared to express mixed emotions, opining on Twitter, "I just saw this and i don't know how to feel about it."
So, how do Delevingne and Smith truly factor into each other's current love lives? Read on for the truth about their relationship.
Cara Delevingne and Jaden Smith first got to know each other while filming a movie
Potential couple Cara Delevingne and Jaden Smith seemingly first got acquainted while filming their 2020 Amazon Prime flick, Life in a Year. The two play lovers, with Delevingne portraying a terminally ill teenager whose boyfriend, Smith, seeks to give her a full life of experiences in her remaining year.
The two appeared chummy, albeit not overtly flirty, in a November 2020 mutual interview for Entertainment Weekly, in which Delevingne gushed to Smith about his musical talent. "Obviously you do music and you're incredible... But to watch you when I was in the studio... you came alive. It was really like, you were discovering it for the first time," she enthused. 
Delevingne staunchly declared herself pansexual in a June 2020 Variety interview. "Whether it's 'they' or 'he' or 'she,' I fall in love with the person," she pronounced. Smith himself may be bi or pansexual, based on his own words in the past. Per Independent, Smith announced onstage at a 2018 music festival that rapper Tyler the Creator was his "motherf**king boyfriend." He reinforced his statement in a later interview with Apple Music's Beats 1 Radio: "I recently said that Tyler, the Creator is my boyfriend and that's true."
We have a feeling more might be revealed in coming days of the nature of canoodlers Delevingne and Smith's relationship, but if not, they at least appear to have a beautiful friendship!