Demi Lovato Reveals The Scary Truth About Her Near Death Experience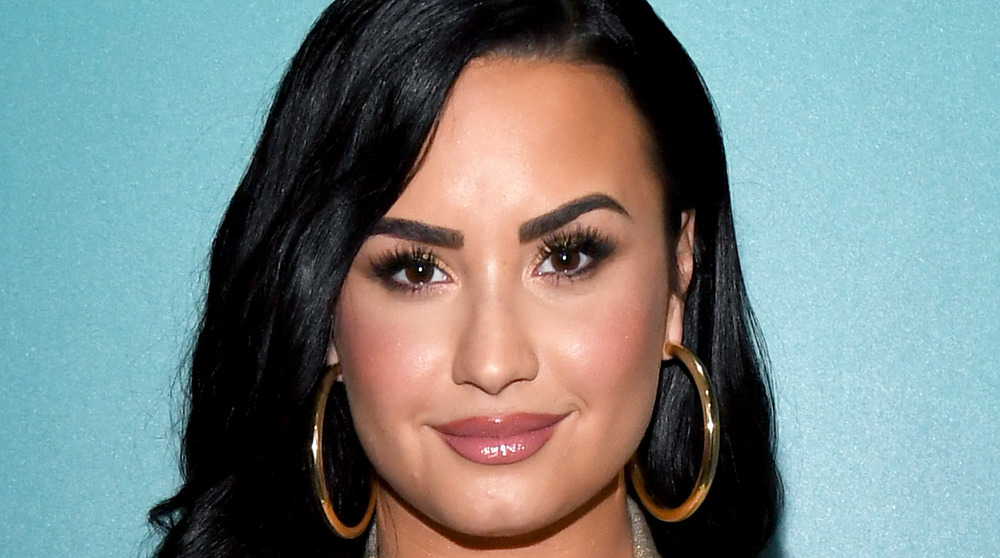 Kevin Mazur/Getty Images
Pop star Demi Lovato has revealed the first batch of the many details to come about her apparent 2018 overdose — and they are startling. The trailer for Demi Lovato: Dancing with the Devil (to be released on her YouTube channel Mar. 23, 2021) was featured as part of the February 2021 Television Critics Association press tour and it previews footage of Lovato's life since that fateful incident, including her failed engagement. The "Sober" singer admits that staying silent on the matter for more than two years has been difficult. "Any time that you suppress a part of yourself, it's gonna overflow," the singer observed.
This would appear especially true for Lovato, who has been candidly forthcoming in the past about her relationship with drugs and alcohol. She revealed in her 2017 documentary Simply Complicated that she once embarked on a two-month bender during which, in her own words, "I used a bunch of coke and I popped a few Xanax bars, and I began to choke a little bit... I thought... 'Oh my God, I might be overdosing right now.'" She did not overdose then, but in July 2018, per TMZ, she was found unconscious at her house, where paramedics at the scene administered Narcan, a drug commonly used to save lives in the event of an opioid overdoses. 
Since then, Lovato has made a career comeback by working with Justin Bieber's manager (and Taylor Swift's arch nemesis) Scooter Braun, as Variety reported, but stayed mum on any and all issues concerning drug use... until now.
Demi Lovato suffered brain damage from her 2018 apparent overdose
If the details revealed about her 2018 opioid overdose in its trailer alone are any indication, Demi Lovato's documentary, Demi Lovato: Dancing with the Devil, is going to drop jaws and break hearts. "I had three strokes. I had a heart attack. My doctors said that I had five to 10 more minutes [to live]," Lovato delivers in a monotone voice in the trailer, which shows harrowing images of her arm hooked up to an IV with clips of friends and family echoing just how close Lovato came to death. "We're watching all of her blood come out of her body into a machine," described her mom, Dianna de la Garza.
The trailer also revealed Lovato's brain damage after the near-fatal experience, especially upon her eyesight. "I don't drive a car because I have blind spots in my vision," she told reporters while promoting the documentary. Lovato also shared that she could not read books for two months. Nonetheless, the outspoken mental health advocate expressed gratitude at not suffering more severe physical consequences. "I'm someone who didn't have to do a lot of rehabbing... [which] came in the emotional side and the therapeutic side," Lovato confessed.
"I wouldn't change a thing because everything had to happen... for me to learn the lessons that I learned," Lovato also told reporters. As always, Lovato's persistent candidness about such a sensitive matter is refreshing, commendable, and hopefully helpful to those in similar situations. 
If you or someone you know is struggling with substance abuse and mental health, please contact SAMHSA's 24-hour National Helpline at 1-800-662-HELP (4357).