Why Ted Cruz' Current Location Is Causing Such A Stir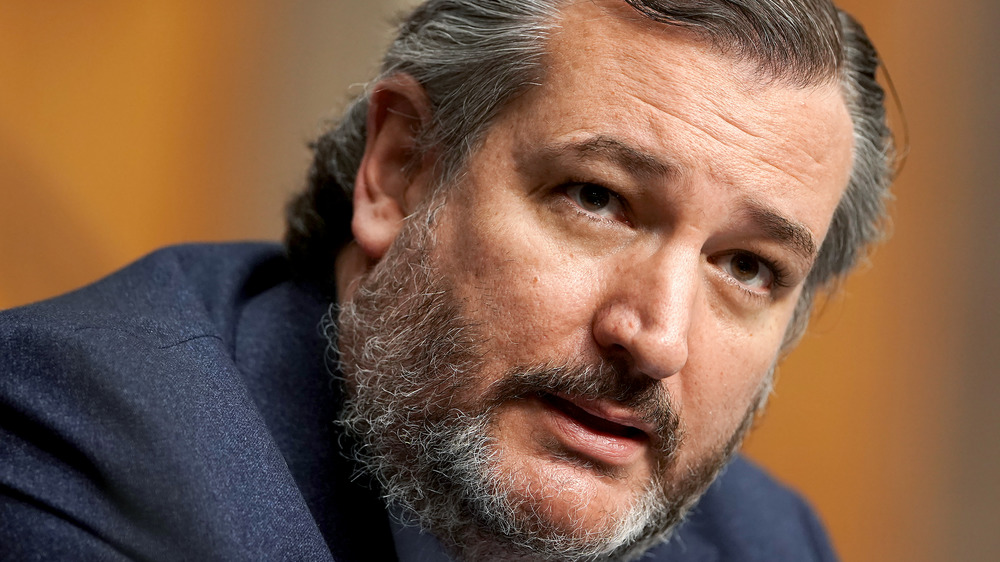 Pool/Getty Images
Senator Ted Cruz has apparently been spotted on a flight to Cancun with his family. This impromptu vacation has caused an uproar online, given that his state Texas is currently facing a deadly blizzard and mass power blackouts.
As Newsweek wrote, multiple social media users shared images of Cruz, claiming that they had seen him board a flight. The senator's office reportedly had not "confirmed any travel plans to Cancun," and Cruz has not yet addressed the rumors of him flying out of Texas on his Twitter.
Texas State Representative Gene Wu tweeted an image of a man who appears to be Cruz, onboard a plane with his mask on. "Guess which US Senator from Texas flew to Cancun while the state was freezing to death and having to boil water?" Wu wrote.
Former MSNBC anchor David Schuster shared the same picture, tweeting, "Just confirmed @SenTedCruz and his family flew to Cancun tonight for a few days at a resort they've visited before."
Schuster followed up his claim by condemning the senator for his actions. "Cruz seems to believe there isn't much for him to do in Texas for the millions of fellow Texans who remain without electricity/water and are literally freezing," he added. Schuster was far from the only person to criticize Cruz, given the dire state of his state at the time of his vacation. 
Millions of Texans have been left without heat or power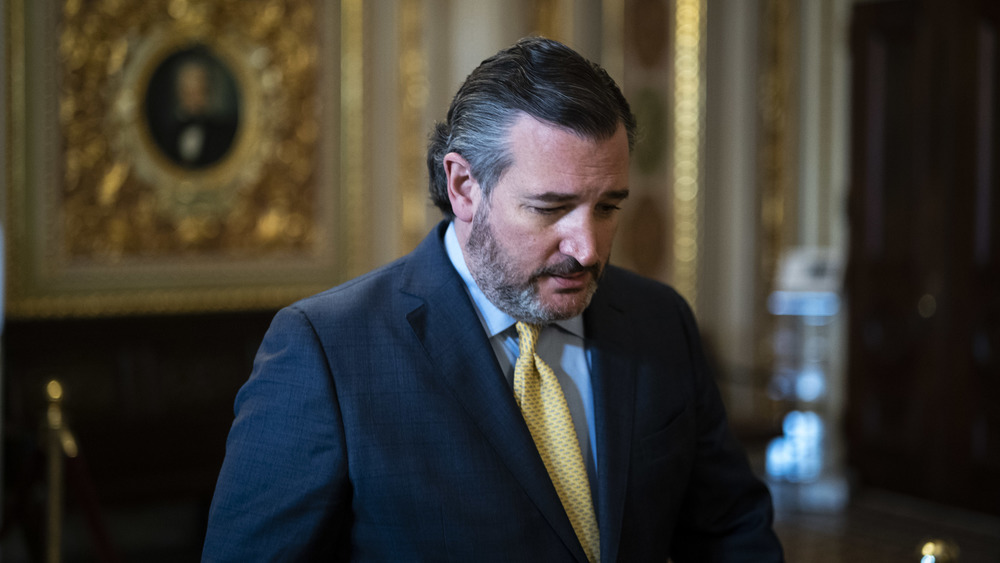 Pool/Getty Images
Critics were also quick to lambast Ted Cruz for old tweets where he blamed California's administration for the power cuts that hit the state in August 2020.
At the time, the Senator wrote that "California is now unable to perform even basic functions of civilization, like having reliable electricity." Cruz admitted that he had been caught out for his past comments, tweeting, "I got no defense. A blizzard strikes Texas & our state shuts down. Not good. Stay safe!"
As the BBC reported, the winter storm sweeping across the South has killed at least 24 people so far. Texas has seen some of its coldest temperatures in years, and power blackouts have left millions without electricity.
Governor Greg Abbott revealed in a news briefing that every source of power in Texas had been "compromised," and many water pipes have burst. The CDC has advised that everyone in Houston and surrounding areas should only use water that has been boiled to stay safe from contamination.
According to the Houston Chronicle, Harris County alone has reported more than 300 suspected carbon monoxide cases, as a result of people running their cars and generators in order to keep warm. "It's turning into a mini mass casualty event," a doctor told the Chronicle.
As of this writing, the Associated Press reported that Cruz is expected to return from Cancun "almost immediately."