Tarek El Moussa's Fiancee Explains The Meaning Behind Her Strange Tattoo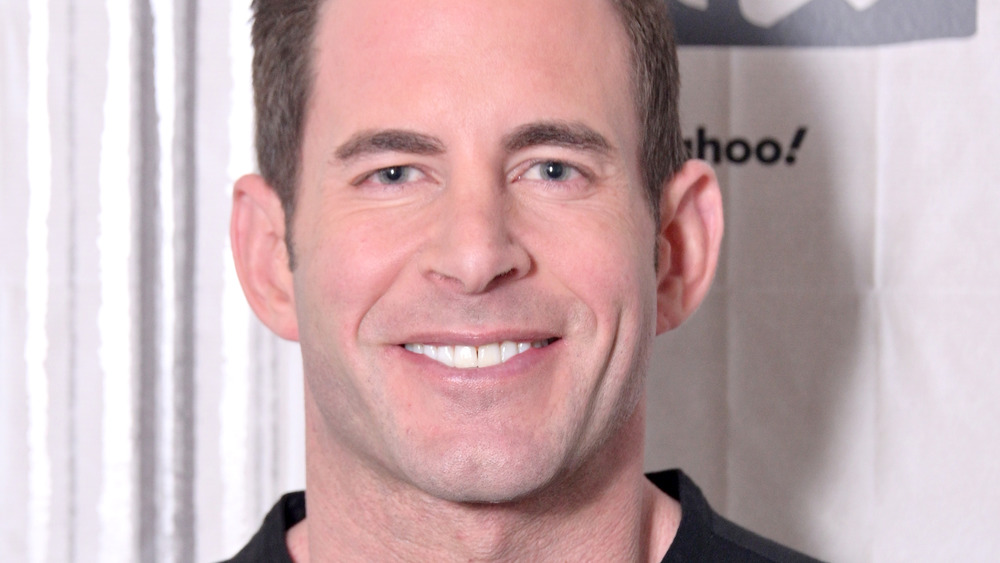 Michael Loccisano/Getty Images
Tarek El Moussa and his new fiancee, Heather Rae Young of Selling Sunset fame, have been hot and heavy from the very start. The pair first met on the Fourth of July in 2019, per Good Housekeeping. Tarek was on his yacht in Newport Beach when he spotted Heather from afar and decided to introduce himself. According to Heather, she declined his initial invitation to jet off to Paris together, but did end up getting drinks with him about a month after their nautical meet cute, per Page Six. Following that first date, Heather says they began FaceTiming one another frequently, adding, "Ever since then we've been inseparable." So inseparable that after a year of dating, Tarek popped the question with an 8-carat emerald-cut sparkler, which she upgraded in early February 2021 with a breathtaking new band. The new band isn't the only thing that Heather is sporting since their romantic engagement, either. 
On Valentine's Day 2021, Heather decided to surprise Tarek by getting a new tattoo with his name on her backside (via People). It reads "Yes sir, Mr. El Moussa." And, while the fresh ink was meant to be a special moment for the couple, it unfortunately got some backlash from fans. Heather deleted the Instagram post showing off the tattoo after all the negative comments it received. But even though she has removed the photo from her Instagram account, Heather's not getting rid of the tattoo. Instead, she's giving context for the reason behind the eyebrow-raising tattoo.
Heather Rae Young's tattoo is based on a family tradition
Paul Archuleta/Getty Images
So, what is the importance of this new ink? Here's what Heather Rae Young's tattoo really means and also why it is sentimental to the engaged couple. 
In a February 2021 interview with E!'s Daily Pop, Heather and Tarek El Moussa sat down and talked about the tattoo to give some background information on the phrase. Heather explained, "I did it as something special for my fiance, my future husband." She continued, "I will be Mrs. El Moussa, so this is my name. And it is a special thing that we do around the house: Daddy is the boss, I'm the queen of the house. We do it with the kids." People also reports that "the family often say 'yes sir, daddy' or 'yes sir, Mr. El Moussa' at home" when parenting Tarek's two children that he shares with his ex-wife Christina Haack. Heather also says that Tarek says "Yes ma'am, Mrs. El Moussa," to her, as well. Adding, "It's something cute we do around the house." 
As for what Tarek thinks of the new tattoo, he says he "thought it was the best gift I ever got." He added,  "I think it's special. For someone to put a tattoo of our family last name, it's a big deal."