The Real Reason Serena Williams Just Broke Down On Camera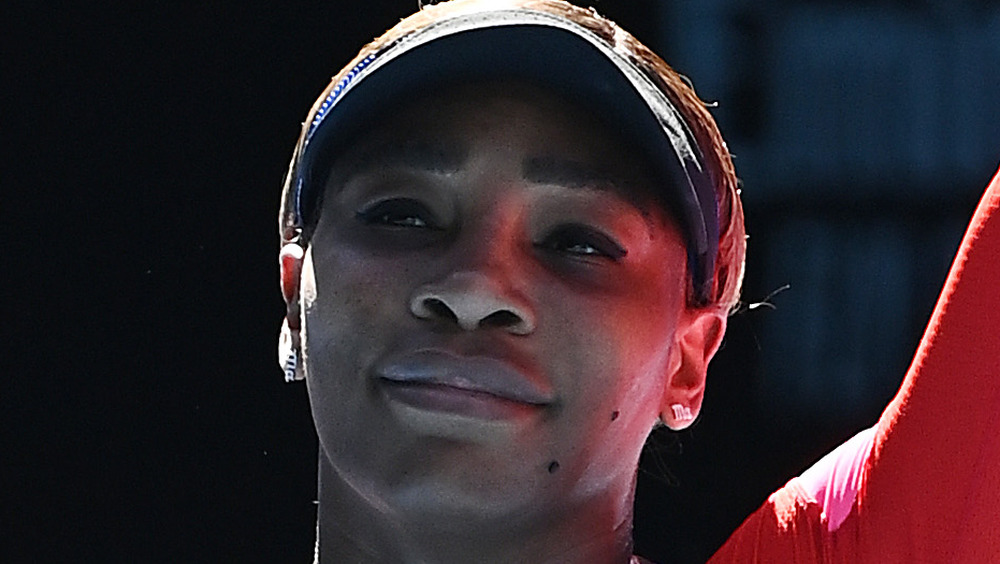 Quinn Rooney/Getty Images
Serena Williams is known for wearing her emotions on her sleeve while dominating the tennis court, and she showed those emotions after a semi-final match against Naomi Osaka in the 2021 Australian Open.
As covered by Australia's News.com, Williams was able to run out to a 2-0 lead after breaking Osaka early in the match, but things quickly fell apart as she lost the next five games, and eventually lost the match 6-3, 6-4. The outlet reports that the tennis superstar hit only "four winners" but committed "16 unforced errors" in the opening set. At one point in the match as she screamed, "Make a shot. Make a shot!" at herself, via the New York Post.
Frustration mounted for Williams as this was a shot at making the finals for a chance to capture a record-tying 24th Grand Slam title. According to Sports Illustrated, the tennis icon's last Grand Slam win was the 2017 Australian Open, and she had made four finals since but failed to capture that elusive 24th title. 
Fans will recall Williams' infamous breakdown at the 2018 US Open final against Osaka where she berated chair official, Carlos Ramos, after he gave her three violations. As covered by People, Williams shouted at Ramos: "You will never, ever, ever be on another court of mine as long as you live. When are you going to give me my apology?"
Following Williams decisive semi-final loss in the Australian Open, she was reduced to tears after reporters struck a chord.
Serena Williams became emotional answering questions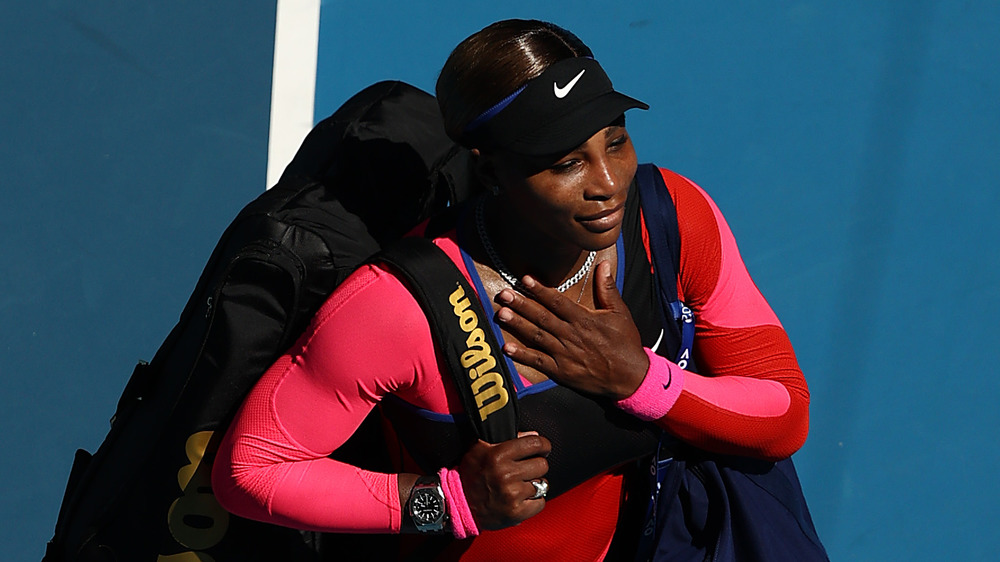 Matt King/Getty Images
Serena Williams was visibly upset with her play as she fielded questions after falling to Naomi Osaka in the 2021 Australian Open. "I could have won. I could have been up 5-love," she lamented (via the New York Post). "I just made so many errors." As per the Daily Mail, the seven-time Australian Open champ continued, "I had so many opportunities ... [I] made too many mistakes there and easy mistakes."
Due to COVID-19 restrictions, the crowd was only at a smaller capacity — but after the loss, Williams stopped at center court to acknowledge those in attendance while clutching a hand over her heart. One reporter asked about this moment, and if it meant this was Williams' last stop at Melbourne Park. "I don't know, if I ever say farewell I wouldn't tell anyone," she responded coyly. The tennis star's emotions finally boiled over when she was asked if her poor play was simply due to a "bad day at the office." To which she replied, "I don't know ... I'm done," before walking out of the presser while fighting back tears.
Even more speculation that Williams was on a farewell tour occurred when she posted an Instagram photo with a heartfelt caption after the match. "Melbourne and my Australian fans – Today was not an ideal outcome or performance but it happens, adding: "I am forever in debt and grateful to each and every single one of you. I love you."