The Truth About Jim Carrey And Jeff Daniels' Friendship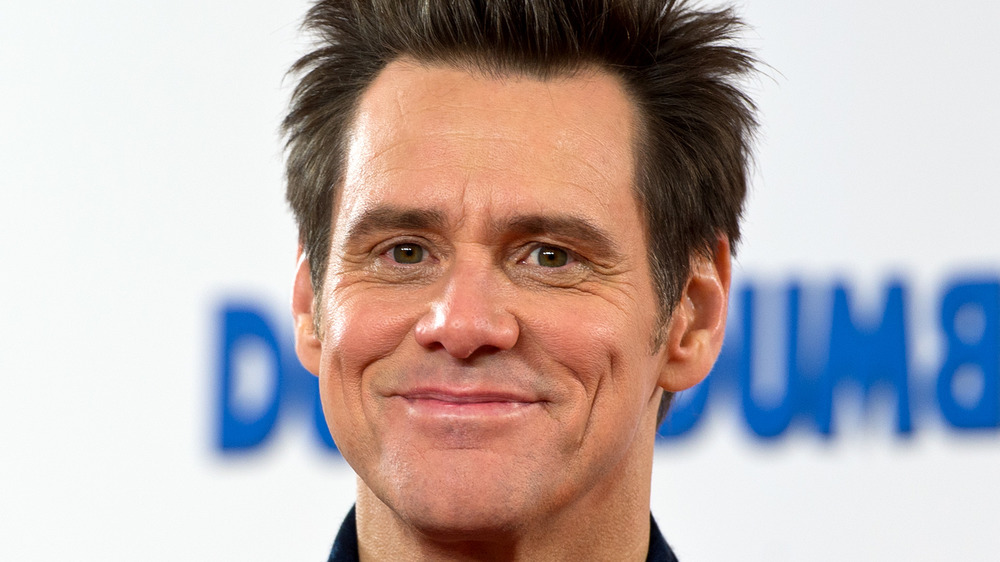 Ben A. Pruchnie/Getty Images
Jim Carrey has been described as a "comedic genius" ever since he broke through in Fox's In Living Color in 1990 (via Decider). Carrey took his comedic talents into film, where he starred in classics such as Ace Ventura: Pet Detective, The Mask, and Dumber and Dumber. Dumber and Dumber, in particular, became a cult favorite amongst fans after its release in 1994 because of the rapport that Carrey built with co-star Jeff Daniels on- and off-screen, per TIME.
Carrey and Daniels played Lloyd and Harry respectively — best friends, roommates, and dumb guys — who get into mischief as they take a cross-country road trip to Aspen to find Mary Swanson (played by Lauren Holly) and return the briefcase she left behind (via Showtime). Film critic Roger Ebert lauded Carrey's performance in Dumber and Dumber and praised him and Daniels' relationship as "a lot of fun." As it turns out, Carrey and Daniels are great friends in real life and have collaborated on many projects. Scroll down to find out more about their relationship.
Jim Carrey advocated for Jeff Daniels to be in Dumber and Dumber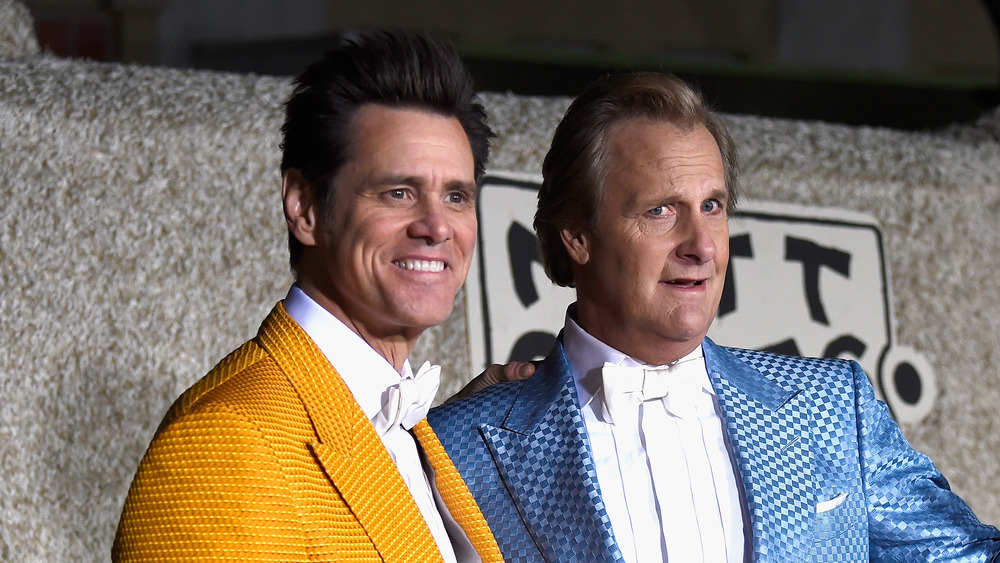 Frazer Harrison/Getty Images
Although Jim Carrey and Jeff Daniels' almost 30-year friendship was formed while filming Dumber and Dumber, the latter was not the original choice to play the role of Harry. In fact, Daniels never would have been part of the iconic comedy had Carrey not advocated for him to the studio heads who wanted a comedian for the role.
"I auditioned, then they brought me back and I auditioned with Jim and we did the hot tub scene," Daniels recalled during an interview with Inside the Actor's Studio (per LAD Bible). "First week we shot the tongue on the pole, we shot the snowball on the head, we shot a bunch of other stuff with me. And about Thursday, I got a call up, 'I'm still auditioning.' I later found out that the studio had one actor on hold ready to come in."
Daniels added that Carrey fought for him because he wanted "an actor... who will make me make me listen, who will make me react." Carrey's persistence paid off, as Dumber and Dumber became a hit that spawned an eventual sequel, Dumber and Dumber To, which topped the box office in 2014, according to Variety.
Jim Carrey and Jeff Daniels' friendship has a famous admirer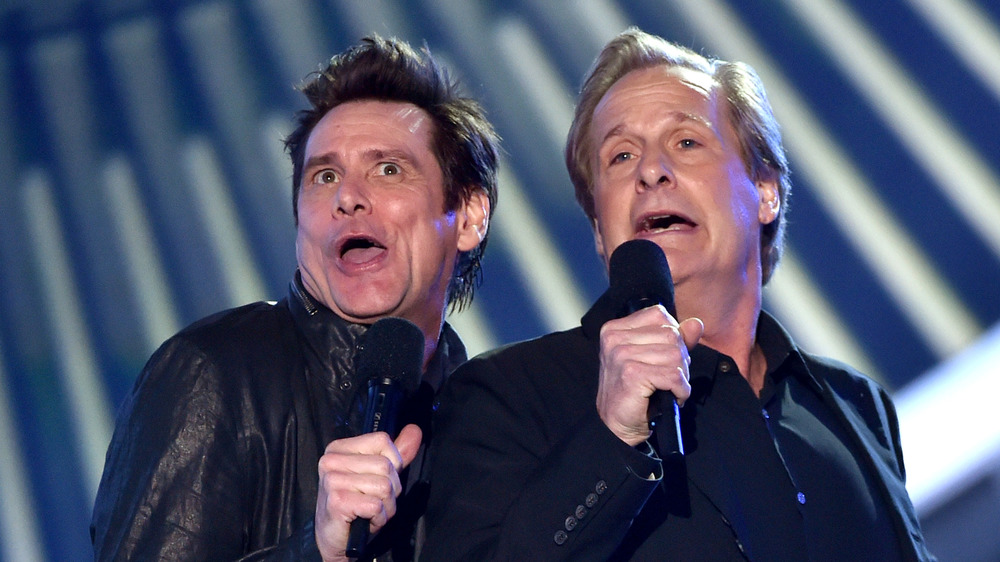 Kevin Winter/mtv1415/Getty Images
After reuniting for Dumber and Dumber To, Jim Carrey and Jeff Daniels went on to do their own films, but it seems like they cannot be apart for too long. In 2018, Carrey crashed Daniels' interview on Conan Brian's talk show. "I wanted to come out here and say it in front of the world: You're in town and you don't call me?! Not an email, nothing!" Carrey teased Daniels after their reunion.
Carrey also took the opportunity to praise his former co-star and friend, calling him "the most versatile actor working today" and a "comedic genius," before the two chatted with Conan about their iconic partnership. Carrey likened working with Daniels on Dumber and Dumber to a sexual experience, saying that there was a "tingling in [his] groin" when he saw him for the first time. "As soon as we started reading together, it was a real relationship," he added.
Their friendship was so genuine that they even found an admirer in legendary actor Dustin Hoffman, who called Carrey after seeing Dumber and Dumber. "Dustin Hoffman called me and he said, 'That's the most real relationship, buddy relationship, I've seen movies in decades."
With how much chemistry and fun Carrey and Daniels have together, it is no wonder that they keep partnering up for projects. Most recently, in 2020, Daniels narrated the audiobook for Carrey's novel, Memoirs and Misinformation. We have a feeling, though, if their previous successes are  any indication, that the two will collaborate again in the near future.