Dustin Hoffman Faces New Allegations Of Sexual Harassment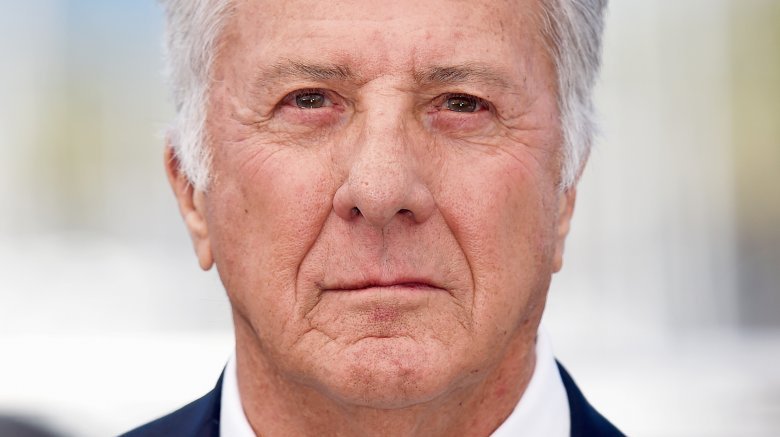 Getty Images
The movie star has been hit with another serious accusation.
On Friday, Dec. 8, 2017, The Hollywood Reporter posted a guest article written by stage actress Kathryn Rossetter, who performed alongside Dustin Hoffman in the Broadway revival of Death of a Salesman and in the 1985 TV movie of the same name. In her guest column, Rossetter recounted getting the role of Loman's mistress, "the Woman In Boston," with help from the famous actor.
Explaining how Hoffman had encouraged the production's casting execs to hire her and how he'd helped her prepare for her second audition, she wrote, "He was my hero."
However, after securing the role and meeting Hoffman's wife over dinner, things took a turn. Rossetter said that Hoffman invited her over to his hotel room after grabbing lunch, claiming that he'd left something behind. Once there, he allegedly asked her for a backrub. She agreed to give him one, though she admitted she was a "nervous wreck." She concluded that Hoffman must have been method acting (their characters have an affair), as he'd allegedly said, "Now we have our 'hotel room.'"
But unfortunately, the backrub wasn't the only uncomfortable incident that occurred while working together, according to Rossetter. She wrote, "That was the beginning of what was to become a horrific, demoralizing and abusive experience at the hands (literally) of one of my acting idols."
While performing a scene where her and Hoffman's characters are discovered having an affair, Rossetter claimed she "felt his hand up under my slip on the inside of my thighs." And, she said, that happened during nearly performance, "six to eight shows a week." She also claimed that he'd grope her during cast events, often grabbing her breast as photos were taken—though not all photographers captured the moment in time. She does, however, have one photo that she says proves her allegation.
In her column, Rossetter also accused Hoffman of pressuring her to touch him near his genitals and of exposing her body to the show's crew.
Hoffman's reps did not comment on Rossetter's claims, but they did offer accounts from other people who worked on the play who denied seeing any of the actions described by Rossetter.
As Nicki Swift previously reported, Hoffman was accused of sexual harassment by Anna Graham Hunter, who'd worked as an intern on the TV movie of Death of a Salesman. Producer Wendy Riss Gatsiounis later came forward with her own experience of working with Hoffman, similarly accusing him of sexual harassment.
Hoffman has denied Hunter's allegations, stating, "I have the utmost respect for women and feel terrible that anything I might have done could have put her in an uncomfortable situation."
He added, "I am sorry. It is not reflective of who I am."
Hoffman is just one of many men who've been called out for alleged acts of sexual misconduct since the Harvey Weinstein scandal broke in October 2017.