Report: Dustin Hoffman Accused Of Sexual Harassment By Second Woman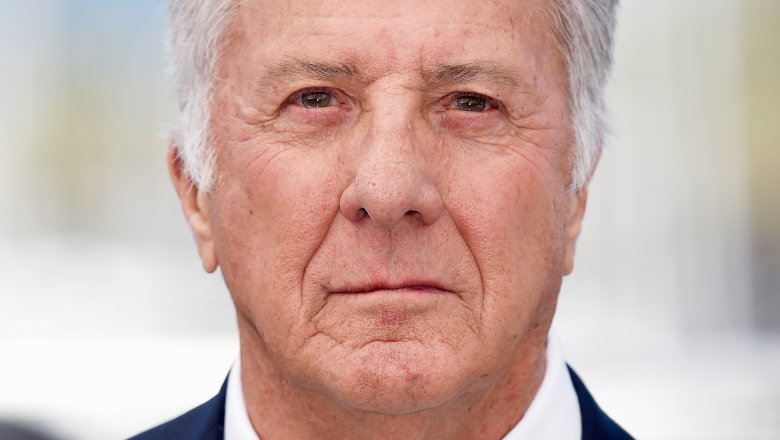 Getty Images
The Kramer vs. Kramer star is facing another allegation of sexual misconduct.
In an interview with Variety published on Nov. 2, 2017, Genius producer Wendy Riss Gatsiounis accused Dustin Hoffman of propositioning her back in 1991. She recalled meeting Hoffman and screenwriter Murray Schisgal to discuss working on the adaptation of her play A Darker Purpose for the big screen, with Hoffman as the star. "It was a huge thing," Riss Gatsiounis admitted.
During their first meeting together, Riss Gatsiounis, then in her twenties, alleged that Schisgal asked if she was romantically involved with anyone. She said that Hoffman cut Schisgal off and "playfully" said, "Murray, shut up. Don't you know you can't talk to women that way anymore? Times are changing."
Then, after Riss Gatsiounis spent three weeks reworking her script at Schisgal and Hoffman's request, she met them for a second time—and that's when things reportedly went south. "I go in, and this time it's, like, Dustin Hoffman's really different," Riss Gatsiounis told Variety. "He says, 'Before you start, let me ask you one question, Wendy — have you ever been intimate with a man over 40?'"
Riss Gatsiounis said she tried laughing off Hoffman's question but the actor allegedly persisted. "I'll never forget — he moves back, he opens his arms, and he says, 'It would be a whole new body to explore,'" she stated. "I'm trying to go back to my pitch, and I'm trying to talk about my play. Then Dustin Hoffman gets up and he says he has to do some clothing shopping at a nearby hotel, and did I want to come along? He's like, 'Come on, come to this nearby hotel.'"
But Riss Gatsiounis refused, clearly uncomfortable at the request. "And Dustin Hoffman finally leaves, because I'm saying I don't want to go to the hotel," Riss Gatsiounis recalled. "And then Murray Schisgal says, 'Look, we're not really interested in your play, because it's too film noir-ish.' And that was it."
Riss Gatsiounis said she then called her agent in tears. "She said that she didn't want me to think that it was something I had done," the TV producer remembered. "She had heard rumors about him for years."
As Nicki Swift previously reported, Anna Graham Hunter accused Hoffman of sexual harassment in an op-ed for The Hollywood Reporter, published on Nov. 1. "He was openly flirtatious, he grabbed my a**, he talked about sex to me and in front of me," Hunter alleged. "One morning I went to his dressing room to take his breakfast order; he looked at me and grinned, taking his time. Then he said, 'I'll have a hard-boiled egg...and a soft-boiled clitoris.'"
In response to Hunter's accusations, Hoffman responded by stating, "I have the utmost respect for women and feel terrible that anything I might have done could have put her in an uncomfortable situation," adding, "I am sorry. It is not reflective of who I am."
So far, Hoffman, 80, has yet to address Riss Gatsiounis' claims. However, Schisgal has, stating, "Dustin Hoffman and I took many meetings with writers and playwrights over many years. I have no recollection of this meeting or of any of the behavior or actions described."
The recent accusations made against Hoffman echo other reports of sexual misconduct in Hollywood. After movie producer Harvey Weinstein's alleged history of sexual harassment, assault, and rape was exposed by newspapers and dozens of women, other entertainment industry bigwigs were also called out for inappropriate behavior, including James Toback, Brett Ratner, and Kevin Spacey.