Dustin Hoffman Accused Of Sexual Harassment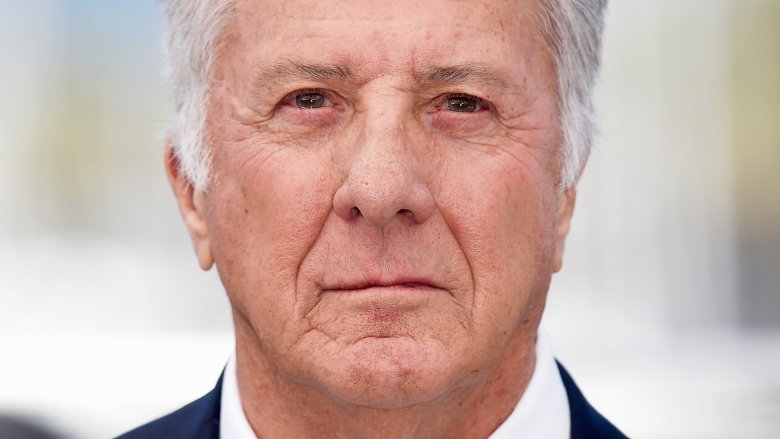 Getty Images
The Kramer vs. Kramer actor is the latest Hollywood star to be accused of sexual harassment.
On Wednesday, Nov. 1, 2017, The Hollywood Reporter posted an op-ed by Anna Graham Hunter, titled "Dustin Hoffman Sexually Harassed Me When I Was 17." In the report, Hunter, now 49, detailed that she was a senior in high school and interning as a production assistant on the set of the 1985 television movie Death of a Salesman when the alleged harassment occurred.
"He asked me to give him a foot massage my first day on set; I did," she wrote of Hoffman's behavior. He was 48 at the time. "He was openly flirtatious, he grabbed my a**, he talked about sex to me and in front of me. One morning I went to his dressing room to take his breakfast order; he looked at me and grinned, taking his time. Then he said, 'I'll have a hard-boiled egg...and a soft-boiled clitoris.' His entourage burst out laughing. I left, speechless. Then I went to the bathroom and cried."
Hunter noted that as Hoffman's sexual harassment continued, she detailed the disturbing encounters in letters to her sister. She wrote that she eventually told him she "didn't appreciate his wandering hands or his comments," adding that "he apologized and said he would stop." However, the conversation allegedly did little to put an end to his behavior, and her supervisor at the time told her to not make an issue of it.
"At 49, I understand what Dustin Hoffman did as it fits into the larger pattern of what women experience in Hollywood and everywhere," she concluded. "He was a predator, I was a child, and this was sexual harassment. As to how it fits into my own pattern, I imagine I'll be figuring that out for years to come."
Hoffman, now 80, has responded to Hunter's accusations. "I have the utmost respect for women and feel terrible that anything I might have done could have put her in an uncomfortable situation," he told THR. "I am sorry. It is not reflective of who I am."
The allegations made against Hoffman come only weeks after Hollywood producer Harvey Weinstein was first accused of decades of sexual misconduct. Dozens of actresses have since come forward, and multiple big shots in the industry have been called out with similar allegations, including director James Toback, Kevin Spacey, and several others.