Celebrities Slam Kevin Spacey For Coming Out Amid Sexual Harassment Allegations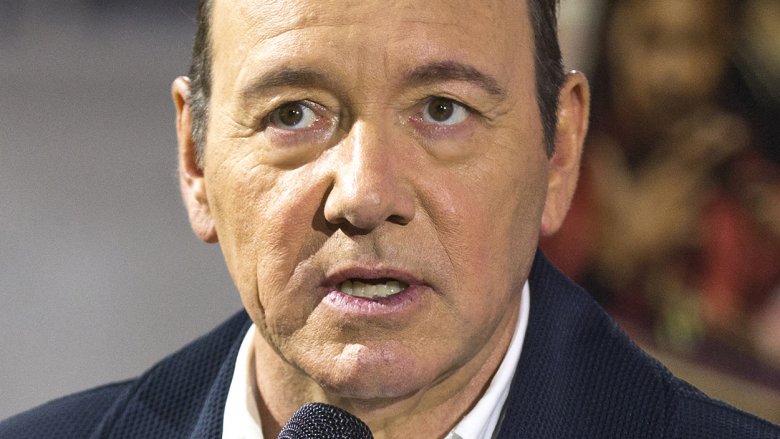 Getty Images
Hollywood is not happy with the House of Cards actor's recent apology.
As Nicki Swift previously reported, Kevin Spacey was accused of sexual harassment by former child star and Broadway vet Anthony Rapp in a report published on Sunday, Oct. 30, 2017. Soon after, Spacey released a statement regarding the alleged incident on social media. "I have a lot of respect and admiration for Anthony Rapp as an actor. I'm beyond horrified to hear his story," Spacey said. "I honestly do not remember the encounter, it would have been over 30 years ago. But if I did behave as he describes, I owe him the sincerest apology for what would have been deeply inappropriate drunken behavior, and I am sorry for the feelings he describes having carried with him all these years."
Spacey also, surprisingly, took the opportunity to announce that he is gay. He revealed, "I have loved and had romantic relationships with men throughout my life, and I choose now to live as a gay man."
But while most coming out stories have been celebrated in the media, such is not the case for Spacey, as many have found his big reveal to be inappropriate due to the allegations he's facing.
Comedian and American Horror Story star Billy Eichner tweeted out, "That Kevin Spacey statement. Nope. Absolutely not. Nope."
"Kevin Spacey has just invented something that has never existed before: a bad time to come out," he went on, adding, "Imagine the Astros walking off the field only to find out Kevin Spacey is gay. The shock of it all." He continued, "But honestly I hesitate to make jokes because the Spacey statement is truly disgusting, irresponsible and dangerous. Ok goodnight!"
Comedian Wanda Sykes echoed Eichner's disgust, writing, "No no no no no! You do not get to 'choose' to hide under the rainbow! Kick rocks!"
Actress Rose McGowan, who's become a powerful voice in Hollywood's sexual harassment scandals, tweeted, "Gay = Gay" and "Predator = Predator."
Star Trek star Zachary Quinto also joined the chorus of criticizers, penning a lengthy post addressing Spacey's decision to come out after being accused of harassment. "It is deeply sad and troubling that this is how Kevin Spacey has chosen to come out," he wrote. "Not by standing up as a point of pride — in the light of all his many awards and accomplishments —thus inspiring tens of thousands of struggling LGBTQ kids around the worlds. But as a calculated manipulation to deflect attention from the very serious accusation that he attempted to molest one."
He continued, "I am sorry to hear of Anthony Rapp's experience and subsequent suffering. And I am sorry that Kevin only saw fit to acknowledge his truth when he thought it would serve him — just as denial served him for so many years. May Anthony Rapp's voice be the one which is amplified here. Victim's voices are the ones that deserve to be heard."
GLAAD also issued a statement regarding the timing of Spacey's announcement.
"Coming out stories should not be used to deflect from allegations of sexual assault," President and CEO of GLAAD Sarah Kate Ellis said in a statement obtained by E! News. "This is not a coming out story about Kevin Spacey, but a story of survivorship by Anthony Rapp and all those who bravely speak out against unwanted sexual advances. The media and public should not gloss over that."
Spacey's Netflix show House of Cards has since been killed by the streaming service, following its upcoming sixth season (via Deadline).
Spacey, 58, has yet to address the backlash. While we wait for Spacey's next statement, read up on the untold truth about the American Beauty actor.