The Truth About Kourtney Kardashian's Latest Note To Travis Barker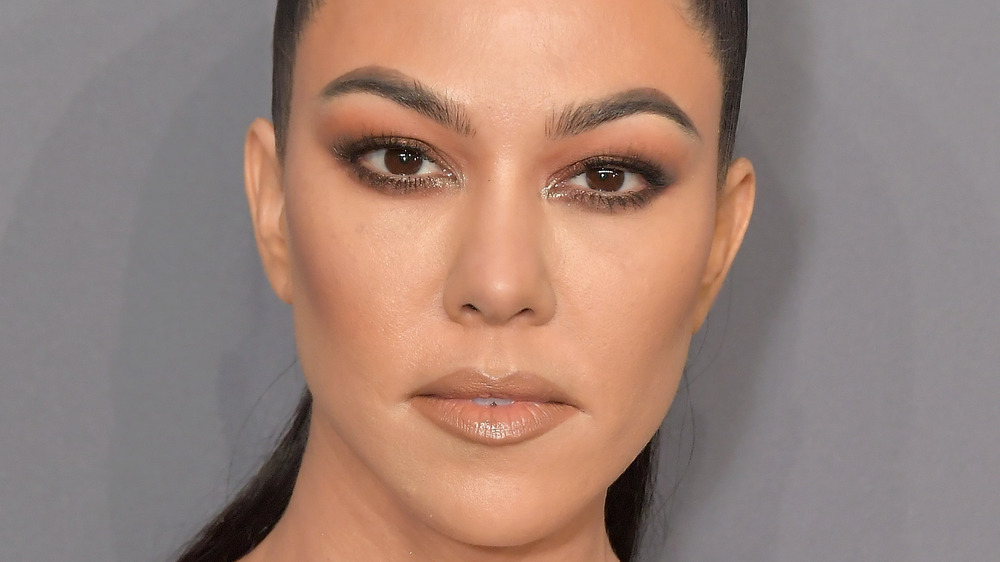 Michael Loccisano/Getty Images
Kourtney Kardashian and her beau, Blink-182 drummer Travis Barker, are the latest Kardashian couple to make headlines. On Feb. 16, 2021, the pair made their relationship Instagram official when Kourtney posted a snap of their clasped hands. According to People, Kourtney and Barker have been friends for years, but the friendship has become something more. The duo has been spotted around Los Angeles on romantic dates.
Kourtney and Barker celebrated Valentine's Day together, as reported by People. The couple each shared the romantic photos of the evening to their respective Instagram Stories. There was a roaring fireplace, a diamond anklet, and Kourtney's poem for Barker: "Roses are red, violets are blue, garlic bread, Blink-182."
But that isn't the only love note that Kourtney and Barker exchanged — and posted to Instagram Stories — so far. Read on for the latest romantic communication between these two lovebirds that they showed off on social media.
Kourtney Kardashian talks about 'fun adventures' with Travis Barker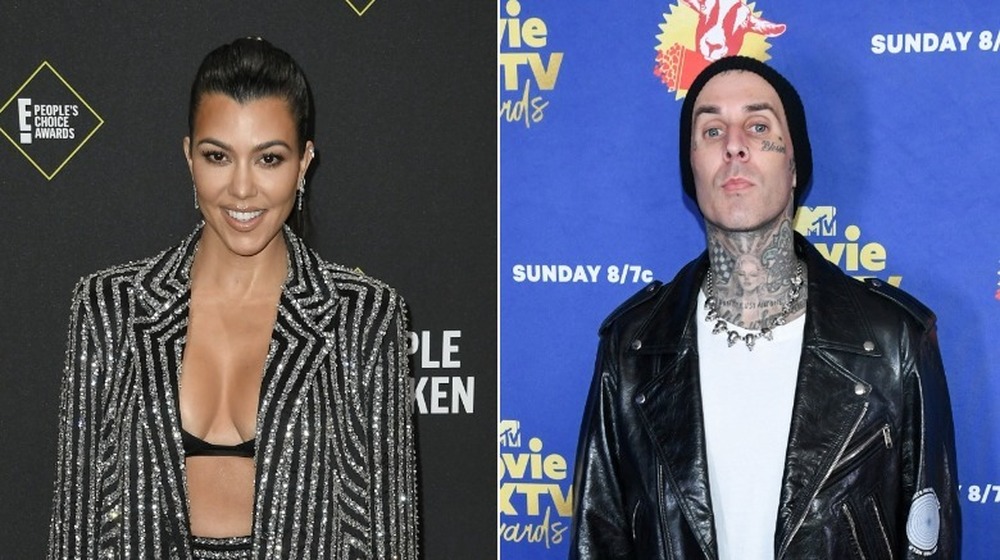 Frazer Harrison, Kevin Mazur/2020 Mtv Movie & Tv Awards/Getty Images
Just a few days after making their relationship Instagram official on Feb. 16, 2021, Blink-182 drummer Travis Barker posted a handwritten love note from Kourtney Kardashian to his Instagram Stories on Feb. 20, according to People. The note — written on slightly crumpled, plain white paper — read, "To lots of fun adventures. May we destroy each other completely. Love, Kourtney."
It seems like this couple is having a great time loving and supporting each other — and they're not shy about showing it publicly, out in the open. Additionally, Kourtney posted a screenshot of her listening to Barker's song with Trippie Redd, "Female Shark," reported People. Not only do Kourtney and Barker seem to get along, but unnamed sources told People and E! News that their children do, too. An insider told E! News, "They love relaxing at home with their kids, and everyone gets along. It's going well, and they aren't putting pressure on it being super serious at this point."
It sounds like Kourtney and Barker have been having a good time so far — and there may be more "fun adventures" to come for the couple.