Are Kourtney Kardashian And Travis Barker Dating?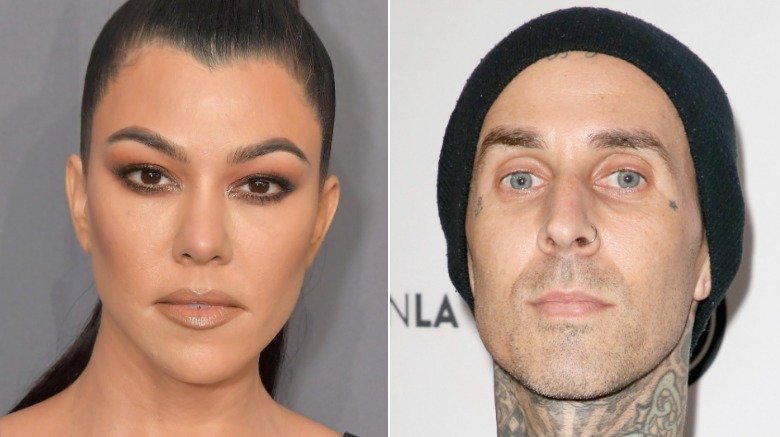 Getty Images
Is reality TV star Kourtney Kardashian dating Blink-182 drummer Travis Barker?
According to a Radar Online exclusive, published on Monday, March 4, 2019, the Keeping Up With the Kardashians star's friendship with the rock star has reportedly heated up in recent months.
"[Ever] since Kourt has been single, they've gotten closer and closer — to the point where he sneakily stays at her place now," a source cited by the gossip rag claimed, while another insider alleged, "Their friendship is definitely turning romantic, which has taken her by surprise." This second source went on to claim that while Barker has supposedly been pining for Kardashian for a while now, sparks haven't exactly flown for the E! star until more recently. However, the insider alleged, "She's really falling for him."
At the time of this writing, Kardashian, 39, and Barker, 43, have yet to publicly comment on rumors of their blossoming romance. However, this isn't the first time the seemingly unlikely bond between these Calabasas, Calif. neighbors has made headlines. In mid-February 2019, the duo were spotted out together on what appeared to be a merely platonic dinner date at Nobu Malibu, according to E! News. 
"They had dinner at Nobu with the kids because they are friendly. It was a family dinner," a source told the publication at the time. "They've been friends for years. They've lived in the same neighborhood for a long time and they see each other at church and with their kids. They've hung out together many times and often get together with the kids to see movies or to get ice cream." Noting that "they have a really nice friendship" and "always have fun together," the insider went on to explain that Kardashian's eldest kids are friends with Barker's children. "He's a nice guy and their kids really get along well," the source said. "Kourtney has his kids over [for play dates] and vice versa."
As Nicki Swift previously reported, the former Meet the Barkers star shares 15-year-old son Landon and 13-year-old daughter Alabama with his ex-wife and former Miss USA, Shanna Moakler. The former couple divorced in 2008 after four years of marriage. 
Meanwhile, the Dash Store mogul and ex-boyfriend Scott Disick co-parent three young children together: 9-year-old son Mason, 6-year-old daughter Penelope, and 4-year-old son Reign. Since calling it quits with Algerian model Younes Bendjima in August 2018 after two years of dating, Kardashian has been thought to be mostly enjoying the single life. While she was spotted out and about with 20-year-old model Luka Sabbat last fall (via Page Six), the television personality was also briefly linked to musician John Mayer this past December (via E! News). Meanwhile, 3-year-old Disick is currently dating singer Lionel Richie's 20-year-old daughter Sofia Richie.
As for Barker's other dating history, he apparently used to have a thing for Kardashian's younger sister, Kim Kardashian, who previously worked as an assistant to his former fling, Paris Hilton. Um, awkward? "How could you not stare at Kim?" he told Us Weekly in 2015, adding, "Kim was eye candy. I was no way disrespectful to Paris, but I couldn't keep my eyes off Kim!" ...Okay.
That said, nothing ever came of this crush and the two simply remained good friends over the years. Barker, who was forced to postpone a number of gigs last year after blood clots in his arms affected his ability to perform, even offered some tips when the Kardashian-Jenners were first approached by E! to do a reality TV series documenting their lives. "Kim was like, 'I really want to do this reality show. We're supposed to do it with Ryan Seacrest. I just think my family's interesting.' I gave her the best advice I could," he told the magazine, adding, "When I see her, I give her a hug and wish her the best and there's no awkwardness. Because God knows, when you hook up, s**t gets awkward!"
Of course, Kourtney Kardashian isn't the only member of the Kardashian-Jenner clan who's recently dominated headlines via relationship speculation. Younger sister Khloé Kardashian famously dumped her longtime boyfriend, NBA star Tristan Thompson late last month. Readers are most likely aware that he was spotted allegedly cheating with Kylie Jenner's BFF, model Jordyn Woods, at a party. Thompson was previously hit with several infidelity allegations just two days before he and the Revenge Body star welcomed their first child together, daughter True, in April 2018.
For her part, Kourtney Kardashian has yet to break her silence on the most recent cheating scandal. However, according to a source cited by People magazine this week, she's unsurprisingly #TeamKhloé, but places the blame solely on Thompson. "He's the one who made commitments to Khloé and he's the one who broke his promises," the insider explained. "What Jordyn did was bad, but she didn't have the obligations and the promises that Tristan had."