How Maria Bakalova Really Feels About Rudy Giuliani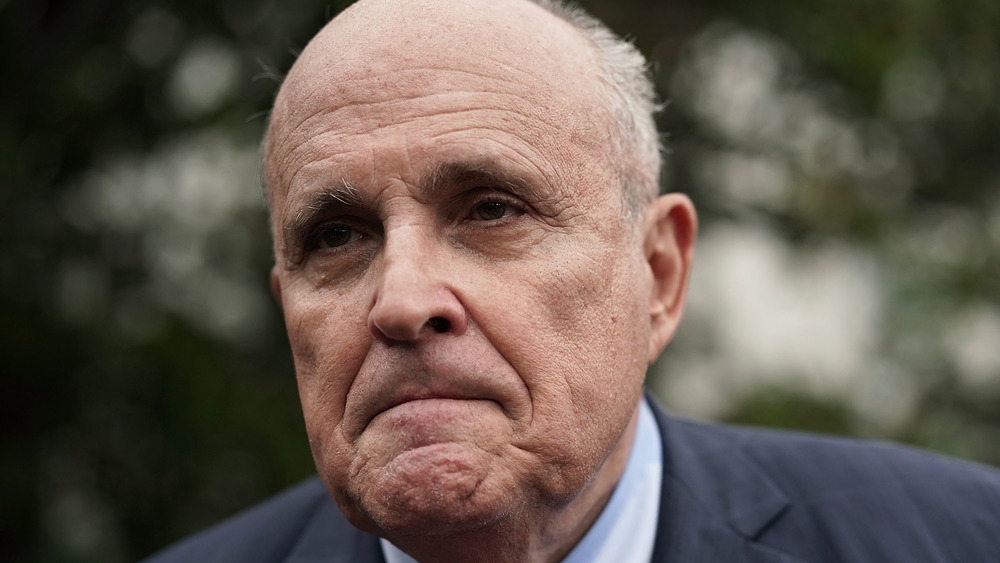 Alex Wong/Getty Images
Maria Bakalova, the breakout star of Borat 2, is on her way to becoming a household name after nabbing a Golden Globe nomination for her work in the film. On Feb. 17, 2021, the actor, who is also Bulgaria's first Golden Globe nominee, appeared on The Ellen DeGeneres Show to talk about her experience filming the mockumentary with Sacha Baron Cohen, as well as her controversial scene with ex-New York City mayor Rudy Giuliani.
Per USA Today, the scene in question shows Giuliani sitting down for an interview with Bakalova, Cohen's on-screen daughter, who poses as a journalist. Immediately following the interview, Bakalova invites Giuliani up to her hotel suite for a drink, at which point he lays on the bed and puts his hand in his pants. Though Bakalova was rescued by Cohen bursting in on the pair to reveal the prank, Giuliani took to Twitter to assure viewers that nothing untoward had occurred. 
"I leaned back and I tucked my shirt in ... they have this picture ... that looks doctored, but in any event, I'm tucking my shirt in," he later revealed on his radio show (via USA Today), accusing the media of putting out a "hit job" on him. 
Though Bakalava copped to nerves during filming (understandably!), she opened up to DeGeneres about her thoughts on former President Donald Trump's personal attorney. Here's what she had to say.
Maria Bakalova questions Rudy Giuliani's intentions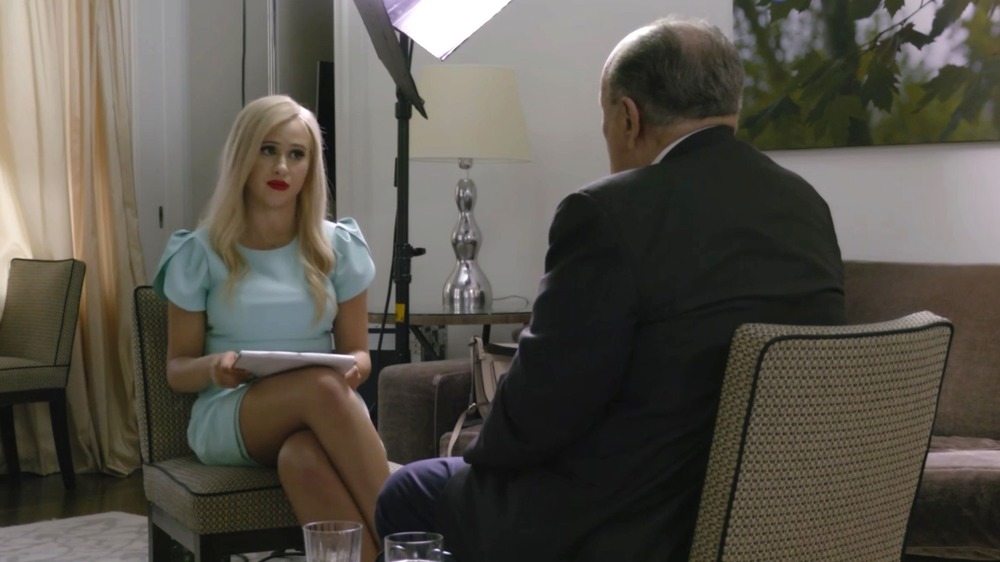 Amazon Studios/Amazon Prime Video
For Maria Bakalova, who is not a U.S. citizen, filming a scene with Rudy Giuliani was less about making a political statement and more about peeling back the curtain on how people treat others when they think no one is looking. 
"It's not even about how old he is [or] what his position is, it's about how he treated me," Bakalova said on The Ellen DeGeneres Show in February 2021 (via People). "And I'm thinking about, would he have behaved the same way if I was a man journalist, would he have been coming with me to the bedroom, or drinking or laughing this way. I don't know [the answers to] those kinds of questions." 
While the Bulgarian actor made it clear that she felt "confident that Sacha will save me [and the scene]," she spoke about the important role the mockumentary played in highlighting the value of equality. "Behind all of the silliness and jokes, there are some really strong messages about how we should treat each other with love, respect and kind[ness]," she explained, per People. 
It's this overriding theme of equality that Bakalova hopes to present in her scene with Giuliani because, at the end of the day, treating one another with empathy should trump political beliefs.