What We Learned About Tekashi 6ix9ine From His Latest Documentary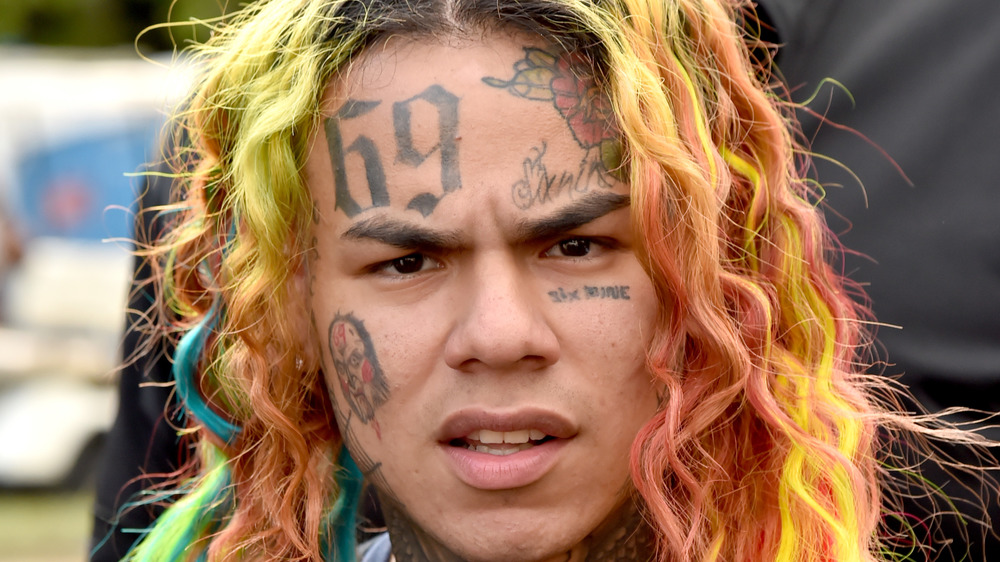 Kevin Mazur/Getty Images
The following article includes allegations of child abuse, domestic violence, and mentions of drug abuse.
A new docuseries about controversial rapper Tekashi 6ix9ine shows the man behind the rainbow hair. The first episode of Supervillain: The Making of Tekashi 6ix9ine premiered Feb. 21, 2021, on Showtime.
As Deadline reported, the documentary's three parts will be titled "Identity," "Power," and Truth. They will all be narrated by Breaking Bad actor Giancarlo Esposito and cover the life of Tekashi, whose real name is Daniel Hernandez, from a troubled childhood to his infamous arrest and subsequent release from jail.
Per the New York Post, one of the revelations in Supervillain is that his biological father, Daniel Hernandez Sr., was addicted to heroin. The man became estranged from his son when he was kicked out by Tekashi's mother. The rapper then lost his next paternal figure, his stepfather Luis Nazario, when the man was shot and killed on a trip to the supermarket. Tekashi was just 13 at the time. "When they took him away from me, I felt naked," he said, according to the New York Post.
Supervillain covers Tekashi's legal issues, like his notorious 2018 arrest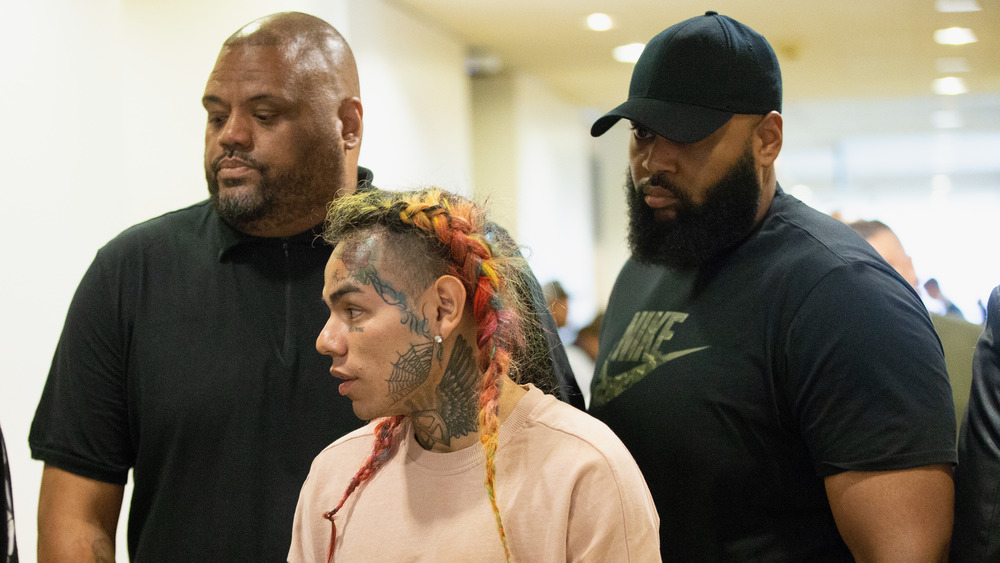 Bob Levey/Getty Images
The docuseries reveals that heroin also played a part in his stage name: "Tekashi" was the name of a local tattoo artist who was an addict, per the New York Post. The rapper explained his motivation to create a colorful persona for himself: "One day I woke up and I said, 'Yo, I want my look to be loud.' I felt invisible. I just had to make a loud presence."
Supervillain also covers his widely-publicized legal troubles, beginning with his 2015 conviction for alleged sexual misconduct. As Billboard reported, Tekashi was sentenced to four years' probation for allegedly filming a 13-year old performing sexual acts and uploading the video on Snapchat. His former girlfriend, Sara Molina, accused him of years of domestic violence, which he later admitted to, per XXL.
Tekashi's involvement with the world of gang violence initially bought him credibility, but eventually, it resulted in a lengthy criminal record, including his 2018 arrest for "racketeering and and firearms charges," as per the Washington Post. He also developed a public reputation for being a snitch. "He signed up for it voluntarily," said his former DJ, Pvnch, as per the New York Post. "And he turned as dishonorable as you can get, now where he might be the most famous cooperator and snitch to ever walk the face of this earth."
As the New York Post noted, the rapper was granted early release from prison in April 2020 following the COVID-19 pandemic.
The docuseries director called the rapper 'toxic'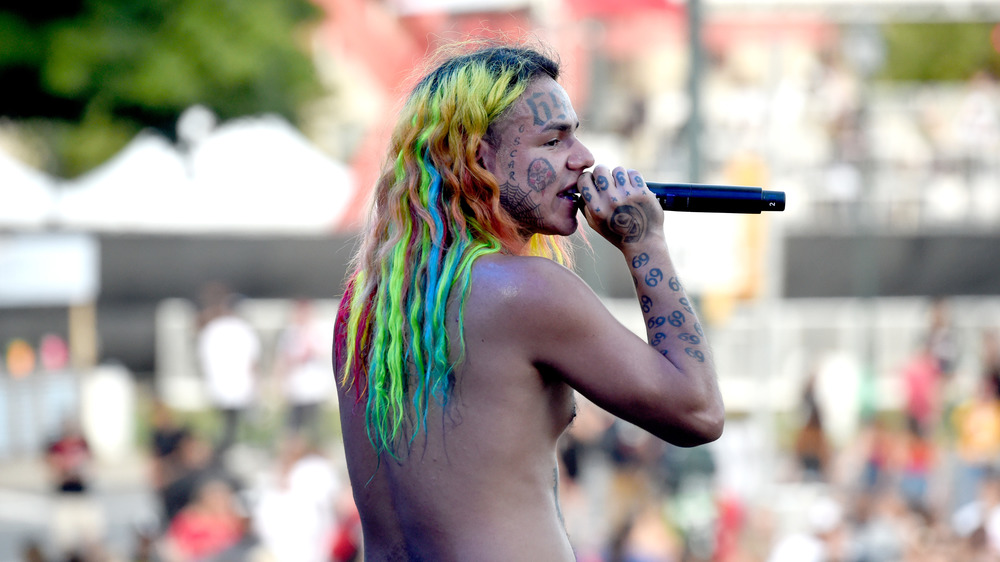 Kevin Mazur/Getty Images
The documentary's director, Karam Gill, doesn't seem to have much sympathy for the rapper. Gill referred to Tekashi 6ix9ine as "toxic" and "a horrible human being," according to Page Six. He went on to describe the musician as a "social media mastermind" with a surprisingly "calculated" approach.
"I never really wanted to explore Tekashi's story specifically, and actually was hesitant about the project at first because of how he has been such a toxic individual in our culture," the director said. "From a wider scope, I realized it's an extremely important story that shines a light on where we are as a culture. We're living in the era of manufactured celebrity, where people can create inauthentic online personas and rise to fame without any talent or morals. Tekashi's story is exactly that — he's someone who realized the power of having your own platform."
Tekashi's attorney, Lance Lazzaro, denied all of Gill's comments, claiming, "It's the furthest thing from the truth. Danny's talent speaks for itself, and Danny is a good human being." Lazzaro also clarified that Hernandez was never interviewed for the series.
"It is interesting and almost unbelievable without ever having met the person... how [the director] characterized him," Tekashi's lawyer stated. "It's hard to fathom. No one can comment about his talent... and how he characterized him when he never met the person."
If you or someone you know may be the victim of child abuse, please contact the Childhelp National Child Abuse Hotline 24/7 at 1-800-4-A-Child (1-800-422-4453) or contact their live chat services at www.childhelp.org/hotline.
If you or someone you know is dealing with domestic abuse, you can call the National Domestic Violence Hotline at 1−800−799−7233 or TTY 1−800−787−3224. You can also find more information, resources, and support at www.thehotline.org.
If you or someone you know is struggling with substance abuse and mental health, please contact SAMHSA's 24-hour National Helpline at 1-800-662-HELP (4357).