Ted Cruz Just Got A Hilarious Surprise At His Texas Home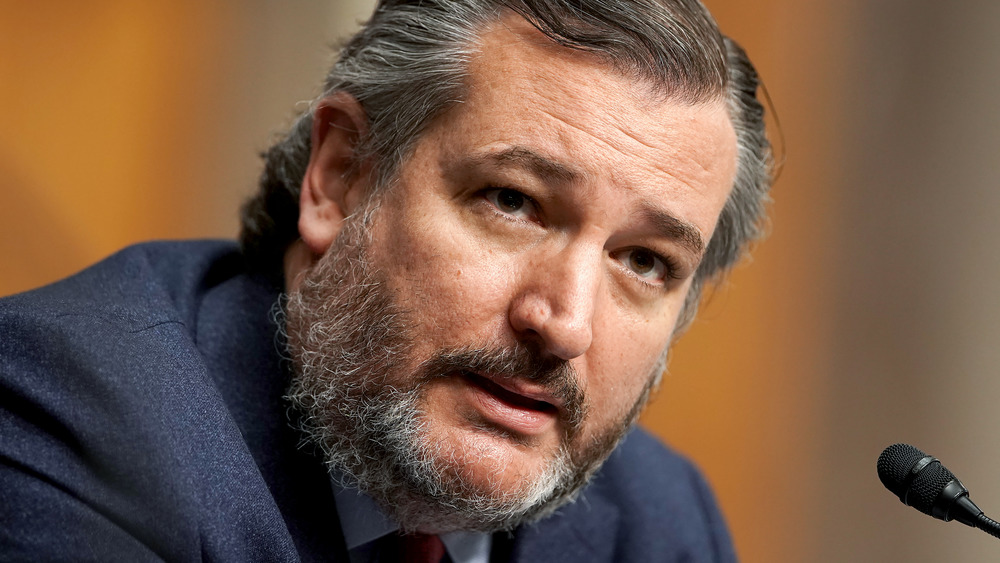 Bloomberg/Getty Images
It's not over until the mariachi band plays! As reported by the New York Post, Texas Senator Ted Cruz received the welcome home of a lifetime following his return from a highly controversial getaway to Cancun as Winter Storm Uri pummeled the Lone Star State, leaving millions of Texans without power or running water in subfreezing temperatures, which resulted in at least 16 deaths, per CNN. 
While the politician garnered harsh criticism on both sides for opting to leave his constituents during a time of peril, one Texas resident resolved to welcome Cruz home with his very own mariachi band complete with matching Charro outfits and sombreros. Adam Jama of Carrollton, Texas orchestrated a GoFundMe page with the proceeds going to Texas Children's Hospital. "Senator Cruz, being an amazing dad, dropped off his family in Cancun in the middle of a major crisis and came back to Texas to continue serving his constituents," the fundraiser's call to action read. "We want to thank Senator Cruz for his leadership and pay for an amazing Mariachi band to perform for him. No one should go to Cancun and not listen to Mariachi."
So how was the mariachi band received? Keep reading after the jump to find out!
Not everyone was in on the joke
Surprisingly enough, the GoFundMe page was met with trepidation and even some criticism. As reported by the New York Post, some thought the gesture went a little too far, as it was carried out at Senator Ted Cruz's personal residence. "If I'm honest I'm not sure how I feel about this. No doubt @SenTedCruz deserves this," one tweet read. "However his children are his pawns and the ones he throws under the bus. Nonetheless they are blameless and should not be subjected to harassment even if it's funny."
Meanwhile, another user insisted that Cruz's dog, ironically named Snowflake, actually preferred that genre of music. "Snowflake loves mariachi music," the twitter user declared. As you may recall, not only did the senator leave his citizens high and dry, he also left his family dog behind, per New York Magazine. 
As reported by CNN, mere hours after photos surfaced of the senator and his family boarding a flight for sunny Cancun, Cruz quickly jumped into an apology tour, releasing statements in which he referred to his decision as "obviously a mistake." While citing his children for his decision to leave the state, he went on to say, "I also have a responsibility that I take very seriously for the state of Texas and frankly, leaving when so many Texans were hurting didn't feel right and so I changed my return flight and flew back on the first available flight I could take."
Hopefully the mariachi band helped lift Cruz's spirits!